Call of Duty and Mario Kart front a siege of PC and console IP on mobile
Sensor Tower looks back on a busy month in the mobile charts, and reflects on the growing influence of console and PC brands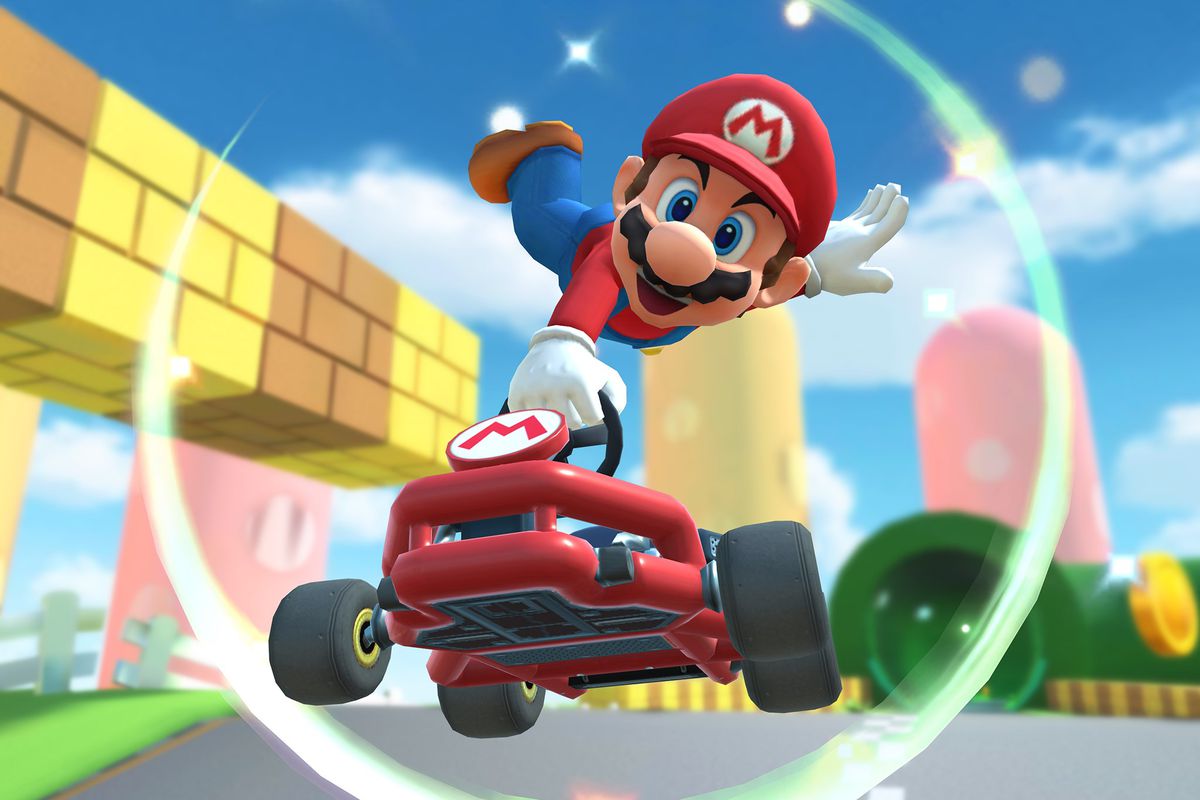 Tapping a large entertainment IP to drive interest and downloads in a mobile game is nothing particularly new in the mobile market. But as the world's top PC and console publishers increasingly take the space seriously, the impact of the biggest gaming properties is becoming ever more noticeable.
The two biggest mobile launches recently have been Nintendo's Mario Kart Tour and Activision's Call of Duty: Mobile, which have proved to be two of the most successful app releases ever.
During October, Call of Duty: Mobile generated some 148 million downloads, according to Sensor Tower Store Intelligence estimates, making it the top mobile game globally for unique installs. That's substantially more than Mario Kart Tour, which took second place with 40.3 million downloads. During September, Nintendo's latest had driven up 86.2 million unique installs.
While casual and hyper-casual games such as SayGames' Sand Balls continued to flood the top download charts, there was still room for other big console and PC IP like PUBG Mobile -- the fourth most downloaded game in October with 22.5 million installs, thanks in large part to its popularity in India.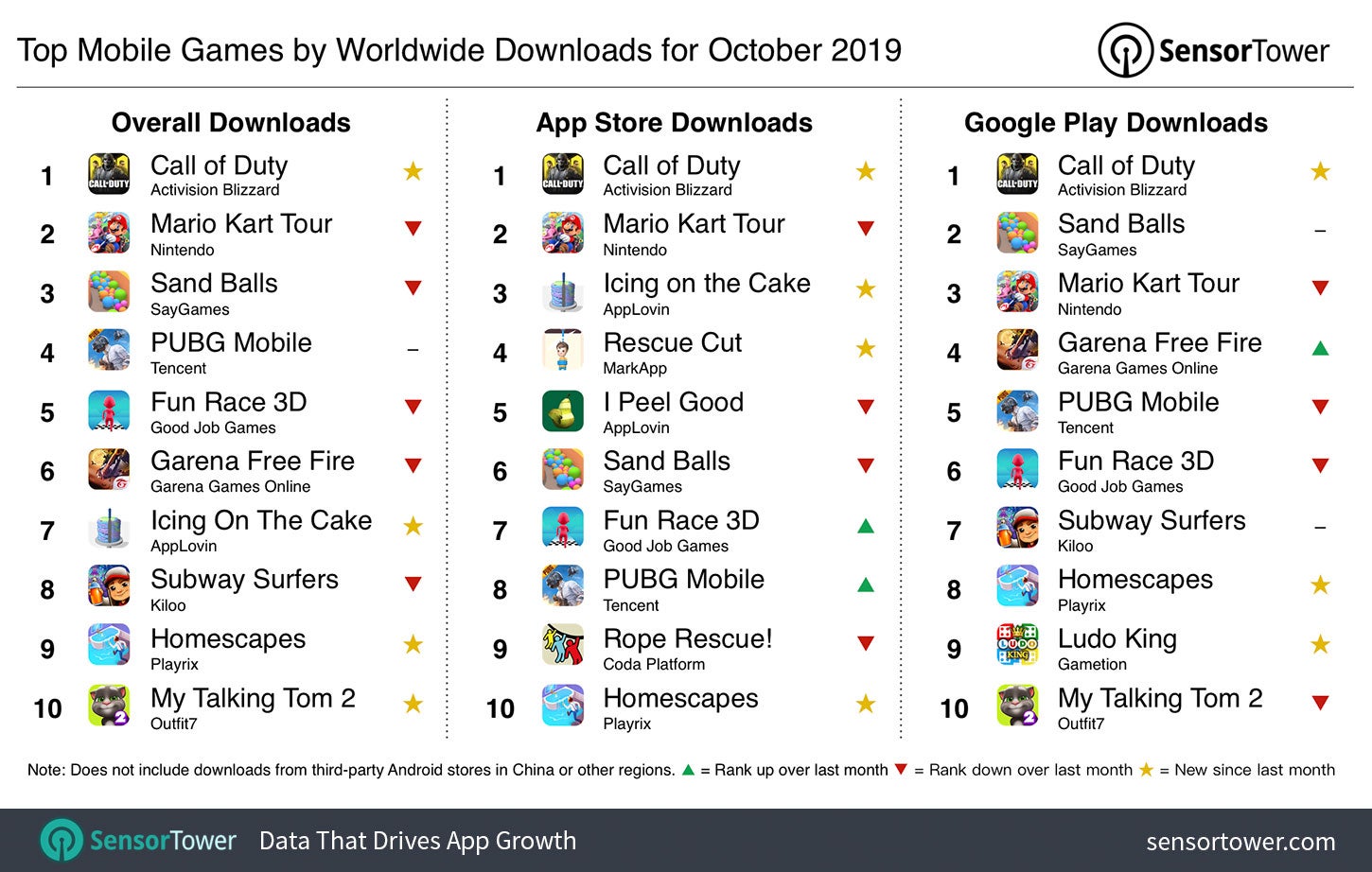 While racking up significant installs, Call of Duty: Mobile and Mario Kart Tour were also in the top 30 grossing games globally in October.
Activision's shooter was the more successful of the two. It was the 12th largest revenue generator, accumulating $53.9 million in player spending during the month, above traditional heavy-hitters like Supercell's Clash of Clans (14th), Playrix's Gardenscapes (15th), and Sony's Fate/Grand Order (16th).
Mario Kart, meanwhile, made $31.8 million for the month, the 28th top grossing mobile title globally, one place above Fortnite ( in terms of App Store revenue only). To put that into perspective in the console giant's own portfolio, Nintendo's most successful title to date, Fire Emblem Heroes, grossed $8.9 million in October. Between November 1 and 10, Mario Kart Tour accumulated an estimated $7 million, compared to Fire Emblem Heroes' $3.6 million.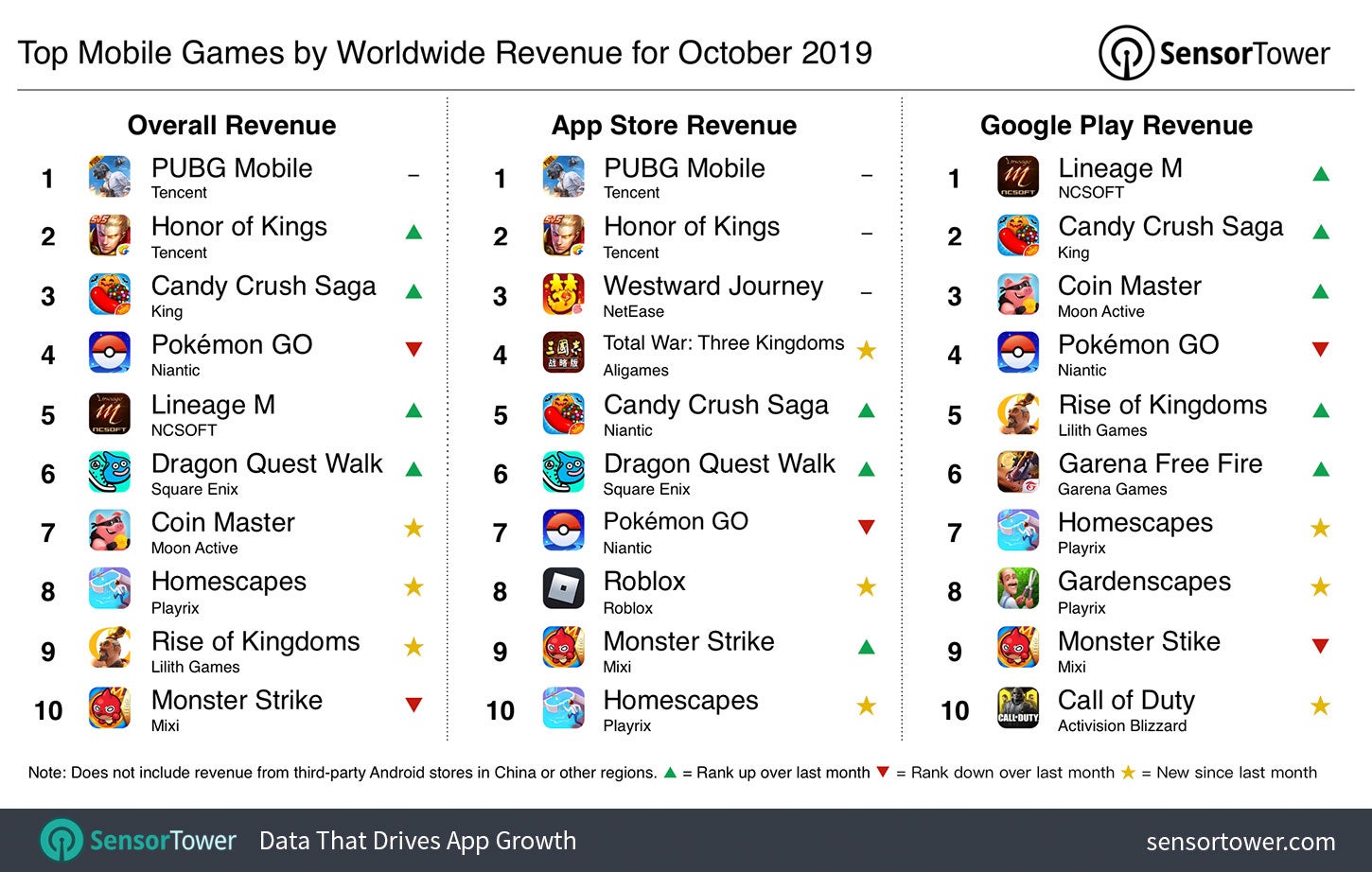 It could be argued that mobile titles from Nintendo and Activision should be monetising better -- as of October 31, Call of Duty averaged revenue per download of $0.36, while Mario Kart Tour averaged $0.34. This will increase over time, but could be a sign that some work lies ahead to improve monetisation.
Nintendo seems happy enough early on, however, with the company's president Shuntaro Furukawa recently stating it expects "remarkable results" from the game, adding that Mario Kart Tour "has gotten off to a very good start, even compared to our previous mobile applications."
Although Mario Kart Tour leads the way for downloads for Nintendo, Fire Emblem Heroes generated an estimated $69.5 million in its first month, while Super Mario Run took $31.4 million, Dragalia Lost brought in nearly $17.9 million, and Animal Crossing: Pocket Camp made $13.6 million.
"Ten of the top 30 grossing mobile games globally in October started out as franchises on PC and console"
Pushing up the charts
Mario Kart Tour and Call of Duty: Mobile aren't the only big console and PC IP making a successful jump to mobile. Four of the top ten grossers globally by overall revenue are from games and franchises that started on non-mobile platforms.
Tencent's PUBG Mobile is the top grossing game, making $153.9 million in October, while Niantic's Pokémon GO brought in $74.6 million for the month. NCSoft's Lineage M -- a mobile port of the classic and hugely popular Korean MMORPG -- made $71.2 million, while Square Enix's location-based title Dragon Quest Walk picked up $64.1 million. Technically, King's Candy Crush Saga and Playrix's 'scapes franchise -- also in the top ten -- began life on PC, though they have become more synonymous with mobile.
Meanwhile, NetEase cash-cow Fantasy Westward Journey was the 11th top grosser overall with $59.8 million, and Aligames' Total War: Three Kingdoms has stormed the Chinese market to take 13th place worldwide, making $52.1 million in October. Cross-platform titles that have found huge success also include Roblox, ranked 17th with $46.8 million in revenue from mobile, and Fortnite ranked 29th after generating $31.8 million from the App Store alone.
Overall, ten of the top 30 grossing mobile games globally in October started out as franchises on PC and console -- 14 if you count Gardenscapes, Homescapes, Candy Crush Saga, and Candy Crush Soda Saga.
New game launches don't always get off to such a hot start as Mario Kart Tour or Call of Duty: Mobile, of course, and some never pick up at all. Dr. Mario World has notably struggled to tally significant downloads or revenue, racking up an estimated 9.2 million unique installs and $3.6 million in gross revenue to date.
But the success of a growing number of classically console/PC IP making the transition to mobile -- and a few of them recent releases -- is good news for big publishers. Games such as Lineage M, Lineage 2 Revolution, Pokémon GO, Fantasy Westward Journey, and PUBG Mobile have all already made more than $1 billion from the App Store and Google Play, and they are unlikely to be the last. Fortnite is well on its way to achieving this milestone from the App Store alone, generating an estimated $821.6 million to date.
It will be fascinating to see how Blizzard and NetEase's upcoming Diablo Immortal, future Nintendo games, and other big console/PC IP will shake up the mobile sector. When paired with the right genre and markets, there's a big opportunity for success -- one that will help publishers battle the rising user acquisition costs on mobile, help drive profitability, and extend IP to wider audiences in an increasingly cross-platform future.
Craig Chapple is Mobile Insights Strategist, EMEA, at mobile intelligence firm Sensor Tower, provider of data and insights needed to master the mobile app ecosystem. He has previously served as senior editor at PocketGamer.biz and has worked in the games industry for over eight years.