Madden, Saints Row fails to prevent August revenues dipping 5% to $4.10 billion | US Monthly Charts
But NPD Group says total spending on video games is still ahead of August 2020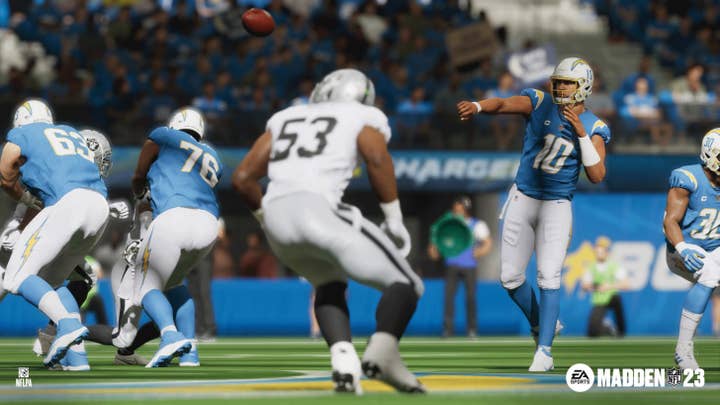 US consumers spent just over $4 billion on video games products in August – a slight dip on the year before, despite a handful of big releases.
The NPD Group reported that the month was also boosted by growth in hardware sales, thanks to improved supply of PlayStation 5 and Xbox Series X|S.
Here's what you need to know:
The numbers
August 2022
Total spending: $4.10 billion, down 5% year-on-year
Software: $3.6 billion, down 6%
Hardware: $375 million, up 14%
Year-to-date
Total spending: $34.6 billion, down 9%
Software: $30.4 billion, down 10%
Hardware: $2.9 billion, down 4%
The highlights
While that $4.10 billion is down on August 2021, NPD said it was slightly higher than the $4.07 billion seen in 2020. Similarly, year-to-date spending is 3% higher than at the same point in 2020, when it reached $33.5 billion.
Hardware was the only category not to see year-on-year decline; as mentioned, this was due to improved supply of the newest consoles, which both experienced double digit growth when compared to the same time last year.
PlayStation 5 was the biggest selling platform last month in terms of both units and dollar sales. It's also generated the most dollars year-to-date, although Switch has sold more units.
Meanwhile, EA's Madden NFL 23 was unsurprisingly the biggest selling game of the month – the 23rd year in a row that the latest Madden has achieved this – and is already the fifth best-selling game of 2022.
Saints Row was the second biggest – not bad, considering it had only been on sale for three days before NPD stopped collecting data – while the PC version of Marvel's Spider-Man boosted that title 81 places to No.3.
Spider-Man was one of two software highlights for Sony, with Horizon: Forbidden West becoming the fourth best-selling game of the year so far, thanks partly to price promotion.
Spending on mobile games, which is factored into total software spending, fell 10% year-on-year according to Sensor Tower data. Google Play users were the biggest source of decline, with their spending down 22% year-on-year compared to iOS' 1.2% dip.
Spending on accessories fell 18% to £138 million due to a big drop in controller and headset sales. Year-to-date spending in this category is down 14% to $1.4 billion.
Here are the US Top 20 (based on dollar sales) for the period between 7/31/2022 through 8/26/2022, courtesy of The NPD Group:
| | | |
| --- | --- | --- |
| 1 | NEW | Madden NFL 23 |
| 2 | NEW | Saints Row |
| 3 | 84 | Marvel's Spider-Man |
| 4 | 2 | Elden Ring |
| 5 | 1 | Multiversus^ |
| 6 | 7 | Mario Kart 8* |
| 7 | 9 | Minecraft |
| 8 | 3 | Lego Star Wars: The Skywalker Saga |
| 9 | 6 | MLB: The Show 22~ |
| 10 | 4 | Xenoblade Chronicles 3* |
| 11 | 8 | Digimon Survive |
| 12 | 28 | Horizon: Forbidden West |
| 13 | 5 | Call of Duty: Vanguard |
| 14 | 18 | Far Cry 6 |
| 15 | NEW | Soul Hackers 2 |
| 16 | 12 | Super Smash Bros Ultimate* |
| 17 | 31 | Gran Turismo 7 |
| 18 | 11 | Kirby and the Forgotten Land |
| 19 | 24 | The Elder Scrolls 5: Skyrim |
| 20 | 15 | Pokémon Legends: Arceus |
* Digital sales not included.
~ Xbox and Switch digital sales not included.
^ Founder's Pack Edition sales only