Madden NFL 13 sales climb to 1.65 million in first week
Daily average user rates are up 14% over last year's Madden as well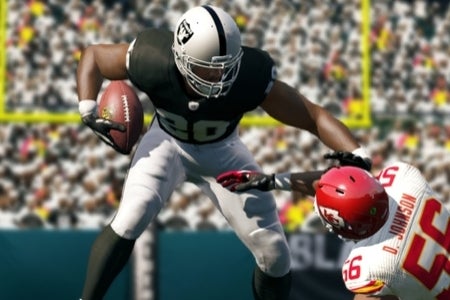 EA happily announced today that Madden NFL 13 continues to sell at a rapid clip. Sales have climbed to 1.65 million for the title's first week, marking an eight percent jump on the HD platforms and the best start for the franchise this console generation. Madden had already set a record for its day one sales.
In addition to the sales news, EA noted some positive stats about online usage with the latest Madden. In the first week, EA said that there was a 31 percent increase in the number of online games played compared to last year, with more than 24 million contests recorded. In addition, Daily Average User (DAU) rates on HD consoles increased 14 percent over last year.
"We're thrilled to see the great momentum continuing on Madden NFL 13," said Andrew Wilson, Executive Vice President of EA Sports. "The overwhelming feedback is that this is the best Madden NFL game in a generation. Fans are competing in record numbers, and we expect that type of engagement to only grow with the start of the NFL regular season last night, as fans connect with their favorite teams and players through our game."
"We have seen strong demand for Madden NFL 13 leading up to launch and through its first week on store shelves," said Bob McKenzie, SVP of Merchandising, GameStop. "Critic reviews are strong and the buzz from the Madden fan base is more robust than I've ever seen. We've seen this consumer momentum sustain throughout week one and we expect it to continue into the fall and holiday season."