Losing the battle against mobile's lack of buttons
We speak to Tommy Søreide Kjær about his innovative puzzle-platformer No More Buttons and its heavily revised sequel
The platformer has been a staple genre in video games since the 1970s, but has never comfortably made the leap to mobile.
There are plenty of different takes on how jumping over obstacles should work on smart devices, prompting the rise of entire new genres like the side-scrolling auto-runner. But many developers have opted for on-screen buttons, which haven't proven to be the ideal solution.
It was a conundrum that indie developer Tommy Søreide Kjær was determined to solve.
"I was thinking about making a platformer game for mobile," he tells GamesIndustry.biz. "I looked at other platforming games on mobile, I've played many of them, and I realised that these on-screen buttons [are] poor replacements for real hardware buttons. I don't know why, but it suddenly occurred to me that I could just put the buttons in the level themselves."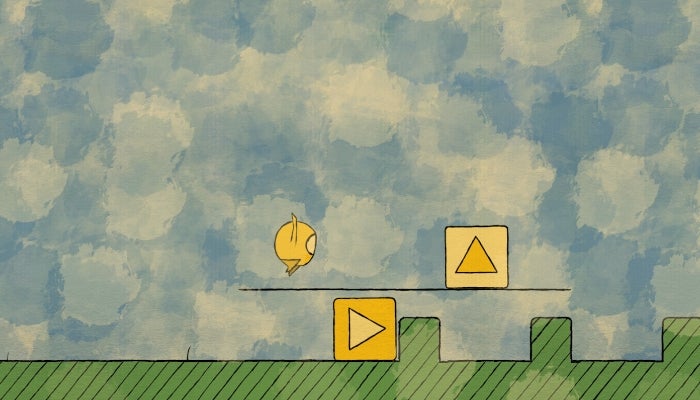 The result was No More Buttons, Søreide Kjær's second mobile release after 2017 puzzle title Pulmonary. Players are tasked with finding their way through each level by navigating with large, blocky buttons that appear in the game's environment. Pressing each one moves the character in the desired direction, but the buttons themselves can also be moved or turned to open new paths.
Søreide Kjær built No More Buttons single-handedly with the Stencyl engine, including the hand-drawn art as a side project from his main career as a freelance cinematographer. But this hobby has seen Søreide Kjær engage more and more with the games industry, even becoming a Top 10 finalist in this year's Google Play Indie Games Contest thanks to No More Buttons.
Once he had his core concept nailed down, however, the nature of the game shifted. While still a side-scrolling platform game, No More Buttons became more focused on the puzzles of traversing each level, less about precision and more cerebral.
"I personally have a philosophy where I try to do as much as I can with one idea as I can, to try and solve multiple problems with one idea"
"Each level is about figuring out the solution," he says. "Once you have the solution, it's easy to play.
He continues: "When I had that [main] idea, all the others just came naturally because when you have a strong [concept], it's easy to just make puzzles around it. I could just build on that.
"I personally have a philosophy where I try to do as much as I can with one idea as I can, to try and solve multiple problems with one idea. Things like a Right button can become a Jump button if you just turn it around, and that brought about the idea that one button is really four buttons, so you can twist them around. You can integrate many ideas into one thing, and build a lot of puzzles around it."
It takes some getting used to, of course. If the character comes up against the Right button, he will push it across the screen as long as you're holding it - sometimes away from your finger, meaning you need to follow the movement. The fact that the buttons move can jar a little as you instinctively tap where they were, so accustomed to fixed controls.
"It's very clumsy to start with," Søreide Kjær admits. "Some people play with just one finger, but then they realise they need to use two hands. It's better to just learn by playing - I find that if you put those text tutorials on the screen, it gets kind of tedious. Even if it makes things a bit more difficult, I'd rather let players just discover on their own. Personally, I find that much more pleasurable to play myself.
"But some players do have difficulty. We're all so used to controls being in the exact same place, and now they move all over the level."
Sadly, despite reaching the upper echelons of Google Play's contest, No More Buttons has yet to be a commerical success. Søreide Kjær admits it was "not a hit in terms of sales", surmising that, "perhaps the paid model had something to do with that."
"It's hard to get people to pay for mobile games these days," he continues. "However, the game did receive positive feedback for its original concept and the hand drawn art style in particular.
"But it wasn't picked up by any of the sites, and it didn't get featured on the app stores - and in this business that seems [important]. I'm really new to this, I don't know anything about marketing or who to speak to, so it didn't get much attention. Now I'm getting some attention, but I'm still learning."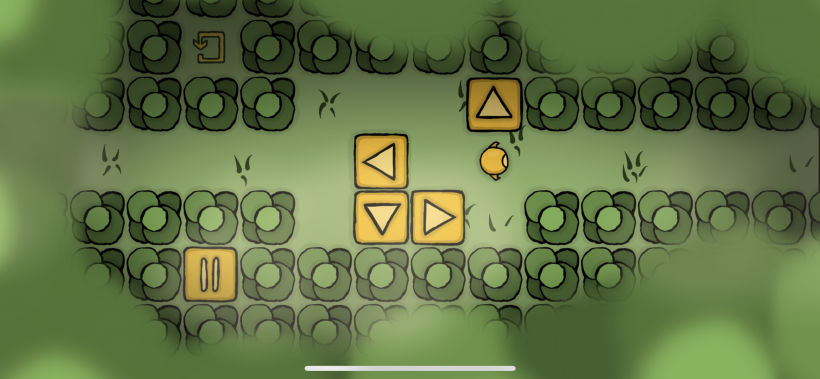 Undeterred, Søreide Kjær has just released a sequel, One More Button. This, too, is a premium mobile game - with the first game, the developer didn't want to clutter the screen with free-to-play prompts for currency and IAP, and has clearly chosen to keep things simple for this second title.
However, the concept has seen a radical reshuffle: instead of a side-scrolling platformer, it's now a top-down grid-based puzzle game. The idea came from feedback at the Google showcase, where someone observed that the mechanics reminded them of the Sokoban titles - a truth about his game that Søreide Kjær has come to accept.
"I think some players were fooled by the looks of the game. With One More Button however, people know what they are getting into. It's clearly a puzzle game"
"No More Buttons is more of a platformer, or at least it looks like it," he says. "And yet when you play it, you have to be thinking more like you would in a puzzle game like Sokoban, than in a platformer like Super Mario Bros. If you make the wrong move or jump in Mario, you can probably still finish the level. If you flip the wrong button in No More Buttons, you have to start over. So I think some players were fooled by the looks of the game. With One More Button however, people know what they are getting into. It's clearly a puzzle game."
He's also tweaked the difficulty following feedback from No More Buttons, revealing that he's still receiving emails from players asking how to get through certain levels.
"I tried to remedy this by placing a few hints in some difficult stages, but this obviously didn't address the issue completely," he says. "Making things worse is that once you were stuck, there was nowhere else to go.
"In One More Button, I had the opportunity to address this issue from the start: the stages are arranged in a level select menu, so that you can skip difficult stages by taking a different route, or at least go back and do some other stages while you were stuck. Sometimes you need to let the problem rest while you do something else."
Shying away from the structure of a side-scrolling platformer has also made it easier to design new levels for One More Button. While Søreide Kjær admits basing the game on a grid is "more restrictive in a way", he suggests this is "arguably good when you're designing puzzles."
He concludes: "Or at least it makes everything easier to wrap your head around. In another way, it opened up the game for more vertical movement, given that you didn't have gravity pulling you down at all times.
"Other than that, the design process was similar. Designing the puzzles often involved simply setting up a challenging level and then playing it to see if I could solve it. Other times I set up the level specifically to teach the player about a mechanic. Then if they wanted to solve the level, that involved them discovering how this mechanic worked."
Whether the premium price tag - albeit a low one of $2.99 - continues to be a barrier for players remains to be seen, but at least by embracing the puzzles at the core of his games, Søreide Kjær can experiment with his ideas further.
Of course, this still doesn't solve the issue of on-screen buttons in mobile platformers.