Linear games "going to suffer" in the market - Far Cry 4 dev
Alex Hutchinson says open-world and emergent games will have a leg up going forward thanks to video sharing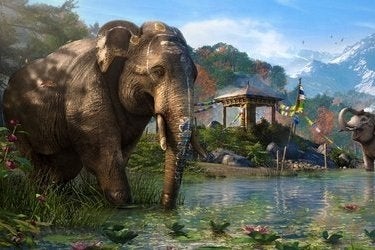 Video-sharing services like YouTube and Twitch are changing the gaming industry, right down to the kinds of games that succeed. That's according to Far Cry 4 creative director Alex Hutchinson, who told OXM recently that such services will only highlight how repetitive linear and story-based games tend to be, where different players frequently have more or less the same experience as they play through.
"I'm really interested in emergent games and where that's going with video sharing and Twitch," Hutchinson said. "I think linear story games are really going to suffer in the modern marketplace. They're already super high-quality, and we're already seeing their audiences migrate to the big open-world games. If I open my friends list and see everybody on the same mission, doing the same thing... I think that's nowhere near as strong a sales pitch as opening your friends list and seeing 40 people doing completely different things."
Like many of Ubisoft's big franchises, Far Cry 4 is an open-world game where players can pursue the main story or entertain themselves with a slew of side quests and diversions, from hunting exotic animals to crafting equipment to taking out military outposts and disabling communication towers.
Ubisoft has been pushing its development toward open-world titles for some time. Last year, CEO Yves Guillemot said the publisher was banking on its experience in open-world games as a differentiating factor in the new generation, saying, "Open worlds are the clear direction where game genres are evolving."