Kirby and the Forgotten Land puts Nintendo back on top | Japan Boxed Monthly Charts
Half the top ten games were new entries, thanks to arrival of Gran Turismo 7, Triangle Strategy and Stranger of Paradise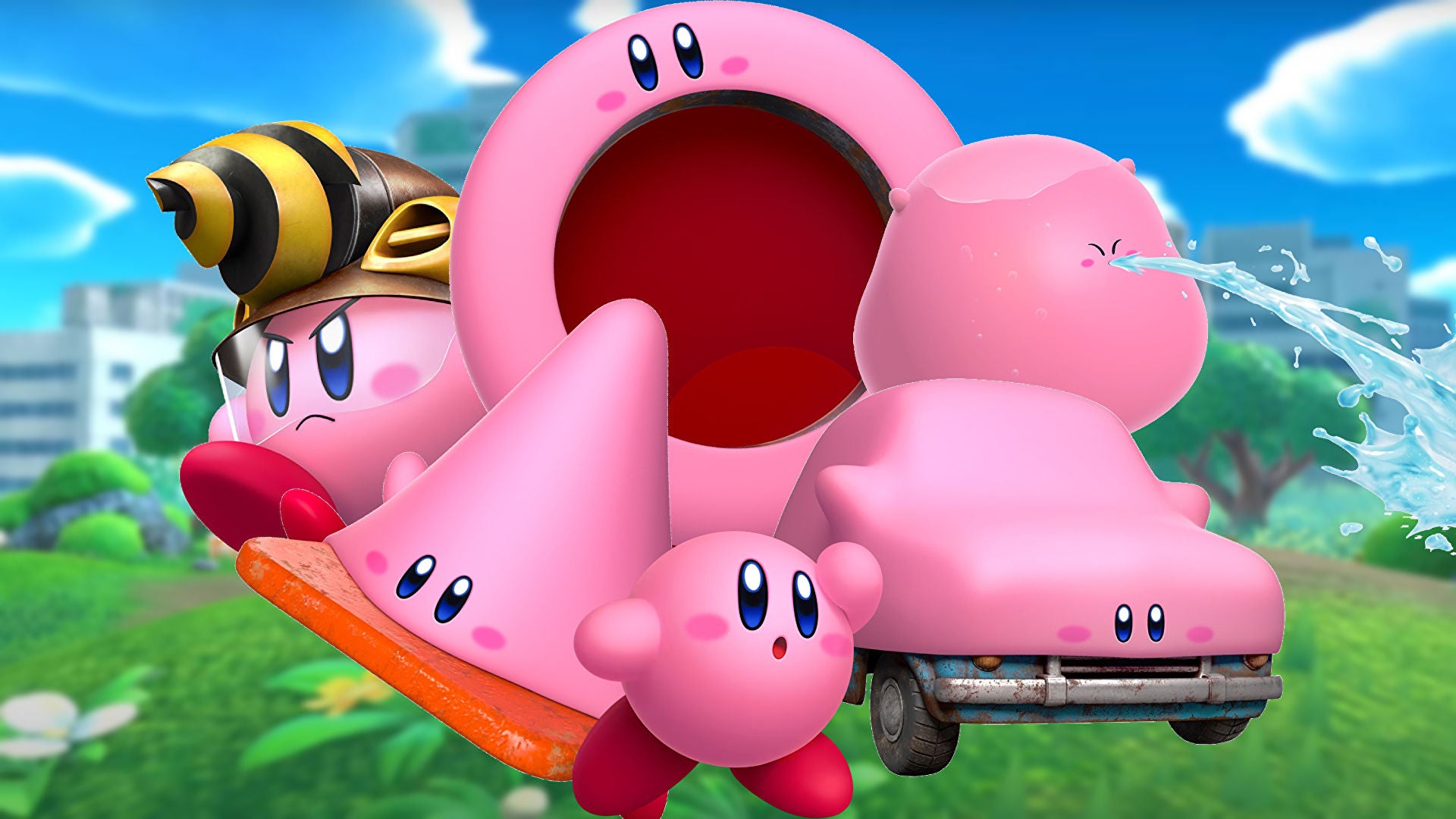 At a glance:
Kirby's return sold 380,000 units in two days -- over 100,000 more than previous game managed at launch
Nintendo was biggest-selling publisher for the first time in 2022
Gran Turismo 7 was second biggest launch of the month
Kirby and the Forgotten Land was the runaway hit of March 2022 in its home market of Japan, comfortably securing the top spot as the biggest-selling retail game of the month.
Famitsu's monthly physical sales charts show the pink puffball's latest Switch outing sold 380,000 units in its first two days. By comparison, the previous entry in the series -- March 2018's Kirby Star Allies -- managed 224,000 in three days.
Kirby's new adventure sold more than double the number of boxed copies as the next biggest-selling game of the month -- Pokémon Legends: Arceus at 125,851 units -- and the next highest new entry: Square Enix's Triangle Strategy at 117,800.
While it was a solid third month for Pokémon, technically Gran Turismo 7 was the second biggest seller of March 2022, shifting over 190,000 copies. However, Famitsu's charts list individual formats separately, placing the PS4 version at No.4 with over 100,000 units and PS5 at No.5 with 90,000.
The SKU split also affected Stranger of Paradise: Final Fantasy Origin, with the PS4 version debuting at No.10 with over 36,000 units sold, while PS5 was lower down at No.16 with over 21,000.
Both Stranger of Paradise and Gran Turismo are led by the PS4 versions due to the console's considerably larger installbase and ongoing stock shortages for PS5.
Other new entries in the Top 30 this month included Square Enix's Final Fantasy-themed racing game Chocobo GP at No.19, the latest .hack//GU game from Bandai Namco at No.21 and Bethesda's Ghostwire: Tokyo at No.27.
Switch accounted for 69.8% of all physical games sold in Japan last month, followed by PS4 at 19.8% and PS5 at 10.1%.
The success of Kirby, combined with ongoing strong performances for Mario Kart 8 Deluxe and Super Smash Bros Ultimate, meant Nintendo regained the top spot as the biggest-selling publisher in Japan. This follows a two-month hiatus where The Pokémon Company was No.1, and the first month in the lead for Nintendo since 2022 began.
Sony Interactive Entertainment rose from No.5 to No.2 thanks to Gran Turismo 7, while Square Enix rose from No.10 to No.3 thanks primarily to Triangle Strategy (but also aided by the launch of Stranger of Paradise).
Total software sales for the month were down 10% compared to February at just shy of two million boxed games sold. It was also well below March 2021, when more than 2.5 million units were sold, aided by the launch of Capcom's Monster Hunter Rise.
Nintendo Switch also led hardware sales, accounting for 78% of all units shifted. These were led once again by the OLED model at 45.3%, followed by the standard Switch at 20%.
The disc-based PS5 accounted for 17.9% of all consoles sold, compared to the digital edition at 2.3%. Unlike last month, Xbox Series X sold almost double the number of units managed by Xbox Series S, likely due to stock limitations. Combined, both still account for less than 2% of all console sales.
Here's Japan's Top 10 best-selling physical games of March 2022, courtesy of Famitsu:
Kirby and the Forgotten Land (Switch | Nintendo)
Pokémon Legends: Arceus (Switch | The Pokémon Company)
Elden Ring (PS4 | From Software)
Triangle Strategy (Switch | Square Enix)
Gran Turismo 7 (PS4 | Sony Interactive Entertainment)
Gran Turismo 7 (PS5 | Sony Interactive Entetainment)
Mario Kart 8 Deluxe (Switch | Nintendo)
Minecraft: Switch Edition (Switch | Microsoft Japan)
Super Smash Bros Ultimate (Switch | Nintendo)
Stranger of Paradise: Final Fantasy Origin (PS4 | Square Enix)