Jo Twist on the power of play | Playable Futures Podcast
Former UKIE CEO joins us for a special episode of our podcast series, available to download now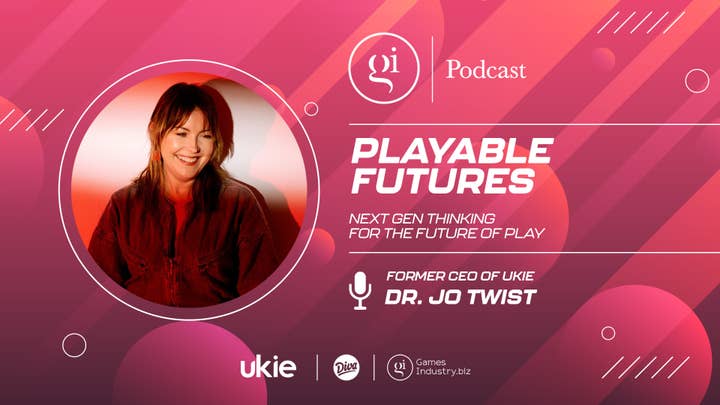 In this special extra episode of the Playable Futures Podcast, Will Freeman chats to Dr. Jo Twist, former CEO of UK games industry trade body UKIE, about how the industry has changed over the course of her impressive career.
After 11 and a half years at UKIE, Twist's imminent move to the music industry, where she will be serving as CEO of the British Phonographic Industry, felt like an appropriate opportunity to pause and reflect on her tenure and the importance of play. Speaking with us at Develop in Brighton, she explained that play has always encompassed more than just games.
You can read highlights from the episode below the podcast player.
The Playable Futures Podcast accompanies Playable Futures, a collection of insights, interviews and articles from global games leaders sharing their visions of where the industry and medium will go next. A series of ten articles so far have been published on GamesIndustry.biz, with more planned. Playable Futures is a collaborative project brought to you in partnership with GamesIndustry.biz, UKIE and Diva.
The GamesIndustry.biz Podcast is available via Spotify, iTunes, Google Play, Stitcher, Overcast, Player FM, TuneIn and other widely-used podcast platforms. You can also download this episode directly.
Title music by Thomas Marchant. Episode produced by Keira Freeman.
"I've always been very obsessed with the power of play," Twist recalls. "It's a fundamental part of being human… Everything, to me, is a game. Especially at the airport. I'm in a racing game. I have to get to the top of that escalator before that person. You know, everything to me is play and playful, because it helps you get through life. It helps you understand things, it helps you stay motivated."
It's not just about play, of course. The games industry plays host to a wealth of different talents across the creative spectrum and UKIE has taken a key role in fostering this. It's something that, understandably, Twist hopes will continue well into the future.
"We're talking about the skill sets that are going to be driving the future economy," she states. "When we're looking at a more algorithmic world that we're moving into, you need a new kind of literacy and that is exactly what games people have. When you're talking about programming or design or systems thinking, those are the skill sets that you need in order to navigate the future."
To that end, one of UKIE's biggest success stories remains Digital Schoolhouse, an initiative started with pilot funding from the Mayor of London, that educates teachers at primary school level to do computational thinking in a playful way.
"That's the thing that's missing from the whole kind of push that you see at the moment on STEM," she posits. "You need emotional intelligence, you need that playfulness, you need that understanding of psychology, of humanity, of art, in order to complete that skill set."
"Human-led creativity must lead and work in partnership with technologies, as the games industry has demonstrated for the last 45 years"
As she moves away from games, Twist remains optimistic about the future and UKIE's place within the educational landscape of not just gaming, but wider media culture and consumption – particularly in the face of the rise of AI.
"The world is slightly panicking about AI. It doesn't really understand what it's doing," she concedes. "We went through this cycle with the Internet where we forgot to educate people on how to protect themselves… Instead, we scared people off. With artificial intelligence, people don't understand it. And I've always said you cannot have artificial intelligence without emotional intelligence."
With games effectively serving as a kind of parental figure for AI, the gaming workforce is uniquely positioned to educate and lead the way.
"I think it gives us a real opportunity to really ram home that messaging about STEAM – science, technology, engineering, arts and maths – as a future skill set that we need. Human-led creativity must lead. It must work in partnership with technologies as the games industry has demonstrated for the last 45 years to create these incredible things."
Away from education, Twist's tenure has also seen the industry make significant strides in terms of equality, diversity and improving its overall culture. The hope is that, in doing so, games as an industry will continue to become a more inclusive and welcoming place to work.
"We're definitely going in the right direction," she states. "Humans are flawed – we can't fix that – but what we can do is put in measures and make sure that we're on top of what we can do as companies and as humans to protect people, to include people and make sure that we're doing the best we can. I want to be working in an industry where people can point at it and go, 'That's where I want to work.' Here's their kind. They care. They've got power. They're doing incredible things. I want everyone to be jealous of this industry."
Sign up for the GI Daily here to get the biggest news straight to your inbox