Jade Raymond on EA: "I kind of feel like a kid in a toy store"
Former Ubisoft exec on why she chose EA and how it's different from the French publisher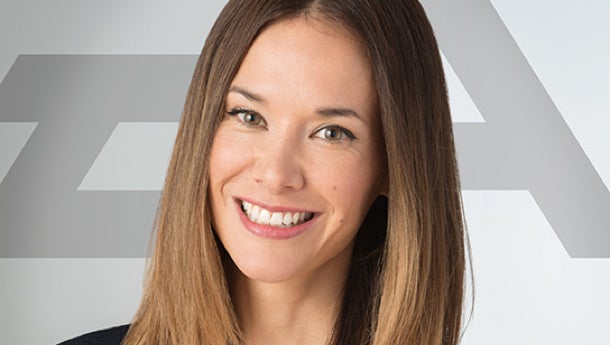 Last month we found out that former Ubisoft Toronto head Jade Raymond had joined rival publisher Electronic Arts to work alongside Amy Hennig on a Star Wars game while also overseeing a new Montreal studio called Motive. In a new interview with GameInformer, Raymond went into further detail about her decision to join EA and she also highlighted a few interesting differences between the publishers.
"It took me a while to figure out what I was really excited about... Ultimately, it was a bit of soul searching. I had to ask myself, 'As a human, if I look down the road 10 years from now, what am I going to be happiest having accomplished?' For me, my personal gratification doesn't come from doing something all myself. It doesn't come from selling my startup for X amount of money. I'm not really motivated by those things. I like being part of a team. I will ultimately be happiest if I get to be a part of a team that creates another big IP that has an impact culturally. A game that's a big enough mass-market hit that it has impact and enriches people's lives or makes a statement.
"I think when I looked at different options, it was clear to me that EA's focus, its desire to fill out an action portfolio with the leadership there and my conversations with Patrick [Söderlund, EA executive vice president], what I really love doing fit into what EA is trying to do strategically. Obviously, wherever you go, you want to feel like you're filling a real need. It ended up by far the most exciting thing for me."
Not only is Raymond being given the opportunity to work on Star Wars and Battlefield Hardline, but she has the freedom to build an all-new IP in the near future and EA seems to be fully supportive of whatever direction she chooses.
"It's pretty amazing, because we already have a great relationship with Patrick. It's one of the reasons I was so happy to come here. He hasn't even asked me what the idea is, to be perfectly honest," she explained. "I've seen that his approach is to hire people who he feels are competent and are good at what they do, and give them the trust and what they need to execute on that. I think that's one of the things that makes me happy to be here. As a game developer, I have quite a few ideas that I would love to make. How those ideas specifically take shape has a lot to do with the team.
"I think great games are made by the combined vision of the right creative director, writer, and the magic of those different talented people. They sort of improv off of each other to develop a great concept. I would hate to come in and have a set idea and have people execute it. I don't think that's how you get the magic of games."
As for the differences between Ubisoft and EA, Raymond explained that while Ubisoft was originally started as a "family business" by Yves Guillemot, there's more of a "separate business unit approach" at the French publisher. EA, she said, seems "really focused on one team across the worldwide studios." With that in mind, Guillemot allows his studios at Ubisoft to build engines if they need them, but at EA there's been more collaboration based around Frostbite, which has Raymond plenty excited.
"It's just so exciting to me, and it was one of the big things that was attractive to me about EA. If you look at the industry, there are so many different kinds of platforms. There are so many different kinds of games: online, competitive multiplayer, mobile, VR. I think in terms of having a big, successful game company, if you focus your technological development on a combined engine that can give tools to game developers so they don't need to reinvent the wheel, it's great. It allows you to take more risks and be more innovative. It allows you to create interesting synergy and opportunities for collaboration," she noted.
"I had a meeting with Aaryn Flynn, who runs BioWare. He's great, we're talking about how we're going to collaborate across Motive, Visceral, and the BioWare studios. We're talking about the things that we want to see in Frostbite. There's also the stuff that's happening at DICE with Battlefront. I kind of feel like a kid in a toy store. I can get all these things and build on them, instead of starting from scratch to figure out how to get characters to walk."
Regardless of the publisher she works for, Raymond did share that Montreal by itself just has a different vibe; the culture definitely creates a different work atmosphere.
"When I moved back to Montréal to work at Ubisoft, I was shocked that it was quite different. I'll tell you a story. I booked a meeting with the team on Assassin's Creed at lunch time. I had a bunch of guys at my desk telling me, 'Uh, Jade, you know we don't have meetings at lunch time.' So I moved the meeting to 1 p.m., but they came back to my desk. 'Well, if you want people to come to your meeting, we suggest you don't book it between 12 and 2 p.m. Lunch might take a while and we might need to have a coffee after.' But it was interesting to me that when you're working in a creative field, there's a lot of valuable stuff that gets done when you're talking with your team members and not at the desk. Exchanging ideas in a different setting leads to creative ideas you wouldn't have had if you were alone.
"There are exchanges that happen when people have lunch with each other, they talk about other things, but they talk about work, too. It comes from a different angle. That approach where you might think that it's a province full of unproductive people, I think creative productivity isn't necessarily the same as an assembly line version of productivity. It's not measured by raw output or keystrokes that you type into your computer. It happens through communication."