Is Xbox Game Pass really a threat to physical retail?
GAME and GameStop investors have been frightened by Microsoft's new digital initiative
When Microsoft announced it was launching a subscription service for Xbox One and Windows 10, retail investors do what they do best - they panicked.
Both GAME and GameStop (although particularly GameStop) saw their share prices take a bit of a tumble in the wake of the new initiative being revealed.
Investors are right to be concerned, of course, although not just because of Microsoft's new experiment. The physical games market is still lucrative and not about to vanish overnight (or at all), but it is shrinking and continuing to do so. There are fewer games being released in boxes and consumers are becoming more comfortable with digital platforms. Currently AAA games are primarily sold physically - upwards of 80% in most cases - but that number is being encroached by digital every year.
The likes of GAME and GameStop are not oblivious to this and are aggressively pursuing new ventures to offset the declines in their core business. GameStop is investing in publishing and merchandise, while GAME has spent millions building its eSports and events projects.
What's interesting about Xbox Game Pass, however, is that it targets the heart of one of GAME and GameStop's most significant revenue generators - pre-owned.
Xbox Game Pass is not the 'Netflix for games' that it has been dubbed. The business model may be the same, but that TV service entices viewers with exclusive content such as Daredevil and Stranger Things. Xbox Game Pass is just a means to play games that you missed from two years ago - but that is still significant.
"Back catalogue is dead at retail. The shelf-life of new games is getting shorter and shorter."
Back catalogue is dead at retail. The shelf-life of new games is getting shorter and shorter. As soon as GAME and GameStop start receiving a decent number of trade-ins of, say, Resident Evil 7, then they no-longer need to order anymore stock from Capcom. Unless you're GTA or FIFA, the idea of getting recurring revenue from a game you released months ago is unlikely - DLC and microtransaction revenue aside.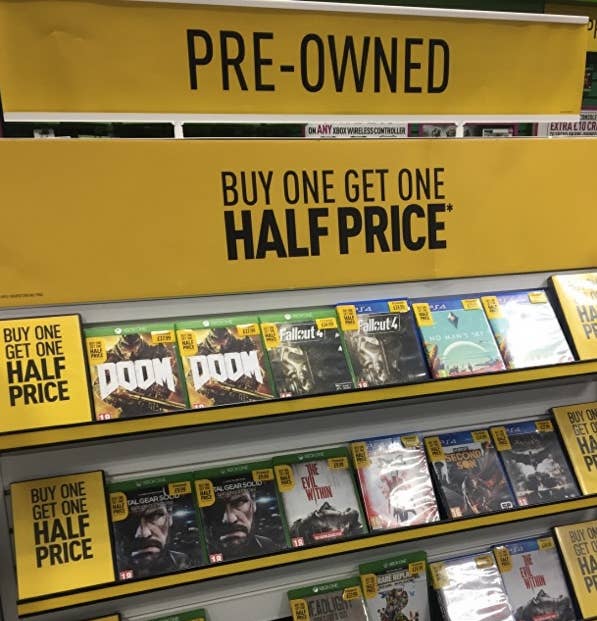 Xbox Game Pass gives publishers a chance to extend the life of its products and try and claim a slice of that second-hand market.
However, as of this moment, it's hard to see Xbox Game Pass having an immediate impact upon the business.
Take EA Access or PlayStation Now (or historically OnLive). These services have certain issues - whether that's a lack of content or the challenges around streaming - but their subscription offerings simply haven't generated significant interest amongst consumers (yet).
The initial announcement of Xbox Game Pass was also notable by its absences. There was no EA or Activision or Ubisoft (perhaps those last two are also planning their own). The games initially touted for the service appear to be either forgotten releases from a few years ago, first party content, ageing sports games or Xbox 360 titles.
Now that's not to be disparaging towards the initiative. Netflix, Amazon, Apple and Spotify show that subscription services do work in other entertainment mediums if the proposition is strong enough - and £7.99 for access to 100 games seems more than reasonable. Xbox will also certainly push the proposition hard - we should expect to see 'one month free' game passes bundled with every Project Scorpio machine.
And let's not forget, in 2011 over 50% of Netflix usage came from games consoles - so this is an audience that does subscribe to entertainment services.
"In 2011, over 50% of Netflix usage came from games consoles"
Yet it's going to take time to get there. Perhaps in a few years, EA Access will become part of the Game Pass. Maybe Xbox could debut a few of its more quirky indie games on the service. And there's the prospect for other offers, too, such as the chance to buy games early or obtain exclusive DLC. I would imagine the idea of an Xbox Live Platinum service, which includes the Game Pass, is very much in the thinking.
It is the platform holders that will make this work. Nintendo, PlayStation, Xbox and Steam are the companies that have the largest base of loyal fans, not to mention an ecosystem that they're already committed to. But there's a lot of convincing to be done, both to publishers and consumers.
So should GAME and GameStop's investors be fearful of the subscription model? Well, yes, but only in the way that they should be concerned about the digital market in its entirety. The physical sector remains a multi-billion dollar business, and the success of expensive accessories, the rise of gaming merchandise, and the fact you can't download a console, means that it's not about to die anytime soon.
Yet it is declining. Investors don't like that. The onus is on the specialist retailers to diversify their businesses quickly, and that's what they are trying to do.
The imminent arrival of Xbox Game Pass doesn't really change that.