Ion Fury retains controversial in-game content after all
Update: Facial cleanser name is in, slur is out, company still donating to Trevor Project and mandating sensitivity training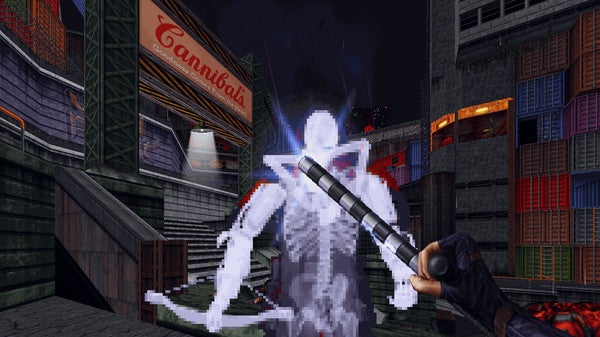 Update: A series of tweets by the official Voidpoint Twitter account following the official statement this morning indicates that the homophobic slur in Ion Fury has been removed from the game.
In response to a question about the slur, which was hidden in a developer room in-game, Voidpoint replied that it was "a legitimate error made by a developer who doesn't even live in an English-speaking country. It wasn't a joke, political statement, or anything else. I asked him if it would be offensive in his country, he said no, I believe him. He removed it."
Another tweet also pushed back against the company's PR statement from last week, saying that "the PR company responsible added an entire extra sentence to our original apology statement that made tons of customers think we were censoring the whole game."
Finally, another tweet confirmed that Voidpoint will still be donating to The Trevor Project as promised.
When asked for comment and clarification, 3D Realms sent over the following statement:
"We at 3D Realms spoke with Voidpoint today and they reaffirmed their commitment to honoring their original statement, including the donation to The Trevor Project and sensitivity training. However, the soap bottle will not be removed.
The use of the word "f*gbag" in an area that was inaccessible without hacking the game, and was added by one developer without approval from anyone else, was removed a few days ago. We once again apologize for this text as it does not reflect the values of 3D Realms or Voidpoint.
Jokes at the expense of marginalized communities will not be present in future games published by 3D Realms. However, a portion of our community made it loud and clear they felt removing "Ogay" was censorship and should be protected by free speech. Voidpoint wanted to listen and we respected this decision."
Original story: The developer and publisher of Ion Fury have walked back a decision made last week to remove homophobic content from their game.
In a joint statement posted to the Steam Community forum, developer Voidpoint and publisher 3D Realms said the following:
"We've caused a recent controversy suggesting Ion Fury game content was to be censored.
"We will absolutely NOT be censoring Ion Fury or any of our other games, now or in the future, including but not limited to by removing gags such as gaming's most controversial facial wash.
"We do not support censorship of creative works of any kind and regret our initial decision to alter a sprite in the game instead of trusting our instincts. 3D Realms and Voidpoint stand together on this matter.
"Last but not least, please respect our need to keep our community forums clean from hateful messages, spam, or off-topic threads. We recognize our mistake and have received your message loud and clear!"
Specifically, the statement is referring to a bottle in-game that displays the word "Ogay," a reference to "Olay" products. However, the game also includes a more specific homophobic slur written on a wall in a hidden developer room.
These messages were uncovered last week, following an incident where developers were criticized for using ableist, transphobic, and sexist language in the game's official Discord channel alongside jokes about "social justice warriors" and "leftists."
Following the criticisms, 3D Realms and Voidpoint issued a statement apologizing for both the remarks and the in-game language, saying that would implement a "zero-tolerance policy" for such language, implement mandatory sensitivity training, and donate $10,000 to The Trevor Project from the launch day proceeds. In addition, they promised to patch Ion Fury as soon as possible to remove the derogatory language.
"Members of Voidpoint's Ion Fury team have made sexist and transphobic comments, and included homophobic language in Ion Fury," read the original statement. "We recognize these statements are insensitive, unacceptable, and counterproductive to causes of equality. We unequivocally apologize both for these comments and language as well as for any pain they have caused the gaming community, particularly women and members of the LGBTQ community. We take full responsibility for any damage that has been done to the relationships we've worked so hard to build."
GamesIndustry.biz has reached out to 3D Realms and Voidpoint for comment, as well as to determine whether the other promises (sensitivity training and the donation) would still be done.