Ion Fury developers apologize for sexist, ableist, homophobic, transphobic remarks
Voidpoint pledges zero-tolerance policy, sensitivity training, game patch, and donation to The Trevor Project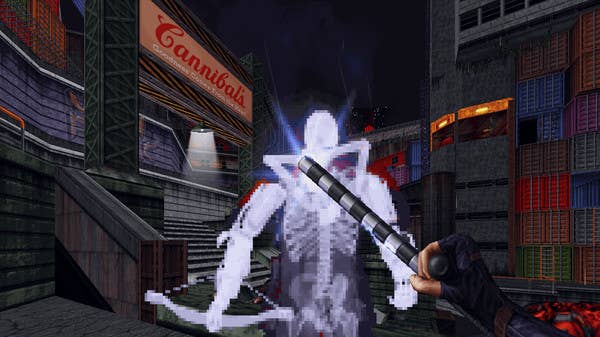 Ion Fury development studio Voidpoint has apologized for a series of incidents over the weekend where multiple developers used transphobic, ableist, and sexist language in an official Discord channel, with additional homophobic language being uncovered in the game itself.
Last Friday evening, images (CW: language) surfaced on ResetEra showing multiple developers making derogatory remarks about transgender individuals and feminism, as well as using ableist slurs and making derogatory remarks about "social justice warriors" and social justice in general.
When confronted about the language being used, Voidpoint's official Twitter initially claimed the full context for the language was missing and doubled down on the remarks against "SJWs" and "leftists." The tweets in question are still up at the time of publication.
Furthermore, other users found homophobic language and slurs in Ion Fury itself, the most notable being in a hidden but accessible developer room where a homophobic slur is written on the wall.
Today, 3D Realms and Voidpoint issued a statement to Game Informer apologizing for the behavior of the developers and promising to make amends.
The full statement is as follows:
"Members of Voidpoint's Ion Fury team have made sexist and transphobic comments, and included homophobic language in Ion Fury. We recognize these statements are insensitive, unacceptable, and counterproductive to causes of equality. We unequivocally apologize both for these comments and language as well as for any pain they have caused the gaming community, particularly women and members of the LGBTQ community. We take full responsibility for any damage that has been done to the relationships we've worked so hard to build.
"Moving forward, Voidpoint will institute a zero-tolerance policy for this type of language and all employees and contractors will undergo mandatory sensitivity training. As part of our efforts to contribute to the work that must be done to further support these communities, we are donating $10,000 from Ion Fury's release day proceeds to The Trevor Project. We are also patching Ion Fury ASAP to remove all unacceptable language."
ResetEra members on the same thread have shared screenshots indicating that while the developers who made the problematic statements are still in the Discord and are moderators, they are defending the company decision and do not appear to be tolerating discussion complaining about the choice within their community.