Duke Nukem rights suit settled
UPDATE: Gearbox, 3D Realms, and Interceptor Entertainment release statement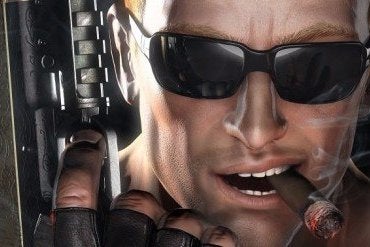 It was May when it was reported that Gearbox, 3D Realms, and Interceptor Entertainment had reached an agreement in the dispute over Duke Nukem: Mass Destruction. Now the three parties have released a joint statement concerning the dispute, which we've reproduced in full below.
Joint Statement by Gearbox Software, 3D Realms and Interceptor Entertainment
Gearbox Software, 3D Realms and Interceptor Entertainment have resolved their differences; the parties have voluntarily ended all litigation between them.
From Mike Nielsen (3D Realms CEO): "When Interceptor acquired a license to develop 'Duke Nukem Mass Destruction' ('Duke Nukem Survivor') from 3D Realms, we did so in good faith and were not aware of any conflict. We never intended to cause any harm to Gearbox or Duke, which is why we immediately ceased development after Gearbox reached out. To secure the future of Duke, 3D Realms has agreed with Gearbox that a single home serves the IP best. And as big Duke fans, we're excited to see what Gearbox has in store for the 'King.' As for our own games, we're eager to complete development of the 'Bombshell' game and get it in the hands of our fans."
Statement by Frederik Schreiber
I'm really happy that the lawsuit between Gearbox, 3DR, and Interceptor has come to an end. Right now, I, along with my Interceptor colleagues, are busy making the finishing touches on "Bombshell." We can't wait until you guys can play it!
Now that the lawsuit is over, I'd like to say a few things about my history with Gearbox, and hopefully clear some things up. I've been a huge Duke fan for many years, and the original Duke Nukem 3D was a big influence on me and my career in this industry that I love.
I want to express my deepest gratitude to Gearbox for allowing me to work on Duke Nukem Reloaded. I decided to cease production of Reloaded in 2011 to establish Interceptor and work on Rise of the Triad.
I want to make it clear now, once and for all - It was my own decision to pull the plug on Duke Nukem Reloaded, even though we were fully allowed to continue development. I respect Gearbox for supporting a young developer, and I'm glad we can now put this behind us.
I look forward to completing development on "Bombshell" and-as a long-time fan of Duke-I'm excited to see what Gearbox has in store for the 'King'!
Statement by Gearbox
Gearbox Software has voluntarily ended its litigation against Interceptor Entertainment and 3D Realms, and wishes to keep the terms of its settlement confidential except to confirm that Gearbox Software is the full and rightful owner of the Duke Nukem franchise.
Gearbox Software appreciates the sentiments from Interceptor and 3D Realms' representatives. Gearbox Software President Randy Pitchford said, "I genuinely appreciate Mr. Nielsen's and Mr. Schreiber's statement and sincerely offer my best wishes to Interceptor Entertainment and 3D Realms towards their future success and, as someone who was part of the 3D Realms team when Bombshell was first imagined, I am excited to see what they have in store for us with their game.
Original story
The latest legal battle over Duke Nukem is over, but the fallout remains unclear. As spotted by a NeoGaf user and confirmed through court filings, Gearbox Software, 3D Realms, and Interceptor Entertainment earlier this month reached a mediation-assisted settlement in a suit over the rights to the first-person shooter franchise.
While the relevant parties apparently reached an agreement, they asked for 30 days to finalize the terms of the settlement. Rather than order a stay, the judge administratively closed the case while leaving open the possibility to resume it should further action be necessary.
The fight started in February 2014 when Danish developer Interceptor teased that it was working with 3D Realms on a new game called Duke Nukem: Mass Destruction. Gearbox filed suit, calling the new game a violation of its 2010 deal with 3D Realms that saw the Borderlands developer acquire all Duke Nukem IP rights "with very limited exceptions."
This was not the first legal action to come from that agreement; in 2013, 3D Realms sued Gearbox, alleging the developer withheld profits from the first game it released after the original IP purchase, Duke Nukem Forever. That suit was settled in a matter of months, with no money changing hands and 3D Realms chalking it up to a "misunderstanding."
[UPDATE] A representative with Gearbox has not returned request for comment, but a spokesperson with Interceptor said the studio was unable to comment at this time and 3D Realms said it has no comment due to the protective order of the lawsuit.