Intel pledges $300 million to promote diversity
"We're calling on our industry to again make the seemingly impossible possible"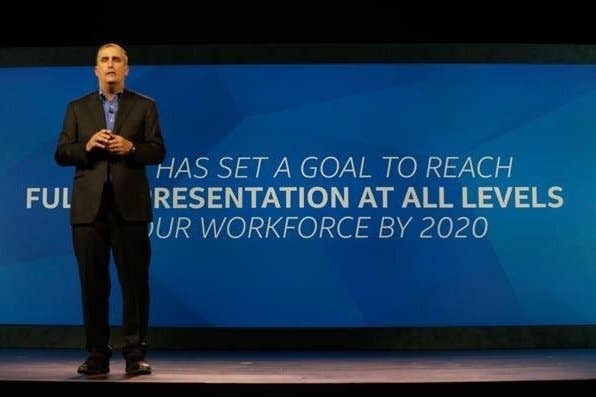 The electronics giant Intel has pledged $300 million to promote diversity both within the company and the technology sector as a whole.
The announcement was made yesterday by CEO Brian Krzanich, as he brought his CES keynote to a close - a surprising turn for an address that, until that point, had largely been focused on the importance of wearable computing.
"We're calling on our industry to again make the seemingly impossible possible by making a commitment to real change and clarity in our goals," Krzanich said. "Without a workforce that more closely mirrors the population, we are missing opportunities, including not understanding and designing for our own customers."
At its core, the "Diversity in Technology" initiative will be a hiring and retention scheme to drive Intel towards better representation of women and minority groups in its general workforce and leadership positions by 2020.
In addition, $300 million will be invested to "build a pipeline" for under-represented groups into fields like engineering and computer science, and the technology and gaming sectors. This will involve collaboration with a range of organisations, including the International Game Developers Association, the E-Sports League, Feminist Frequency and the National Center for Women in Technology, among others.
The inclusion of Feminist Frequency in that group is telling. Starting as a web-series highlighting gender issues in video games, its creator, Anita Sarkeesian, was the focus of some of the worst threats and abuse made in the name of the so-called "GamerGate" campaign last year.
Intel pulled advertising from Gamasutra.com in October after an undisclosed number of its customers - apparently gathered behind the GamerGate hashtag - complained about an article in which one of Gamasutra's editors voiced strong opinions about the changing nature of the gaming sub-culture.
Intel issued an issued an apology a few days later, stating: "When it comes to our support of equality and women, we want to be very clear: Intel believes men and women should be treated the same. And, diversity is an integral part of our corporate strategy and vision with commitments to improve the diversity of our workforce."
And it of it wasn't before, the Diversity in Technology initiative means it certainly is now. Intel hasn't yet made its EEO (Equal Employment Opportunity) data for 2014 available, but its 2013 report states that its workforce is 76 per cent Male and 57 per cent White, with another 29 per cent Asian - roughly in line with other major tech companies like Microsoft, Apple and Google.
Intel's full EEO report for 2013 can be found here.