How Teddy Kossoko is championing the games industry in Senegal
We talk to Masseka Game Studio's founder about his push to build a game development hub in Dakar, and lifting up the industry in West Africa
A new gaming hub is set to blossom in Senegal following a €300,000 investment announced last month.
It's the result of a partnership between Toulouse-based games studio Masseka, the French Embassy in Senegal, the DER (General Delegation for Rapid Entrepreneurship in Senegal), and Dakar-based studio Kayfo Games.
The funding will see the creation of a hybrid structure – part incubator, part development studio – in the Senegalese capital. The aim is to boost the local industry, and put Senegal on the West African gaming map, with developers invited (and paid) to train in the new hub from September.
The project is led by Teddy Kossoko, an engineer by trade who created Masseka in 2018 – a games studio focusing on African cultures. He's also behind Gara, a marketplace to distribute and monetise games across the African continent.
"I was looking for a way to tell African stories, so that's why I started building games"
"I've been in the video games industry for approximately nine years," Kossoko tells GamesIndustry.biz. "I [initially] wasn't in this space, I was an engineer in science and management working in the space industry. I was born in the Central African Republic and when I arrived in France, when I left my country in 2012, I started to notice that there are a lot of people that don't really know the African continent.
"I was looking for a way to tell African stories, so that's why I started building games, and created the first video game company in France focusing on African stories. And two years later, we started building a platform, kind of a Google Play Store for Africa, [called Gara]. It's a platform in which we integrated all of the payment systems we can have on the [African] continent because people don't have credit cards to pay, so we created another ecosystem."
The creation of the Dakar gaming hub is the continuation of these efforts to cater to African audiences and create sustainable ecosystems on the continent. The idea for the hub emerged last year while Kossoko was in Senegal to solidify partnerships with telecom companies for Gara.
"In Africa, telecom companies act like banks – all of the transactions work through telecom companies," he explains. "So I was intending to accelerate some partnerships and I met the person working in the French Embassy in Senegal in charge of everything regarding technologies. We [talked] a lot and this person was previously in the French Embassy in South Africa so he had in mind everything regarding the [games] ecosystem in South Africa, and he asked me how we can try to develop a similar ecosystem in Senegal. A few months later, in February, he contacted me to write a project for the French Ministry for Foreign Affairs."
The initial proposition was for an incubator but Kossoko wasn't sold on the idea.
"If we created an incubator, at the end it would be complex for all of the companies to be sustainable because the ecosystem is extremely difficult [in Senegal]. So what I preferred to build is a kind of gaming studio plus incubator. That is to say we are going to launch game jams, we are going to come up with ideas, we are going to select the best developers, best artists, we are going to give them contracts to train them inside the studio, and they are going to produce [games].
"The vision is to have this hub be sustainable, so at the end of the money, all of the games created inside the studio, all of the revenue generated, will keep the activities [going]"
"So I say that my objective is to have a production studio, so we can produce a lot of content based on Senegalese cultures, West African cultures. And because we have a distribution platform, all of this content is going to be inside a platform to be monetised."
Once the projects are out, the idea is also to analyse their trajectory and generate data about the ecosystem across West Africa, and share these findings to be able to build "a real ecosystem," Kossoko says, essentially creating a virtuous circle.
"The vision is to have this hub be sustainable," he continues. "So at the end of the money, all of the games created inside the studio, all of the revenue generated, will keep the activities [going]. All of the people in the studio are going to be employees of the hub.
"For the moment, the hub belongs to Masseka but in the future, if I succeed in making the hub profitable, [it's] going to be something totally independent from my company. [Masseka makes it] easier to structure the hub, to accelerate [it], and at the end of this programme, if we make the hub profitable, all the guys are going to stay in the hub and are going to continue the work."
The French Embassy accepted the terms laid out by Kossoko and even decided to invest more, as the initial funding was meant to be $150,000 for one year.
"They told me, 'Okay, we are going to double the amount of the money and you have a year and a half to prove that you can build an ecosystem in Senegal'," Kossoko recalls.
The country currently can be divided between an unofficial games industry and an official one, he further explains.
"At the beginning of the discussion I mentioned telecom companies doing stuff in Africa… Telecom companies generate a lot of revenue with games in Africa – Senegal is one of the most profitable ecosystems [for this]," he says. "And in this unofficial world, what telecom companies do is to take games from Europe, from Asia, and democratise it online then take the revenue."
"We don't have a real ecosystem in Senegal – it doesn't exist"
While successful, this unofficial ecosystem mostly benefits the telecom companies, but does not help with growing a local scene of game makers.
"In the official ecosystem, you have approximately four indie studios in Senegal. Most of them, in order to survive, work on contracts. But we have thousands of what I can call game developers, without structures, without entities. They like playing games, like building small games on their laptop. We don't have a real ecosystem in Senegal – it doesn't exist. Big games, we don't really do that, we have people here and they're trying to build things but don't have a massive production like we have seen with clients in Nigeria, for example."
The hub is not only an opportunity for these developers to come together, but also to take a step towards professionalisation by giving them access to tools and training.
"We have a lot of people trying to develop games [in Senegal], but they're not really good because most of the time they learn on YouTube, they learn online and that's why the hub is also here – to try to structure them. We take them [as they are]. There are a lot of lessons, courses [and] people we plan to provide in order to help the level to grow and to have something equivalent to what you can have here in Europe."
The idea with the hub is also to do some co-productions with local studios and, once the team is up to scratch, co-productions with Western companies.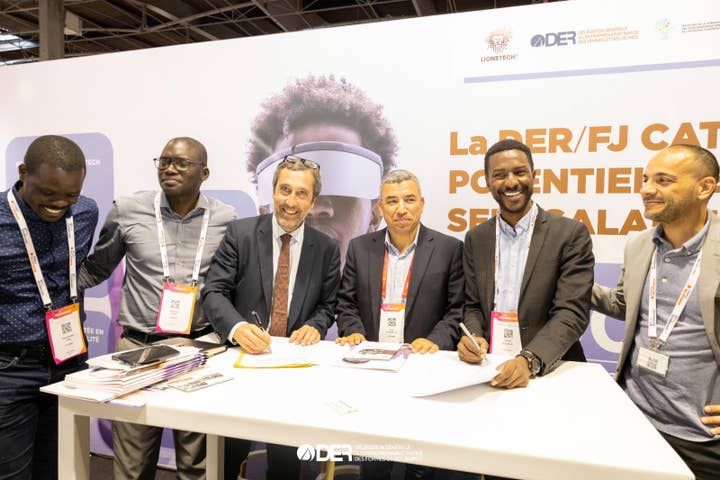 Kossoko touches upon the obstacles that have stood – and, for some, continue to stand – in the way of building a sustainable games ecosystem in Senegal.
Businesses in West Africa face many challenges, including securing a stable supply of electricity, which Kossoko tells us is an "extremely complex" issue in the region. Even if developers manage to power their studio, they need the right hardware and have to navigate the difficulties of bringing their game to market.
"You have to have money for distribution because we don't have distributors in Africa. Gara today is one of the first distributors we have on the continent, and focused on the continent. We have Carry1st in South Africa, but they don't bet on African content.
"Also, one of the things that I can mention is the fact that in these countries, most of the time, developers don't have the support of the government. You'll see in France and in Germany, in a lot of European countries, even in South Africa, you have a lot of grants, you have stuff like this that can help people to create, because the governments understand the importance of the industry, of gaming. So this is [another] of the difficulties we can face in West Africa.
"In the case of Senegal and in the case of this hub, we have this chance to have the support of the DER and this is one of the government structures in charge of pushing entrepreneurship. In 2019, they did a first try with Unity – the first partnership with Unity in Africa. But it failed because it didn't really understand how to use Unity, how to push this tool in universities, etc. So with the hub it's a new opportunity for them to try to push gaming in Senegal since they joined the programme."
"All of the big companies have in mind that the future is in Africa, but most of them don't want to invest"
The DER will be providing fully kitted offices for the new hub, namely an entire floor of its HQ in Dakar.
The game jam – organised by Kayfo Games' boss Julien Herbin, described as a "key stakeholder" by Kossoko – in September will kick off the whole initiative, and also help to discover new talents that could join the hub.
"In September we plan to release a market study," Kossoko adds. "We are going to do a market study on Senegal, Côte d'Ivoire, Ghana, and Nigeria, that we are also going to publish. And then in September we launch the hub and we plan on inviting [stakeholders] like the French Embassy, [and] the government, to be like 'Okay, this is what we're trying to do here and if you want to push, if you want to know more, we are here to show you'."
Concluding our chat, Kossoko discusses the future of gaming on the African continent.
"It is accelerating as things are moving so fast," he says. "When I started building games for Africa, gaming in Africa wasn't an interesting subject. We had few people talking about this. Today, we have lots of people interested by gaming in Africa, lots of funding for this, too. And all of the big companies have in mind that the future is in Africa, but most of them don't want to invest. So they are just waiting for people like me or all those guys to do the hard work, and then they become [interested]," he laughs.
"So yes, if we want this future to happen, we have to build an ecosystem because in the last 20 years, telecom companies [have taken] money from the ecosystem, and [haven't] invested in the ecosystem. So now if you want an ecosystem to be here, we have to invest in our studios, to have incubators, to have lots of games, productions, distribution, you know, an ecosystem plus universities, teaching Unity, teaching Unreal Engine, stuff like this. This is the work we have to do for the years to come."
Sign up for the GI Daily here to get the biggest news straight to your inbox