How Garena Free Fire plans to stand out from the battle royale crowd
Producer Harold Teo on keeping the mobile shooter fresh and becoming the most downloaded game for three years running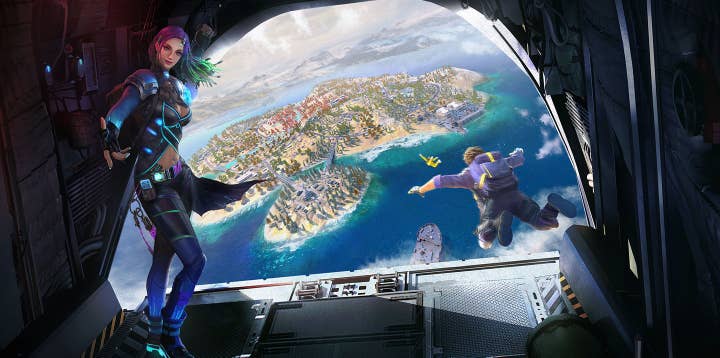 Garena Free Fire is a name that frequently appears in reports and infographics about the global mobile games market, but rarely grabs headlines in the games media -- at least in the West.
Developed and published by Singaporean games firm Garena, the title is not just another contender in the mobile shooter and/or battle royale space; it's actually one of the most successful.
In fact, according to App Annie, Garena Free Fire has been the most downloaded game in the world for three years running, and last year was behind only PUBG Mobile, Roblox and Candy Crush Saga in terms of monthly active users. Garena tells us peak DAU reached a record high of 150 million in its latest quarter, according to its Q2 2021 earnings results.
"It has definitely surpassed our wildest imaginations back when we started the game," says producer Harold Teo.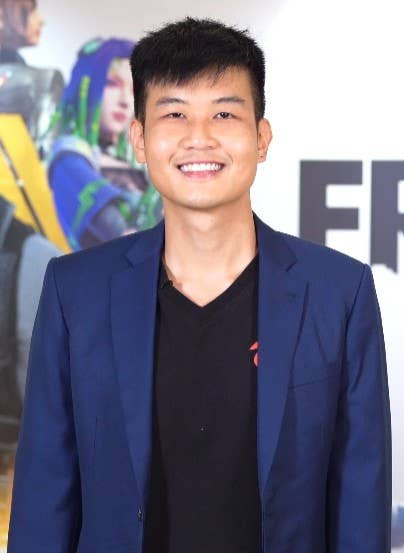 "When we developed Free Fire, we wanted to create something that was specifically for the mobile phone, and something that could engage a wide audience. Smartphone penetration was increasing, and we could tap into a lot of players."
Following Garena's work as a publisher, which started in 2009, the company decided to internally develop a title of its own. Teo says the development studio began in 2014, and the result was Free Fire, which launched in August 2017 -- six months ahead of the mobile version of PlayerUnknown's Battlegrounds, although five months after the original PC version.
Since our interview with Teo, Krafton has actually filed a lawsuit against Garena, as well as Apple and Google, claiming Free Fire is "blatantly infringing" on PUBG. We reached out to Garena and a spokesperson told us: "Krafton's claims are groundless."
Krafton has filed similar suits against Epic Games over Fortnite (which was dropped) and NetEase over Knives Out and Rules of Survival (which settled a year later). Regardless of the merit of any of these complaints, the battle royale genre is clearly populated by numerous familiar-looking contenders. Garena's answer to this has been to add more variety to the game. While Free Fire is perhaps best known to some as another contender in the battle royale space, the shooter has been expanded over the years with additional game modes that Garena hopes set it apart from the crowd.
One popular example is Clash Squad, a simple four-vs-four deathmatch that allows for quicker matches. Then there's the more outlandish Pet Mania, where players are transformed into animals and compete in a series of races and challenges, either in teams or on their own.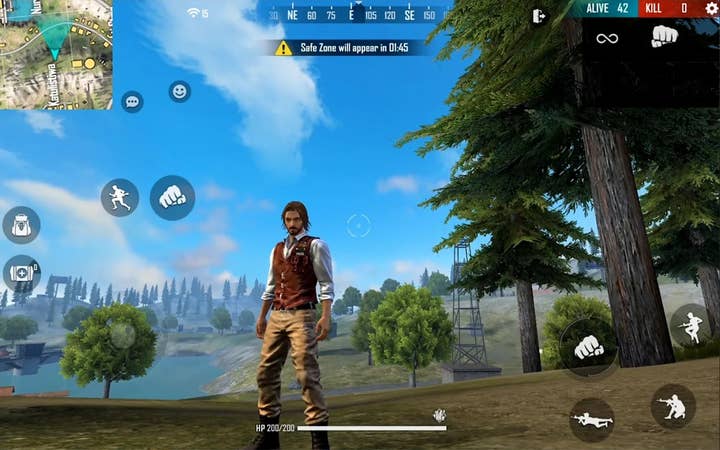 "Competition is definitely something that we are very used to here in the mobile gaming space," says Teo. "Tons of apps are being launched on the App Store every day. So, I think what's more important for Garena, and specifically Free Fire, is to be focused on what we are doing, and not be led by what other people are doing. We have specific objectives in mind, which are to make the game as accessible as possible, reach a wide audience, and serve our users."
When pressed further on what he means by 'accessible,' Teo says the priority is to "serve mobile user behaviour" by fitting into the small pockets of time where people are free to play games on their phone.
"If our game is 4GB, 8GB or something, then people have to think twice about installing"
"The longest any Free Fire match lasts for is 20 minutes," he says. "Some game modes -- like Clash Squad -- are much shorter than that. You might play for ten minutes, five minutes, but the longest might be 20 minutes. If you compare that to some of our competitors, it's pretty short."
Another example of what Teo means by accessible is file size. The original Free Fire in 2017 was only 200MB to ensure it could fit onto almost any phone.
"If our game is 4GB, 8GB or something, then people have to think twice about installing," he says. "They have to delete some apps on their phone, and sometimes even the entire phone capacity might not be able to fit that sort of game. Even today, one of the team's priorities is to make the app as lightweight as possible."
Keeping the game lightweight is also one of three key factors that Teo credits for Free Fire's ongoing ability to attract new users, maintaining its position as the most downloaded game.
The second pillar is content, with the producer pointing not only to the variety of modes but also Garena's collaborations with other companies on in-game events. Most recently, the publisher has run an in-game Free Fire event based on Netflix series Money Heist, which added yet another new game mode. Garena even scored its first movie partnership last year with October's Venom: Let There Be Carnage event, which added new items, collectibles and playable content.
The third is localisation. This goes beyond just the language of the game, extending to special events and content for different regions. For example, Olympic gold medalist Neeraj Chopra worked with Garena on the finals of the Free Fire India Championships, while Egyptian rapper Mohamed Ramadan was added to the game as a character.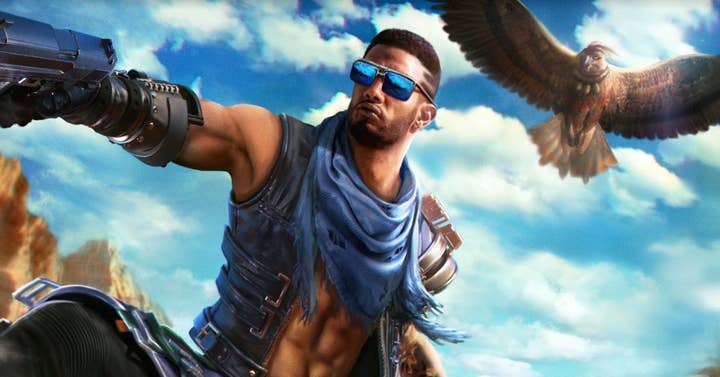 "Every Free Fire player in each region has extremely different touchpoints and experiences," says Teo. "We don't operate with a one-size-fits-all type of model.
"Big events and content, like the Money Heist one, or the Cristiano Ronaldo collaboration that we did in December 2020, are global collaborations that everyone will be able to enjoy. But localised content with local celebrities... deliver a localised experience for Free Fire. It hits a little bit closer to home, and that's the kind of impact that we want to create."
"Localised experiences for Free Fire [hit] a little bit closer to home, and that's the kind of impact that we want to create"
The localised events have no doubt contributed to the broad spread of players Free Fire has managed to attract. The game has fans in more than 130 countries, with Teo reporting that it's the most popular mobile battle royale in most of Southeast Asia, India, and Latin America.
"It's a mix of East and West," he adds. "Recently, we have also gained pretty good traction in the United States as well."
Part of this has also been achieved from drawing on Garena's experience as a publisher. Prior to developing Free Fire, the company was responsible for bringing titles such as League of Legends and FIFA Online to different markets. This gave the company "a treasure trove of information and insights," as Teo describes it, on how to engage different audiences with a real-time multiplayer game.
"We also had a trove of information from the markets that we were operating in," he says. "Countries in Southeast Asia, for example, Vietnam, Indonesia, Thailand and the like. This gave us an edge when we started doing Free Fire, and we were able to tap into the lessons learned from operating and publishing those games, and then localising the game into each market that we are now successful in."
Free Fire further expanded last year with September's launch of Free Fire Max. This is a higher-end version of the game built with the latest smart devices in mind, and also comes with exclusive additions such as Craftland, the game's map editor.
While the company has naturally made a big noise about its new release, it has also been careful to emphasise that Max and the original Free Fire are interoperable, and Garena will continue to support both.
"All the content that we built -- for example, the music collaborations that we do, the original events that we do -- they are served to both of our apps, so there aren't activities that are exclusive to one or the other," Teo explains.
"Also, the competitiveness of Free Fire, esports, I think we are looking to resume our Free Fire World Series next year, and this esport is also something that is able to touch both players of Free Fire and Free Fire Max. We want to make sure that, apart from enhanced graphics and certain features of Free Fire Max, the experience for both of these users is largely the same."
Free Fire Max won the Best of 2021 Users' Choice Award on Google Play in seven territories -- the US, Brazil, Mexico, India, Indonesia, Thailand and Taiwan -- showing that, while the battle royale may fly under the radar in the media, it's still popular among the public. Perhaps Garena can maintain its position as most downloaded mobile game for a fourth year running.