Krafton sues Apple, Google, Garena over Free Fire
PUBG maker files suit against app store owners and developer of "blatantly infringing" mobile game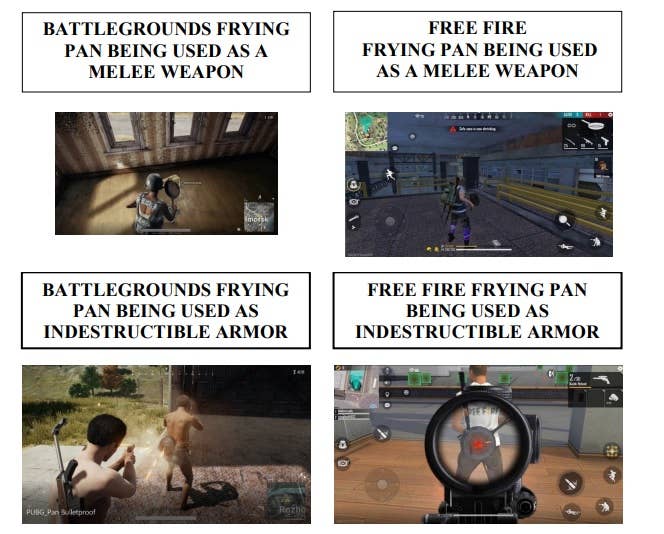 Player Unknown's Battlegrounds owner Krafton this week filed suit against Apple, Google, and Garena over Free Fire and Free Fire Max, two mobile battle royale shooters that Krafton alleges are "blatantly infringing" on PUBG, as reported by Bloomberg Law.
"Free Fire and Free Fire Max extensively copy numerous aspects of Battlegrounds, both individually and in combination, including Battlegrounds' copyrighted unique game opening 'air drop' feature, the game structure and play, the combination and selection of weapons, armor, and unique objects, locations, and the overall choice of color schemes, materials, and textures," Krafton said.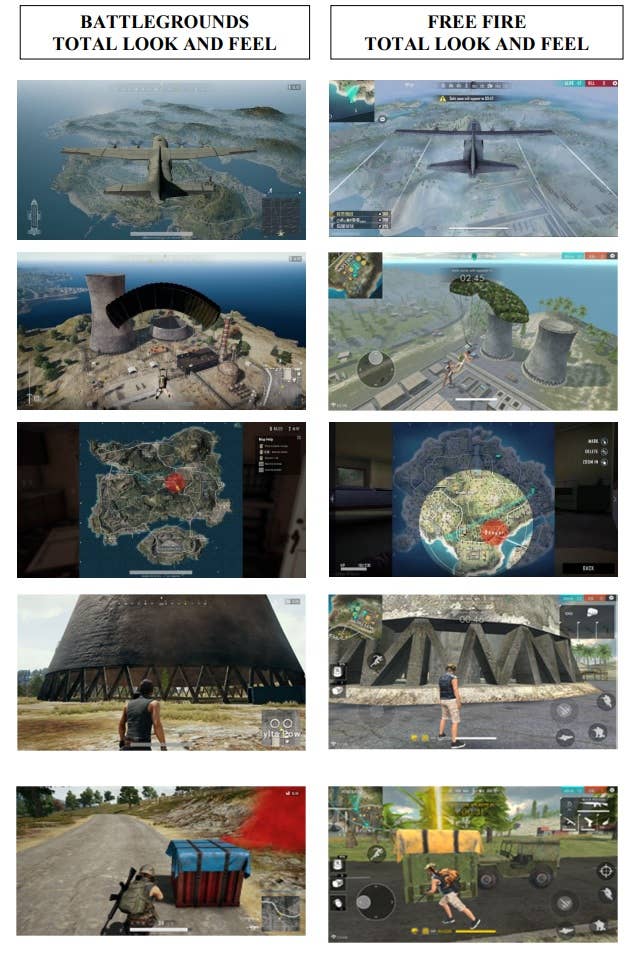 The suit lays out a number of similarities between the games, from the pre-game lobby to the map layouts to the frying pan weapon that can be used as armor to a poultry-themed victory celebration at the end of a round.
"When a player emerges victorious at the end of Free Fire, his or her screen displays a cartoon chicken resting atop an image of a roast chicken dinner," Krafton explains in the lawsuit. "This catchphrase that was creatively selected by Krafton to congratulate winners of Battlegrounds has become emblematic of Battlegrounds. The juxtaposition of this lighthearted expression of victory with the survival narrative of the game adds elements of surprise and humor to the work, and the artistic inclusion of this emphatic expression has become particularly beloved by the gaming community.
"Garena has employed the use of chicken imagery in Free Fire, including but not limited to the display of a roast chicken dinner when a player is victorious... On information and belief, Garena copied Krafton's expressive use of a chicken dinner theme to designate victory where other depictions could have been used to inject joy and whimsy into a game upon winning."
Krafton is suing Apple and Google for distributing the apps and refusing to comply with Krafton's take-down requests. Google-owned YouTube is also being sued over its refusal to take down gameplay videos from Garena's Free Fire titles, as well as its refusal to take down videos from Biubiubiu, a Chinese movie with a number of similarities to PUBG.
"Apple's and Google's actions make clear that they elect to protect copyrights only where they are not otherwise indemnified by co-infringers with deep pockets," Krafton said in the suit. "Such selective enforcement runs counter to the [Digital Millennium] Copyright Act and constitutes willful infringement."
Krafton is asking the court to order all involved parties to stop selling or distributing games infringing its rights, to pull clips of Free Fire and Biubiubiu from YouTube, and to turn over copies of all infringing materials. It is also seeking monetary damages in an amount to be determined.
This is not the first time Krafton has taken exception to Garena's work. The publisher said in its suit that it reached a settlement with Garena in 2017 regarding the Singaporean release of a PUBG-like game. That settlement did not include a license agreement, Krafton noted, nor did it authorize Garena to sell its games in the US.