Halo rolling out a touring fanfest
343 and Harlem Globetrotters owner Herschend team up for Halo: Outpost Discover series of events across five US cities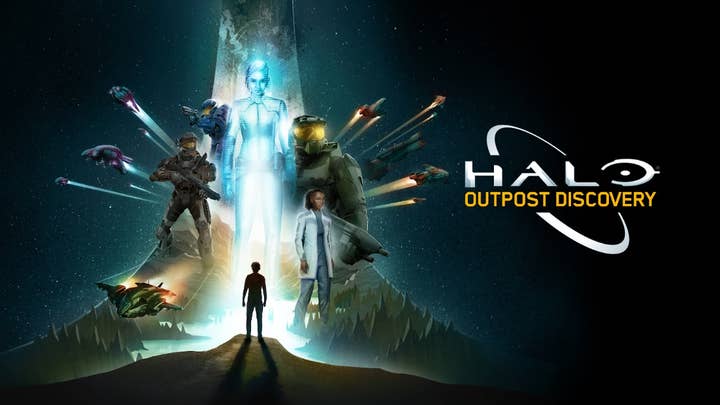 343 Industries is taking the fanfest idea on the road. Microsoft's Halo studio today announced a partnership with the live events company behind the Harlem Globetrotters, Herschend Live, to put on Halo: Outpost Discovery, a live fan experience for the Xbox franchise that will travel to five American cities later this year.
"We've been exploring the idea of doing a location-based experience on the 343 side for quite a while," 343 Industries studio head Kiki Wolfkill explained to GamesIndustry.biz recently. "Our goal was 'How do we bring the Halo universe to life in a different and physical way? And how do we bring the best pieces of Halo together under one roof and bring it to our community wherever they are, and let them share it with their friends and their families?'"
To that end, 343 connected with Herschend Live, part of the Herschend family of companies, which operates a number of theme parks (most notably Dollywood), aquariums, and a variety of facilities at Georgia's Stone Mountain Park.
"From a Herschend point of view, we were looking at ways to create new and innovative experiences," Herschend Live's Howard Smith told us. "We'd been studying the fanfest model, and we realized there was perhaps a void in the market. There was nothing quite like this where you could go deep and immersive into the universe of Halo but you didn't have to go to a particular market; the idea is that it's coming to you."
"Our hope is really to grow and evolve this over time"

Kiki Wolfkill
Halo: Outpost Discovery attendees will be able to walk through a "Hall of History" exhibit with life-sized artifacts of the Halo universe, including a full-scale model of the series' Warthog vehicle. There will also be a "Ring Experience" that offers a tour of one of the series' titular Halo Array, a Pelican training simulation, VR training grounds, Halo-themed laser tag competitions, hundreds of kiosks set up to play Halo games, a dedicated cosplay space, and more. There will also be panel discussions, creators, and special guests on hand. In all the Halo: Outpost Discovery events will each take up about 300,000 square feet of space for the exhibits and merchant areas.
The tour will launch in Orlando (near the fabrication studio where Herschend is creating the various attractions) July 5-7, and will snake its way westward through the US, running every other weekend in a new city until it concludes the run August 30-September 1 in Anaheim. In between, it will hit Philadelphia (July 19-21), Chicago (August 2-4), and Houston (August 16-18). Wolfkill said the show will be adjusted like a live service based on fan feedback from stop to stop, and the hope is that it does well enough that it can return in future years.
"Our hope really is to grow and evolve this over time," she said. "We see this as an amazing platform to keep programming dynamic content so we can evolve it and refine it over time, eventually add more cities along the way."
When asked if Halo's M-for-Mature-rated roots clash at all with Herschend's family-friendly focus, Smith suggested it didn't.
"Our mission is to bring people together and create memories worth repeating," he said. "What we really appreciate and love about Halo is it's got fans of multiple generations. So our intention is to bring as many of those fans together and parents can share their gaming experience with their kids... This is about a community of fans, regardless of how old they are, coming together and celebrating and experiencing Halo together."
Wolfkill added, "Like every experience we build, at the core of Halo are the pillars of hope, heroism, wonder, and community. And that holds true for this experience as well."