Grand Theft Auto V is back on top in the EMEAA charts
The drought of major new releases leaves the door open for Rockstar once again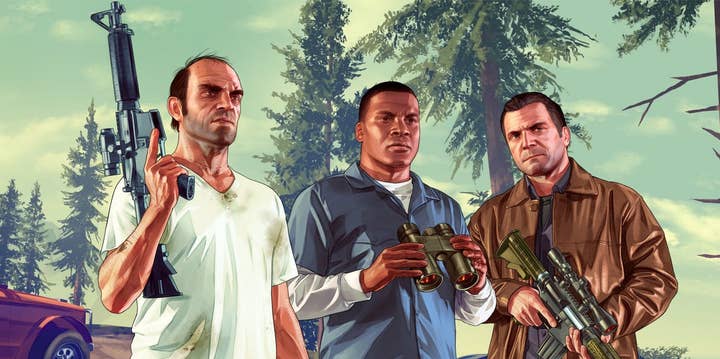 Another week of relative stasis in the European games market allowed Grand Theft Auto V to dominate the EMEAA charts for yet another week.
There was nothing to compare to the astounding 1,000 place pogo-jump made by Capcom's DuckTales: Remastered last week. Instead, Rockstar's commercial behemoth topped the combined physical and digital chart in terms of both units sold and value.
Grand Theft Auto V was also the No.1 game in the digital chart for both units and value. The only part of the market where it wasn't dominant was retail, where Activision Blizzard's Crash Team Racing Nitro Fuelled was the top title for units sold, and Nintendo's Super Mario Maker 2 was top in terms of value.
In the combined units chart, there were four re-entries into the top ten: Ubisoft's The Crew 2 climbed from No.16 to No.5, Assassin's Creed Odyssey was up from No.11 to No.6, Activision Blizzard's Crash Bandicoot N. Sane Trilogy rose from No.18 to No.8, and Call of Duty: Black Ops 4 was up from No.20 to No.10..
Here's the top ten best-selling games by units (combined digital and physical) in EMEAA for the week ending August 18:
| Last Week | This Week | Title |
| --- | --- | --- |
| 1 | 1 | Grand Theft Auto V |
| 2 | 2 | Crash Team Racing Nitro-Fueled |
| 6 | 3 | Super Mario Maker 2 |
| 7 | 4 | Red Dead Redemption 2 |
| 16 | 5 | The Crew 2 |
| 11 | 6 | Assassin's Creed Odyssey |
| 8 | 7 | Mario Kart 8 Deluxe |
| 18 | 8 | Crash Bandicoot N. Sane Trilogy |
| 10 | 9 | Tom Clancy's Rainbow Six Siege |
| 20 | 10 | Call of Duty: Black Ops 4 |
Participating companies in the GSD charts (run by B2boost on behalf of ISFE) are Activision Blizzard, Bandai Namco, Capcom, Codemasters, EA, Focus Home Interactive, Koch Media, Microsoft, Milestone, Paradox, Sega, Sony, Square Enix, Ubisoft and Warner Bros.
Digital data includes games sold in Australia, Austria, Bahrain, Belgium, Bulgaria, Croatia, Cyprus, Czech Republic, Denmark, Finland, France, Germany, Great Britain, Greece, Hungary, Iceland, India, Ireland, Israel, Italy, Kuwait, Lebanon, Luxembourg, Malta, Netherlands, New Zealand, Norway, Oman, Poland, Portugal, Qatar, Romania, Russia, Saudi Arabia, Slovakia, Slovenia, South Africa, Spain, Sweden, Switzerland, Turkey, Ukraine and UAE.
Physical data includes all games, but only those sold in Belgium, Denmark, Finland, France, Great Britain, Italy, Netherlands, Norway, Poland, Portugal, Spain, Sweden and Switzerland.