Glu Mobile Kardashian game set for $200 million annual revenue
Celebrity tie-in pushes share price up 40 per cent since launch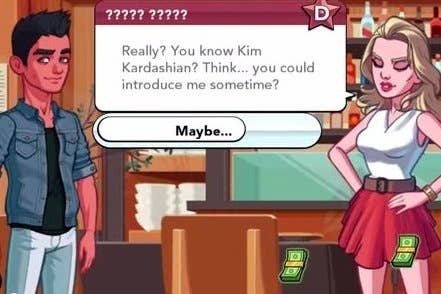 The success of Glu Mobile's Kim Kardashian iOS game has boosted the company's share price by more than 40 per cent in less than a month.
Speaking to Bloomberg, the prominent analyst Doug Creutz estimated that revenue from Kim Kardashian: Hollywood could reach $200 million for the year, making it one of the most lucrative titles on the App Store.
Glu CEO Niccolo de Masi said that the game was on course to be one of its biggest hits of the year. Kim Kardashian: Hollywood is free to download, with in-app purchases running as high as $99.99 for 175,000 of its virtual currency.
In May, Glu Mobile acquired Diner Dash developer PlayFirst in a deal worth 3 million Glu shares and $3.55 million in PlayFirst debt. Glu's share price hit $5.60 yesterday, its highest since March and a value it hasn't significantly exceeded since 2011.