Gamescom: The industry's discoverability crisis in a convention
The show is rammed full of games you've never heard of
There are more than ten games on display around the exterior of UKIE's booth at Gamescom.
There's even more hidden away inside.
That's replicated across the huge Czech Republic booth, the Spanish stand, the French area, the Northern Irish booth, the Polish booth, the Romania one... I just tried to wander the hall I'm in to count the games I could see; there's easily over 200, not including the developers sitting cross legged at the sides, showing media or publishers their games on their laptops.
And this is just hall 4.1 - one of six giant halls that form the business area of Koelnmesse.
Yesterday, I visited Curve's closed booth to see three of their titles, only to discover a fourth title (which I loved) behind another closed door within. I then popped over to the Dorint hotel to speak to another developer who showed me an unannounced game on his iPad. It's soft launching very soon, he says. I'd never seen anything like it.
Immediately after that I was back at the 'Messe to meet a Spanish studio. I found myself on a stand so full of tables and rooms that it felt like I had stumbled into one of those labyrinths from the new Zelda game. I had to fight my way past a sea of pop-up banners featuring lovely artwork from games I weren't aware existed.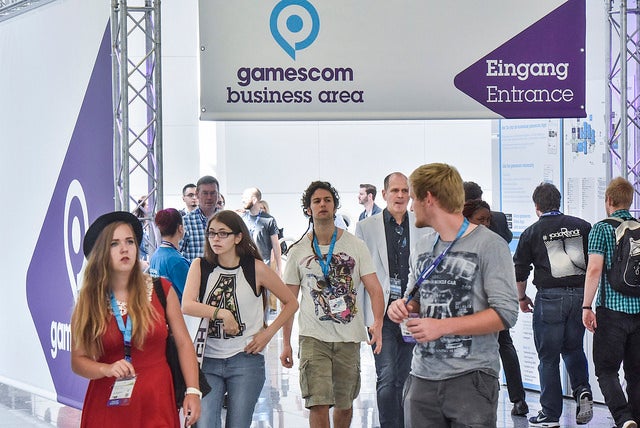 It's wonderful, of course. Whereas E3 is all about the console blockbusters, Gamescom is about everything else. It's a show where you can find a real hidden gem, something you'd never heard of before that might go on to become a significant hit. Or not, of course. I remember how excited I was to find The Sexy Brutale last year. I've found some cool things this year, too. I'll tell you all about them in the coming weeks.
But there was so much I didn't discover. I ran into the commercial director of one of the (very many) indie publishers who are here. He told me that he didn't have time to see all the games he wants, and is worried one of his rivals will get in there first. On every corner of almost every booth in these huge halls is some hopeful creator eager to find that partner or journalist who can help turn their dream into a success. You'd need a month to get round them all.
It's lovely to see, but it's also worrying. I've always found Gamescom to be the best business show of the year; the one event full of games that genuinely surprise you. But my consumer media peers tell me it's a bit boring. It lacks drama and there's not much to cover. What they mean is there isn't much to cover that will bring in the traffic that they need. It's the harsh reality of the modern games media.
Gamescom is the discoverability crisis in physical form. It is the embodiment of the challenge facing almost every creator. How many of these games will come out and immediately disappear without a trace? The vast majority of them, I suspect. And these are just the titles from developers with the budget to buy a table or a booth, and then fly themselves over to Cologne for the week.
I think that's what Gamescom is to me. It's a show that highlights why this industry is such an invigorating and exciting one. The games I've seen and the creators I have met fill me with optimism about the future of this fantastic business.
But the knowledge that so many of these games (even the good ones) will fail to find an audience, reminds me just how hard and unforgiving this world can be.