The games industry continues to rally behind Australian bushfire relief
Update: Pearl Abyss joins Activision, Wargaming, 2K, Bethesda and PlayStation in fundraising efforts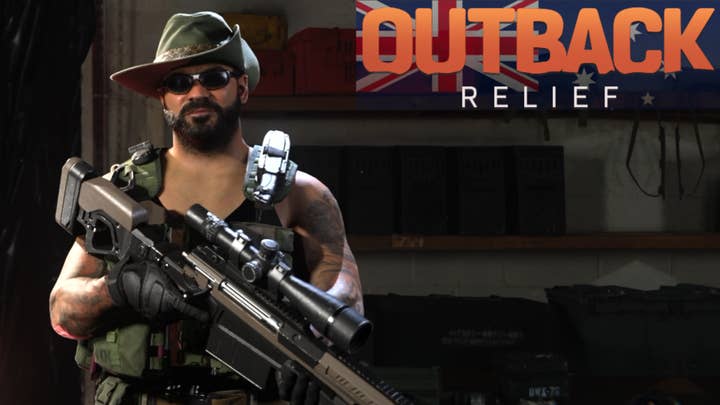 Original story, February 4, 2020:
The games industry continues to rally behind relief efforts around the Australian bushfires, with donations from Activision and Wargaming, and upcoming efforts from 2K, Bethesda and PlayStation.
Activision created an Outback Relief Pack for Call of Duty: Modern Warfare, sales of which have raised more than $1.6 million (USD).
All of the net proceeds from the pack will be given to the humanitarian organisation Direct Relief, Activision has said, which will use it to help address the ongoing problems in Australia.
Wargaming has also made a substantial donation, InGames reports, blowing past an initial target of $10,000 on a charity livestream to reach a total of $90,000 (AUD). BlazeAid was a combined effort between Wargaming's Asia Pacific team and World of Tanks players in the region.
InGames, the leading industry-facing website for the APAC region, also has information on two upcoming charity drives organised by regional and international games companies.
The branches of Bethesda and 2K Games representing Australia and New Zealand are running the #2KBethesdaUnite campaign, with all proceeds going to the Australian Red Cross. Donations are already open, and the Bethesda and Borderlands Twitch channels will run charity livestreams on February 15.
February 15 will also be an important day in another charitable effort -- the first of four livestreams run by Gaming4Life, all of which will feature contributions from Sony Interactive Entertainment studios and figureheads.
Media Molecule will stream on February 15, Naughty Dog on February 20, Insomniac Games' Ted Price on February 21, and Sid Shuman and Shuhei Yoshida on February 22. You can check InGames for the full rundown.
The games industry has united around the devastation caused by the Australian bushfires, which have had a profound impact on the country's ecology, wildlife and human population.
International companies such as Infinity Ward, Bungie and Ubisoft have all take action to raise money, while local Australian developers organised an auction to raise funds for the relief efforts. Humble Bundle also sold a special 29 game bundle, with 100% of the proceeds going to related charities.
Update February 5, 2020: Kakao Games and Pearl Abyss have also announced an in-game charity event for Black Desert Online where players can contribute to disaster relief efforts by purchasing "Charity Tokens" with in-game currency. The Tokens can be used to access a special questline, as well as obtain up to two unique titles for their character.
Pearl Abyss has set a goal of five million event tokens purchased during the event period from February 5 through February 19. If this milestone is reached by players, Pearl Abyss has pledged to donate 100 million Korean Won (~$84,000) to victims of Australia's fires and recent earthquakes in Turkey. The specific charities are set to be revealed at a later date.
Additional reporting by Rebekah Valentine.