Humble Bundle joins efforts to raise money for Australian bushfire relief
Update: Lockwood Publishing raises $20,000 through its own deal in Avakin Life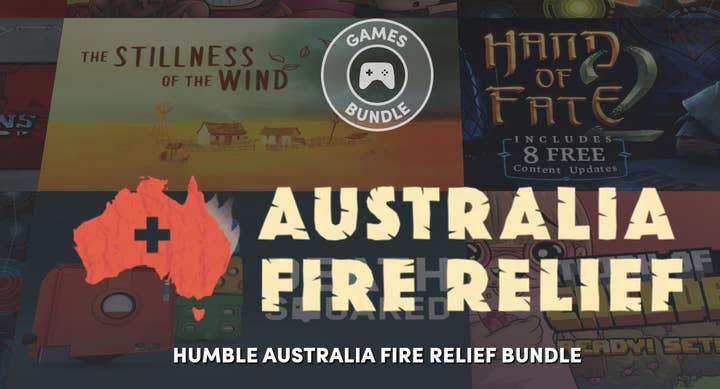 Original story, January 17, 2020: The games industry continues to pitch in with efforts to raise money for those dealing with the effects of the Australian bushfires.
Humble Bundle is among the latest to launch a fundraising initiative, offering a special 29-game bundle for $25 where 100% of the proceeds will go to charity. The money will go to WIRES, the RSPCA and the World Wildlife Fund.
The organisation estimates the games included amount to more than $400 worth of content, with Hollow Knight, Void Bastards, Euro Truck Simulator 2, The Gardens Between and Frog Detective among the titles offered.
At the time of writing, 18,913 people have purchased the bundle.
Elsewhere, Warframe developer Digital Extremes has announced it has donated $30,000 towards aid efforts. Both the Bushfire Emergency Wildlife Fund and the Bendigo Bank Bushfire Appeal received $15,000, and the studio encourages players to donate to these or other organisations if they can.
These follow efforts from Infinity Ward, Ubisoft Australia and Bungie (among others) to raise funds or donate towards charities involved in the crisis. Bungie is now taking orders for its special Guardians for Australia T-shirt, which will raise money for the New South Wales Rural Fire Serves and WIRES.
Finally, our sister site Eurogamer ran a livestream yesterday in order to encourage donations and managed to raise over £4,000.
Update, February 10, 2020: Digital storefront Humble Bundle has raised a whopping $2.4 million in response to the Australian bushfire crisis.
Since January, the fires have burned 186,000 sq km of land (roughly the size of Cambodia) and killed at least 34 people.
In a statement, the Interactive Games and Entertainment Association (IGEA) commended the response of the Australian games industry.
The Australian Fire Relief bundle made over 60,000 sales, with 100% of the proceeds going to Australian Red Cross, and three animal welfare charities.
Update, February 11, 2020: Independent of the dedicated Humble Bundle fundraiser, Lockwood Publishing ran its own in-game event in Avakin Life through Humble for wildfire relief. It brought in $20,000.
The bundle ran for one week in January, where players could pay $1 in the game in exchange for a virtual Koala pet. Profits went to Australian wildlife charity WIRES (NSW Wildlife Information, Rescue and Education Service Inc).
Additional reporting by Haydn Taylor and Rebekah Valentine