GameMaker exec: "Consoles have become a barrier to creativity"
YoYo Games CEO Sandy Duncan talks to us about GameMaker on Steam and the "revolution" of indies
The games industry in 2012 is in a unique position. While huge publishers like Activision and Electronic Arts attempt to maintain dominance of the market, there's an ongoing surge of development talent that's decided to leverage the digital boom to sidestep the imposition of dealing with a publishing partner. It's becoming a developer-driven business, and there are a number of tools at their disposal. One of the more widely adopted tools has been Unity, but there's another tool - GameMaker: Studio from YoYo Games - which just received a huge boost: it's now available on Steam.
Released as part of Steam's first wave of non-game software, GameMaker is now suddenly exposed to a vibrant Steam community of 45 million users. Prior to Steam, GameMaker: Studio has been downloaded 10 million times, hosts a community of a half a million registered users and is deployed in more than 5,000 schools and universities worldwide.
"With the slow death of Flash as a development platform, the web is up for grabs"

Sandy Duncan
GameMaker ideally will lead to a true democratization of game development. After downloading the software, users can instantly begin creating games with a free version and purchase packages that unlock features, functionality and additional export options. There's huge potential for exposure within the Steam community, both on Workshop and on Greenlight. Additionally, GameMaker takes advantage of Steamworks features like the ability to save your work to your personal Steam Cloud space, so developers will be able to continuing working on projects wherever they are.
"Steam gets more visitors in a day than YoYo Games gets in a month. Sure Steam has many purposes, but one of those now includes game development!" an enthusiastic YoYo Games CEO Sandy Duncan told GamesIndustry International.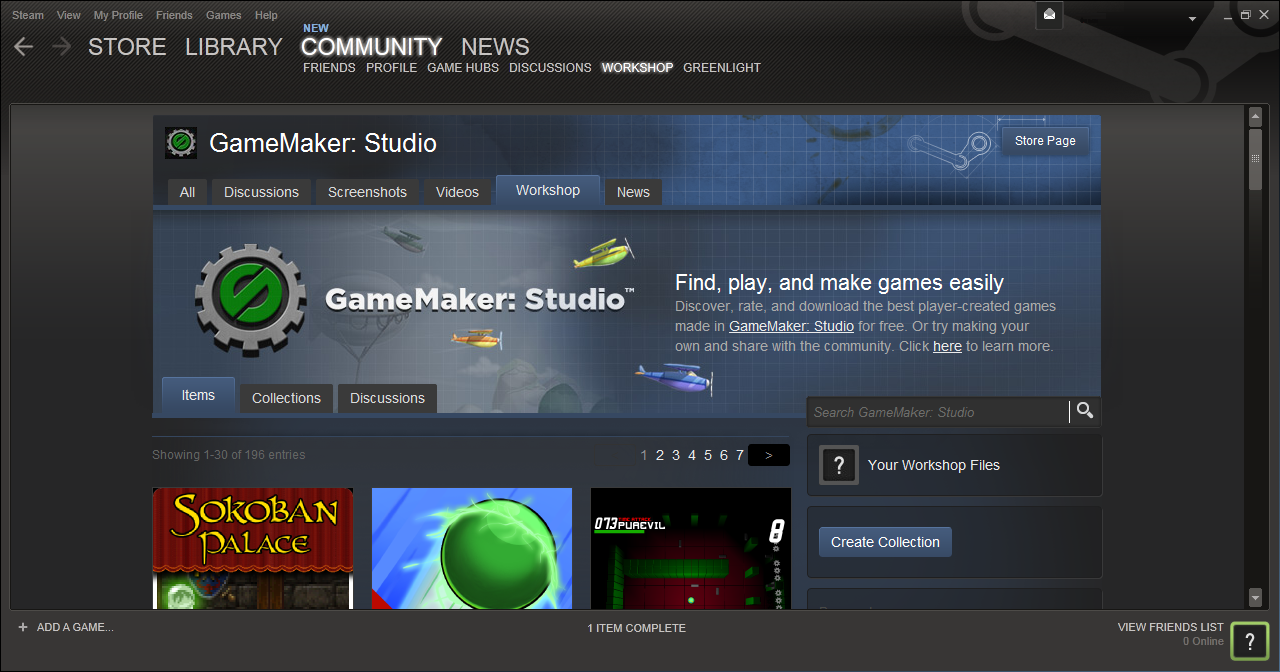 Duncan revealed to us that Valve has been interested in making Steam a haven for game development for a while now. "They initially came to us about a year ago. We wanted to get GameMaker: Studio finished first. Once we had done that in May I restarted the conversation," he said.
"Our community has been asking for us to expand the creative possibilities within Steam and we've done that today with the availability of the Steam Software Store and GameMaker: Studio," said Mark Richardson at Valve. "Now that we've provided unprecedented access to and support of the best technology, we hope to soon see a huge surge of great content published to our community and submitted to Steam Workshop and Greenlight."
Indeed, with Steam, iOS, Android and other digital portals, developers are empowered with more choices than ever. You could argue that with tools like GameMaker and others we're seeing a true revival of indie "garage" development. Duncan sees it as even bigger than a revival.
"This is more than a revival, it's a revolution and it's really only getting started. We have big plans to do something to make GameMaker even more accessible. With the slow death of Flash as a development platform, the web is up for grabs. We plan to make GameMaker a viable option for these developers. We're also in an era where the first generation of people that have grown up with games as an intrinsic part of their culture are now becoming key influencers. Many of them want to have the opportunity to create as well as play games. GameMaker is easy to get started and as you can already see on Steam, there are folks who have made and uploaded their first games only hours after we launched," Duncan noted.
He continued, "GameMaker doesn't stop there ... at YoYo we've created several top ten games like 'They Need to Be Fed' and 'Reflexions' using GameMaker ... and it's not just us ... The Xbox Live hit 'Spelunky' was originally written in GameMaker, guys like the Dutch Duo of Vlambeer and professional studios like HandyGames are making games with GameMaker: Studio. Finally, the hardware revolution has only started with smart phones; the living room will no longer be 'console exclusive.' Smart TV, streaming services and boxes like Ouya are on their way, and of course we think Steam will be an important part of this."
"Consoles will move from being mainstream to niche in the next few years. Consoles have become a barrier to creativity with massive development costs and closed, archaic ecosystems"

Sandy Duncan
One of the neat features of GameMaker is that it enables developers to create games for a wide variety of platforms without any additional labor needed. "Our developers don't need to worry about specific platforms, we do that for them. We encourage developers to think of App Stores as the 'platform.' With GameMaker: Studio you can write one game and distribute it on all of the biggest stores including iTunes and Facebook from a single code base," said Duncan.
That single code base can be exported with a single click to then run natively on Steam, HTML5, Facebook, Android, iOS, Windows and OS X. You'll notice that Xbox Live, PlayStation Network and Nintendo eShop didn't make the cut, and there's no plan in place to approach the console manufacturers. Consoles, in Duncan's view, no longer represent a good opportunity. In fact, for many developers, consoles are nothing more than a hindrance and inhibit creativity.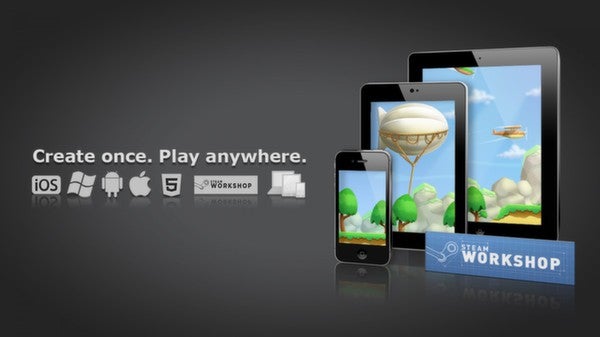 "In the living room we get much more excited about things like Ouya, Steam's Big Picture and Smart TV than consoles. Consoles will move from being mainstream to niche in the next few years. Consoles have become a barrier to creativity with massive development costs and closed, archaic ecosystems. We'll leave the console space to other tools that can chase a dwindling opportunity," Duncan stressed.
Open platforms continually come up in conversation. As Ensemble founder Tony Goodman commented to us, if Microsoft and Sony don't change their ways, it could be that "an open console platform ends up eating their lunch." And YoYo would probably love nothing more than to help enable that with GameMaker. Now that the toolset is on Steam, it's expected that YoYo will be receiving tons of feedback, which should lead to numerous improvements in the future.
"There's a roadmap on our web site that provides a high-level overview of where Studio is heading. It's primarily influenced by the existing community," noted Duncan. "With Steam I expect we'll get more feedback and that roadmap will continue to evolve."
"In the meantime, we've started work in parallel on Studio 2.0. Key to that development is cloud computing and delivering a UX that is much more intuitive. Included in our wish list is we'd like to give the millions of Flash Developers some hope," he concluded.