GAME needs £180 million to avoid collapse - report
Wages, rent, VAT, suppliers and banks leave high-street retailer with a daunting task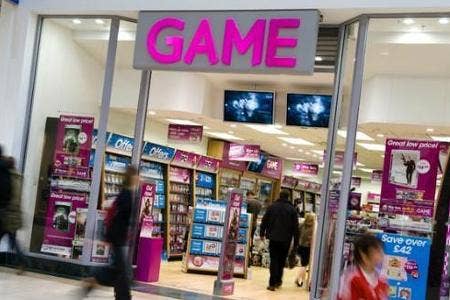 The Game Group has one week to raise the £180 million necessary to avoid an imminent collapse.
According to a report from the Press Association, the embattled high-street retailer has a rent payment of £21 million due on Sunday March 25, and a £12 million wage bill at the end of the month.
In addition, it owes over £10 million in VAT and £40 million to various suppliers, while an investor would need £100 million to pay the company's banks.
If The Game Group cannot meet its rent and wage bills, or find an investor able to meet its mounting debts, 1300 stores face closure and 10,000 jobs will be at risk.
In recent weeks, the company has been unable to agree terms with a number of publishers to secure new stock, including Activision, Microsoft, EA and Capcom.
The situation has resulted in a number of key titles - Mass Effect 3, Resident Evil: Operation Raccoon City, Street Fighter X Tekken and Ninja Gaiden 3 among them - being absent from its shelves.
Both Gamestop and Wal-Mart are rumoured to be showing interest in acquiring parts of The Game Group, but the only official lifeline so far is OpCapita, the parent company of household electronics retailer Comet.
On Friday The Guardian reported that a proposed deal with OpCapita appears to have been shunned by lenders, with discussions stalled.
OpCapita had offered to take on debt for The Game Group and settle the £40 million worth of outstanding accounts with suppliers. A spokesperson for the Royal Bank of Scotland, which is owed £45 million, said talks were still ongoing, but the matter is complicated by other banks - Barclays, HSBC and La Caixa understood to be owed around £30 million each.