Fortnite, Fallout 76, Cyberpunk 2077 lead E3 media coverage
Sony narrowly retakes leadership from Microsoft, EA dominates publishers
As many outlets (including this one) wind down E3 2018 coverage at last, ICO Partners has released its annual analysis of the show's coverage across media outlets. This year's report shows yet another year of close contest between Sony and Microsoft for media attention, while EA secured an overwhelming presence across multiple games.
In the report, CEO Thomas Bidaux notes how many times major publishers, games, and platforms are mentioned in the media over the week of the show. Last year, Microsoft narrowly edged out Sony in terms of brand mentions, but this year Sony reclaimed its crown despite what seemed to Bidaux at least to be a decent showing for Microsoft. Sony had an even bigger edge over Microsoft when it came to platforms, with the PS4 securing the most mentions of any platform.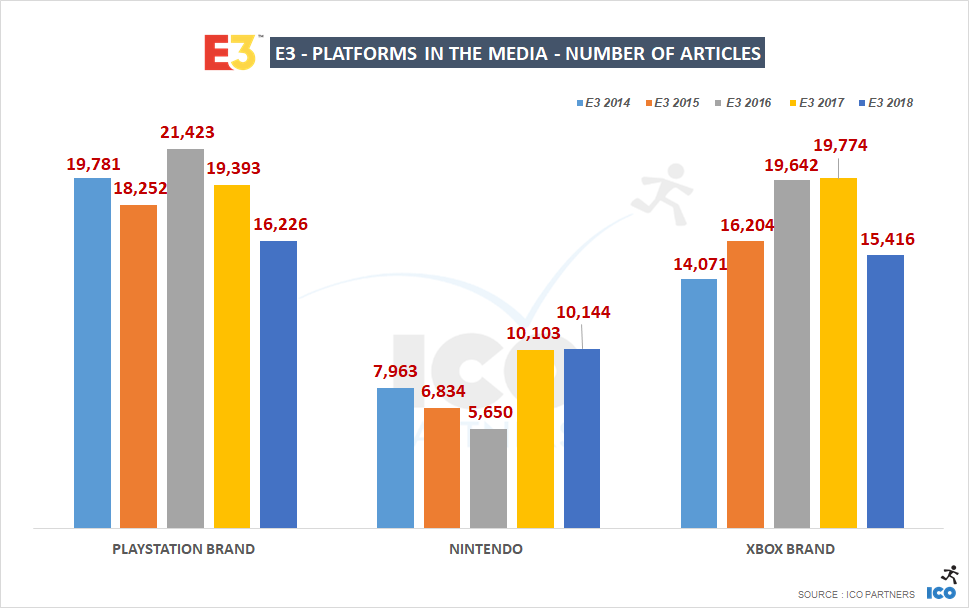 Notably, outside of the three major platforms (PS4, Xbox One, and Nintendo Switch), everything else paled in comparison, including last year's releases of the Xbox One X and the PS4 Pro. Hardly any media articles were interested in VR.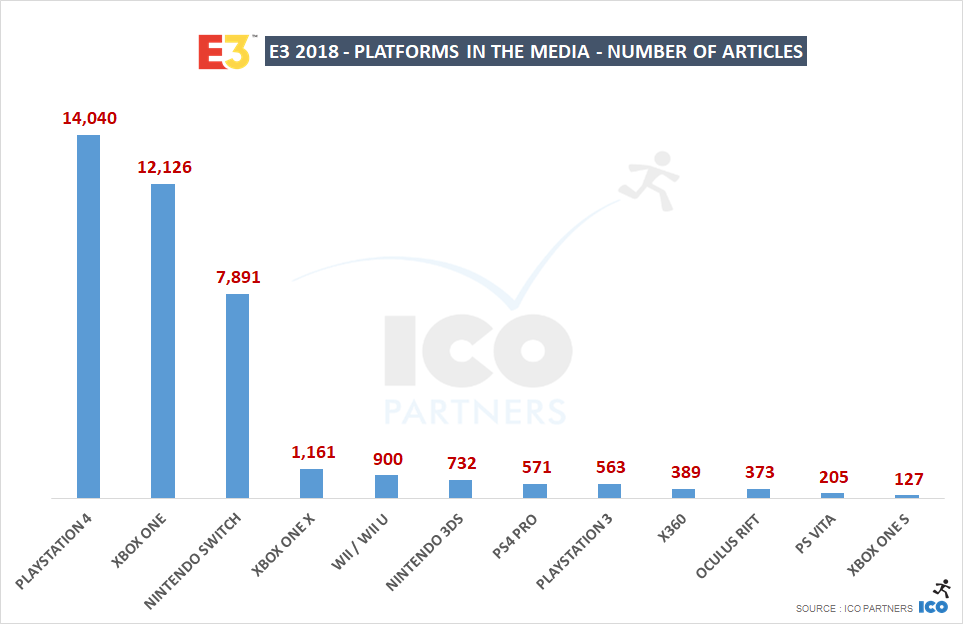 Nintendo, as in previous years, lagged far behind the other two in terms of brand coverage, most likely due to having fewer games overall to show. That said, 2018 was still the company's best year since Bidaux began tracking in 2014.
"This validates very much Nintendo's strategy to not have a traditional press conference," Bidaux said. "At the very least, it doesn't seem to prevent them to secure a significant volume of media coverage. Nintendo also benefitted for the first time in a while from the media coverage around 3rd party titles, with their Fortnite announcement being spot on with the current Battle Royale frenzy."
Incidentally, Fortnite claimed the top spot for media coverage of software despite not being a new game at all. But between the Celebrity Pro Am event, the Nintendo Switch out-now release, its massive booth on the show floor, the crossplay problems on PS4 coupled with Sony's response, and Fortnite's sheer popularity, the game had an easy time capturing media interest.
Fallout 76, Cyberpunk 2077, and Anthem followed close behind Fortnite for coverage, despite none of the three having a public show floor demo (or in Anthem's case, a playable demo at EA Play). Super Smash Bros. Ultimate is the first exclusive on the list even if you have to go several spots down to find it.
Finally, publishers. EA was on top again this year, but by a much wider margin than last year when Ubisoft kept close behind. Anthem and Battlefield 5 were able to hold attention far better than the leaked Assassin's Creed Odyssey and a new trailer for Beyond Good and Evil 2. Ubisoft fell behind Bethesda this year, too, as Fallout 76 drew greater coverage on its own than any other individual game aside from Fortnite.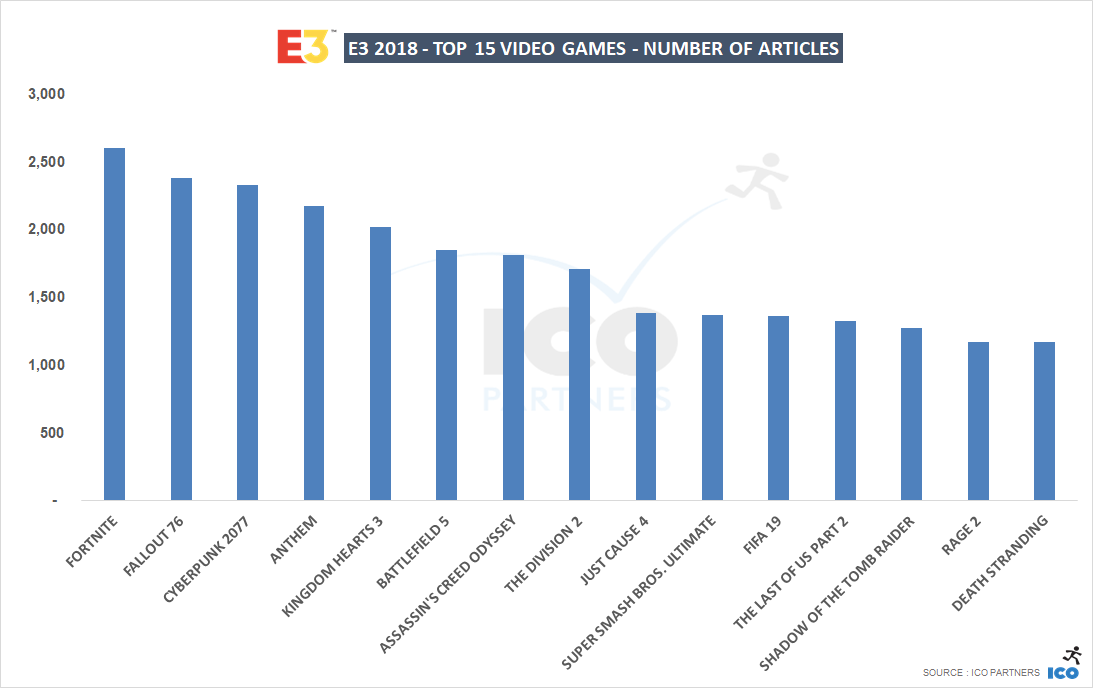 Bidaux notes that as overall E3 coverage was down this year, 2018 was "very much an intermediary year." No new hardware announcements and fewer brand new software announcements left the major companies playing catch-up to show off games from previous years, leading to lessened coverage. Bidaux is optimistic for 2019, though, stating that 2018's lull "sets up 2019 to be a very exciting edition."