First speakers announced for Best Places To Work Awards UK
Panels and microtalks will explore diversity, inclusivity, mental health and more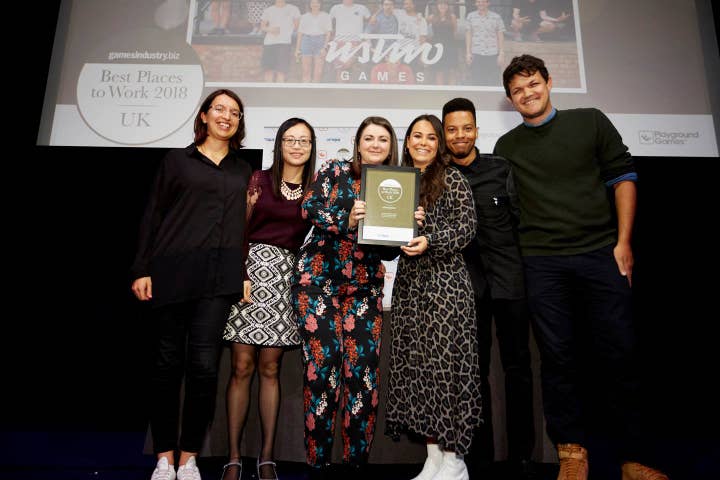 The GamesIndustry.biz Best Places To Work Awards UK returns next month, and this year we're doing things a little differently.
For 2019, we've expanded the event to explore some of the core aspects that make a healthy and supportive workplace through a series of panels and talks ahead of the awards presentation itself.
There will be two panels during the afternoon, the first discussing mental health and how companies can better support their employees during hectic periods of development.
Panelists for this topic include: Rich Eddy from RuneScape developer Jagex, which has worked with Mind's Workplace Wellbeing Index; Phil Owen of UK studio D3T, which recently held its first Wellbeing Week; and a representative of Safe in our World, an organisation run by games professionals seeking to raise awareness of mental health issues.
This will be followed by a panel on corporate social responsibility (CSR), looking at how the games industry can support charities, education and each other. Panelists include GamesAid's Des Gayle, Creative Assembly's Emma Smith and Bulkhead Interactive's Joe Brammer.
There will also be an hour of microtalks exploring diversity, inclusivity and accessibility, looking at how companies can ensure their workplace is welcome for everyone regardless of gender, race, age or disability.
The talks will will kick off with presentations from BAME in Games' Kish Hirani and POC In Play's Jodie Azhar. More speakers to be confirmed in the coming weeks.
"Given recent events and allegations about improper behaviour within the games industry, the focus of the talks at the Best Places to Work awards event couldn't be more relevant and timely," said Amiqus business manager Liz Prince.
"We're delighted that these topics and wider discussions around mental health and giving back are on the agenda, we're looking forward to taking part in the day and are honoured to support this important event."
The Best Places To Work Awards will be held at London's Ham Yard Hotel on Friday, September 20th, presented by recruitment specialists Amiqus. Tickets are now on sale.
Once again, it will recognise the small, medium and large UK games companies that stand out as great employers, as judged (anonymously) by their own employees.
In addition to naming the top-scoring games firms, there will be special winners honoured on the day, with prizes for Diversity, Education, CSR, and Health & Wellbeing.
We'll also name the UK games industry's Best Boss and Amiqus will present a very special G Into Gaming prize.
You can now purchase tickets for the event here. Finalists for the event will be revealed soon, and will be able to claim free tickets to the show.