FIFA 23 reclaims No.1 | UK boxed charts
Easter promotions put The Last of Us: Part 2 and Gran Turismo 7 back in the Top Ten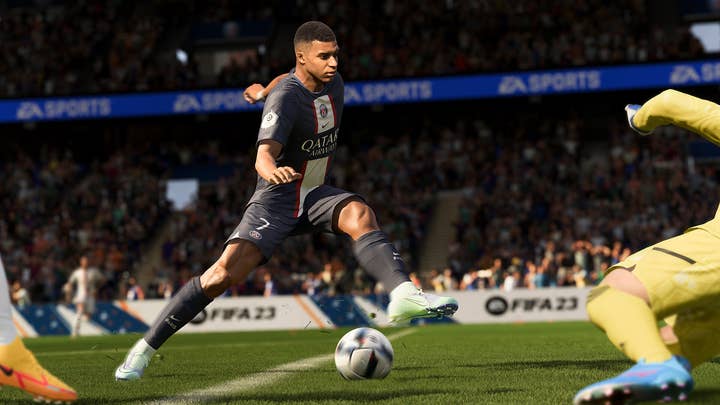 Sign up for the GI Daily here to get the biggest news straight to your inbox
FIFA 23 is back at the top of the UK retail charts, rising one place and seeing a sales boost of 27% compared to last week.
The EA Sports game has not been No.1 since the first week of February, prior to the launch of Hogwarts Legacy, which went on to spend five weeks at the top.
The rise of FIFA and a 55% drop in sales knocks the Resident Evil 4 Remake down to No.2, with Hogwarts Legacy a non-mover at No.3 with sales down 5%.
The only new title in the charts this week is EA Sports PGA Tour, which launched last week. With just two days on sale, it managed to reach No.8.
Easter and spring sale promotions continue to shake up the charts, with The Last of Us: Part 2 returning at No.5 thanks to a 999% increase in sales, while Gran Turismo 7 saw sales rise 483% and fittingly re-entered at No.7.
Other Top Ten regulars include Mario Kart 8 DX (No.4, up 13%), Call of Duty: Modern Warfare 2 (No.6, down 26%), and God of War Ragnarok (No.9, up 25%).
Super Mario Odyssey rounds off the Top 10, dropping two places but with sales rising 15% week-on-week. In fact, the game is one of seven Mario titles that saw a boost in sales thanks to promotions around the release of The Super Mario Bros Movie.
Elsewhere in the Top 40 were New Super Mario Bros U DX (No.17, up 22%), Super Mario 3D World + Bowsers Fury (No.18, up 39%), Mario + Rabbids: Sparks of Hope (No.22, up 82%), Mario Party Superstars (No.23, up 24%), and Mario + Rabbids: Kingdom Battle (No.34, up 32%).
Here is the GfK UK Boxed Top Ten for the week ending April 8, 2023:
| Last Week | This Week | Title |
| --- | --- | --- |
| 2 | 1 | FIFA 23 |
| 1 | 2 | Resident Evil 4 Remake |
| 3 | 3 | Hogwarts Legacy |
| 5 | 4 | Mario Kart 8 Deluxe |
| Re-entry | 5 | The Last of Us: Part 2 |
| 4 | 6 | Call of Duty: Modern Warfare 2 |
| Re-entry | 7 | Gran Turismo 7 |
| New | 8 | EA Sports PGA Tour |
| 9 | 9 | God of War Ragnarok |
| 8 | 10 | Super Mario Odyssey |