Far Cry, Dragon Age 4 and Crash Team Racing remaster lead Game Awards reveals
Plus, first news of new titles from Obsidian, Giant Squid, Supergiant, Hello Games and Studio Wildcard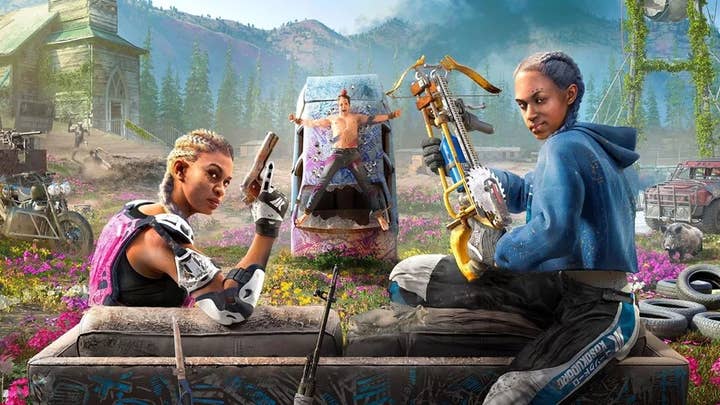 The Game Awards were held last night and, as has become customary, became the platform for several new reveals from publishers and developers of all sides.
There were, of course, winners announced as well but as host Geoff Keighley told us earlier this week, the world premieres are something of a necessity for getting tens of millions of people to actually watch them.
There was a healthy range of reveals last night, from AAA sequels to promising indie outings, and they included:
Far Cry 5.5
Ubisoft announced a follow-up to its 2018 shooter in the form of Far Cry New Dawn, a sequel that will pit players against the surviving members of Far Cry 5's cult in a post-apocalyptic version of the game's Montana map.
Dragon Age 4 teased
Confirming what various BioWare members have already been hinting for a couple of years, the studio officially showed off a teaser for the next Dragon Age game. No gameplay details were given, nor was there a hint at a release date -- just references to key characters from Dragon Age Inquisition and the promise that it will "push BioWare's storytelling to the next level."
More Crash Bandicoot
Keen to keep tapping into nostalgia for the '90s marsupial, Activision has announced a remaster for Crash Bandicoot's answer to Mario Kart. Crash Team Racing Nitro-Fueled will be released for Xbox One, PlayStation 4 and Nintendo Switch on June 21, 2019.
Nintendo secures Marvel exclusive
The Marvel Ultimate Alliance series returns next year with a third title, Black Order. Interestingly, it's currently promoted as a Nintendo Switch exclusive although given Marvel's worldwide popularity it will no doubt make it to other consoles. (And for anyone wondering, the Black Order is the group of baddies that follow Thanos, the villain of Avengers: Infinity War, thus capitalising on they hype of the movies)
Mortal Kombat returns
Netherrealm's bloody beat-'em-up is getting an eleventh outing on April 23. The game will be available for PlayStation 4, Xbox One, Nintendo Switch and PC, with more details being announced at a community reveal event on January 17. Pre-orders and the promise of beta access are, of course, already open.
Stranger Things' third season getting an adventure game
Bonus XP revealed another adaptation of Netflix's popular original series, this time styled like an isometric adventure game. The game is coming to "all platforms", but there was no word of a release date.
Supergiant gets it Greek on
Bastion developer Supergiant has launched its latest title into Early Access, although only on the newly opened Epic Games Store. Hades is a rogue-like dungeon crawler played in a similar isometric style to Supergiant's previous games, and has a comic book-esque art style that makes an interesting combination with its Greek setting.
Obsidian's next game
The Outer Worlds debuted last night, and it's a first-person shooter with RPG elements that press are already describing as Fallout: New Vegas in space. The trailer also saw Obsidian referencing the Fallout series several times, so it's clear the audience the studio is aiming for. This will be Obsidian's first release since Microsoft acquired the company last month, but will still be a multi-platform affair, arriving on Xbox One, PlayStation 4 and Steam in 2019.
Alex Hutchinson's Typhoon Studios unveils its first game
Journey To The Savage Planet is an upbeat first-person adventure game where players are dumped on an uncharted planet and tasked with establishing whether the world is fit for human habitation. This will be the debut game from Typhoon Studios, the developer formed by Far Cry 4 creative director Alex Hutchinson.
Hello Games details its first short, The Last Campfire
The No Man's Sky studio's next project will be adventure title The Last Campfire. Details were somewhat vague but players take on the role of a lost ember trying to find a new home. Co-founder Sean Murray described it as a 'Hello Games short', likening it to Pixar's short film.
Studio Wildcard swaps dinosaurs for dragons and pirates
The developer behind Ark: Survival Evolved unveiled its next project, Atlas -- an MMO survival game with a pirate theme. The game will still have fantastical elements, pitting players against dragons and other monsters. It arrives on Xbox One next year, with Wildcard claiming the map will be 12,000 times the size of Ark's.
Annapurna signs Simogo's new game
Sayonara Wild Hearts is the next title from Device 6 developer Simogo and will be published by Annapurna. It's described as a "euphoric music video dream" as seems to involve riding motorbikes, skateboarding, dance battling and more in a surreal, sci-fi world.
Giant Squid's second game is The Pathless
The studio behind Abzu unveiled its newest project, an adventure game called The Pathless. The trailer didn't give much away in terms of gameplay, but it has a striking visual style (as did Abzu) and arrives on PlayStation 4 and the Epic Games Store next year.
Other announcements and showcases included:
A44 and Annapurna Interactive's Ashen is out now, currently only available on Xbox One and the Epic Games Store.
The Stanley Parable is coming to consoles next year in the form of a deluxe edition
More details were given on Scavengers, the debut title from Midwinter...
... and for Ancestors: The Humankind Odyssey, the long-in-development title from Patrice Desilets
Bethesda's Rage 2 was given a release date of May 14 via a new trailer
A fresh trailer for BioWare's Anthem, still due on February 22
The first footage of Psychonauts 2 was shown, promising a 2019 release date
Dauntless is coming to consoles in 2019, and a new PC update launched last night
PlayerUnknown's Battlegrounds is getting a winter map, available on PC now and on consoles in January
Fortnite is adding a new area to show off player constructions from the new Fortnite Creative mode
Persona characters will appear in the first of Smash Bros Ultimate's five DLC packs