Fallout Shelter is out-grossing Candy Crush Saga on the App Store
Bethesda's mobile title is the third top-grossing iOS game in the UK and the US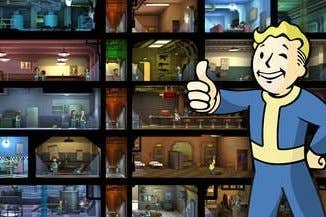 Fallout Shelter is one of the three top-grossing games on the App Store in the US and the UK, just a few days after its surprise launch at Bethesda's E3 press conference.
According to App Annie's data, Fallout Shelter has displaced Candy Crush Saga as the third top-grossing game on both the US and the UK App Stores. Bethesda's title is also the fourth top-grossing game in Canada, as well as making the top five or ten in numerous countries across Europe. Fallout Shelter is the most downloaded iOS game in both the US and the UK.
You have to go back to December 2012 to find the last point at which King's mega-hit wasn't one of the UK's top three grossing iOS games. In the US, you have to go back to January 2013. Fallout Shelter is also the first new game to break the top three in either country since December 2014, and that was KIng's follow-up, Candy Crush Soda Saga.
While it's impossible to know exactly how much money Fallout Shelter is making in third place, we do know that Candy Crush Saga was clearing $2 million a day in revenue during Q1 2015. That's across several platforms, of course, and right now Fallout Shelter is only available on iOS, though Bethesda has promised an Android version within the next few months,
Another remarkable aspect to Fallout Shelter's success is that Bethesda seemed to view it as a promotional tool rather than a revenue stream. There was no soft launch and no drawn out beta tests. Todd Howard simply took to the E3 stage, told the world that the game existed, and told them they could download it that very day.
The only monetised items in Fallout Shelter are lunchboxes filled with random loot, which are also awarded to the player for completing certain tasks or objectives. With that in mind, it's unlikely to stay in the top three for long, because the games directly above and below it are continually optimised by large teams of people improve monetisation and retention.
"This game is going to be free, but don't worry, there are no paywall timers... You build something, it's instantly built," Howard said. "The entire goal of this game was to do something that we'd really want to play on our phones. Something that made us smile and had more depth than other things we were seeing."
Fallout Shelter's abrupt entry into the App Store's top-grossers is a reminder of just how static the upper reaches of the App Store chart have become. However, it's also a reminder of the feverish anticipation surrounding Fallout 4, which is likely to match the amazing commercial performance of Skyrim, the last core release in Bethesda's other key IP, The Elder Scrolls.