Facebook reports 41m E3 posts, likes and comments
Meanwhile, Synthesio reveals the games and companies that received the most positive mentions online
Leading social network Facebook has released additional data on how much its users are discussing E3 this week.
According to the company's own research, more than 17m people have been talking about the event, the publishers and the games since June 9th - the day before EA Play kicked off this year's proceedings. Combined, they have racked up 41m posts, likes and comments.
We previously reported that Facebook data shows 43m people have made 115m posts, likes and comments about E3 2017 in the past 30 days, and that more than a third of these users were female - a significant increase compared to last year.
Looking specifically at the past seven days, Facebook investigated the most discussed brands and found that Sony is the clear winner. Around the platform holder's press conference, more than 250,000 people were talking about PlayStation and its games.
This far outstrips the number of people talking about the Microsoft conference (just over 200,000) or EA Play (just under 200,000). Both were still ahead of their nearest rival, Nintendo, which managed to provoke comments from approximately 110,000 people during its Spotlight presentation.
The social network took a similar look at the games that prompted the most comments, posts and likes. Star Wars: Battlefront II was undeniably the leader, with roughly 110,000 people discussing it during the EA Play conference on June 10th. This was well ahead of the 70,000 people discussing FIFA 18 when a new trailer was released earlier this week, but the football game enjoyed the most spikes throughout the week - most notably around the trailer and EA Play.
Other high performers included Assassin's Creed: Origins, God of War and Spider-Man, all securing close to 50,000 people talking about at their peaks. Spider-Man - or specifically IGN's post about the gameplay trailer shown during Sony's press conference - also took the crown for most talked single piece of content on Facebook throughout the week.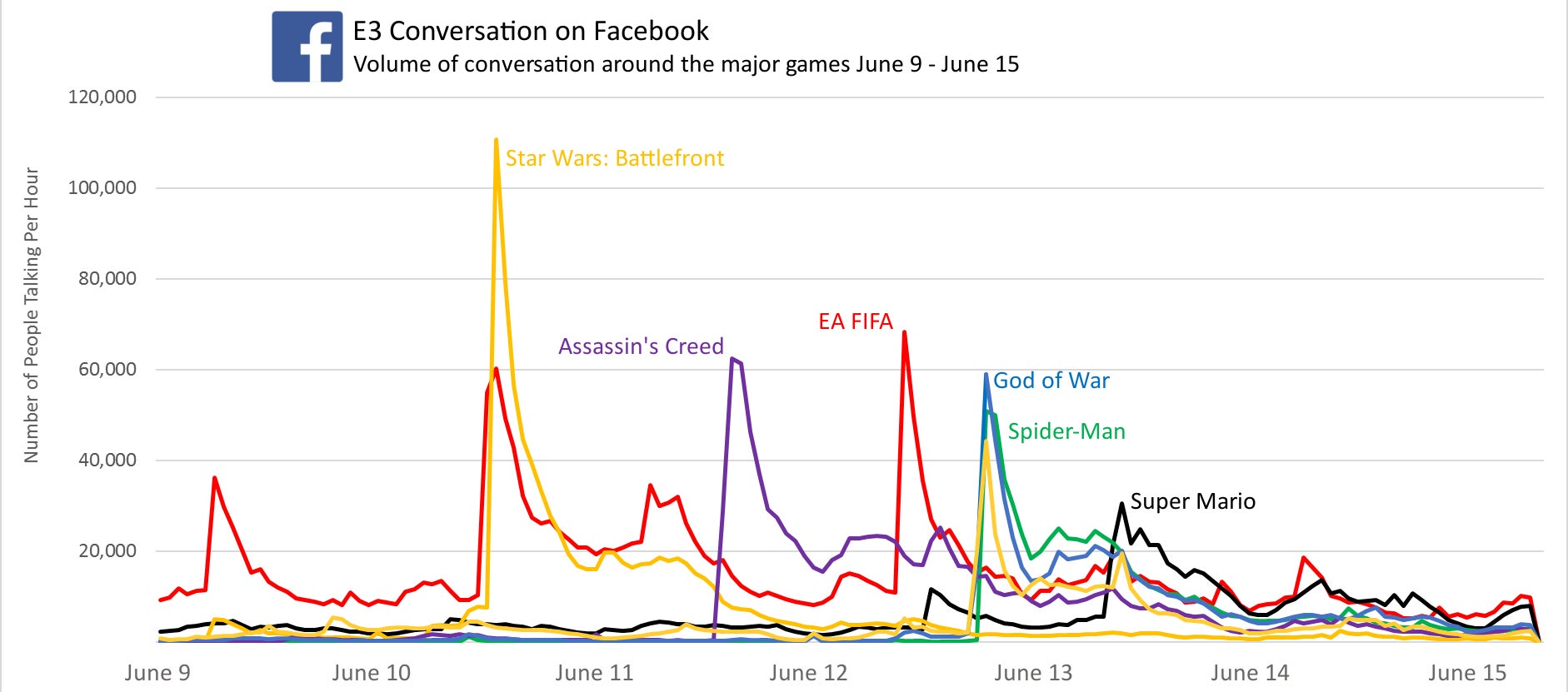 Super Mario Odyssey only managed around 30,000 commenters, but fared better when Facebook filtered through posts from people who were actually on the show floor. It was the most discussed game among E3 attendees between June 12th and June 15th, followed by Destiny and Call of Duty: WW2.
Meanwhile, social intelligence platform Synthesio has been doing its own monitoring of the online chatter around E3. Analysing conversations for each day of the show itself, the company looked at which companies and brands were generating the most buzz.
For Day 1 (June 13th), Microsoft was leading the way with 26% of all online mentions discussing the platform holder's line-ups. Of these mentions, almost 70% were unsurprisingly about the Xbox One X. Forza was the platform holder's most discussed game with 10% of comments, followed by Sea of Thieves (9%). The lack of Gears of War (7% of mentions) and Halo (2%) also came into conversation.
EA followed close behind with 25% of online mentions, led by talk of Battlefront II. Nintendo, Activision and Ubisoft were also highly discussed.
Synthesio also analysed the sentiments behind each comment and the influence they have to form what the firm refers to as a Social Reputation Score. In this ranking, EA actually garnered the most positivity on June 12th, followed by Ubisoft, Microsoft and Nintendo - with minimal difference between these last three.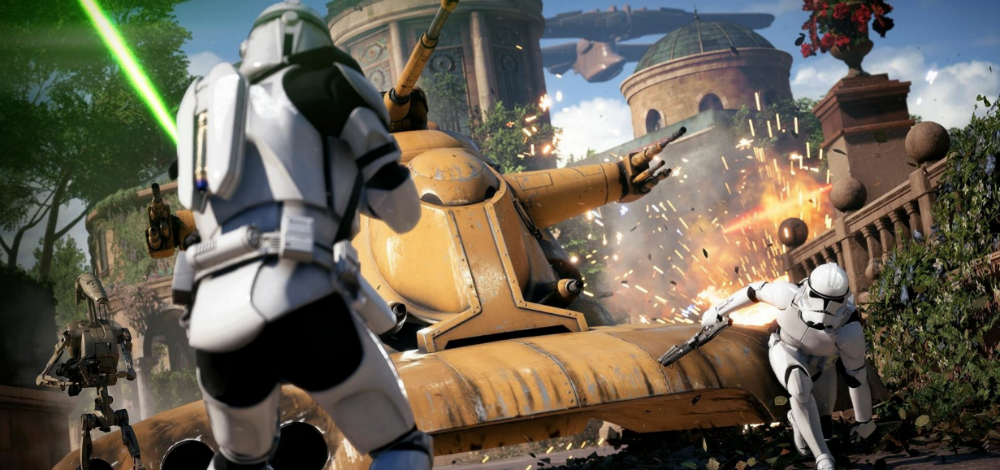 When applied to games, the Social Reputation Score continues to highlight the good work EA has done, with Star Wars: Battlefront II and Anthem as the most anticipated games in the seven days leading up to E3. Looking purely of June 13th, Super Mario Odyssey was the most popular title, followed by Far Cry 5 and God of War.
For Day 2 (June 14th), Microsoft continued to dominate the conversation with 26% of all online mentions, followed by Nintendo with 23% and EA with 21%. The most popular talking points for the platform holder remained unchanged: Xbox One X, Forza, Sea of Thieves, Gears of War and Halo.
Conversation around Nintendo was led primarily by Switch (36% of the platform holder's mentions) and Super Mario Odyssey (32%), with the logo for Metroid Prime 4 prompting 10% of all comments.
Using Synthesio's Social Reputation Score, Electronic Arts remained the leader with the most positive posts, led by FIFA 18. However, Nintendo saw the most positive comments around a single game - unsurprisingly, Super Mario Odyssey.
Interestingly, the second most avidly discussed game on June 14th was 2K Games' Borderlands - a title that isn't even present at the show. Comments were no doubt anticipation for the in-development Borderlands 3.
Across both days, 80% of all posts around E3 came from male gamers, with most posters aged between 18 to 25. These - results that are perhaps to be expected given the typical audiences historically around the expo.