EU praises Google, laments Apple over in-app purchases
iOS still hasn't offered "concrete or immediate solutions" to consumer complaints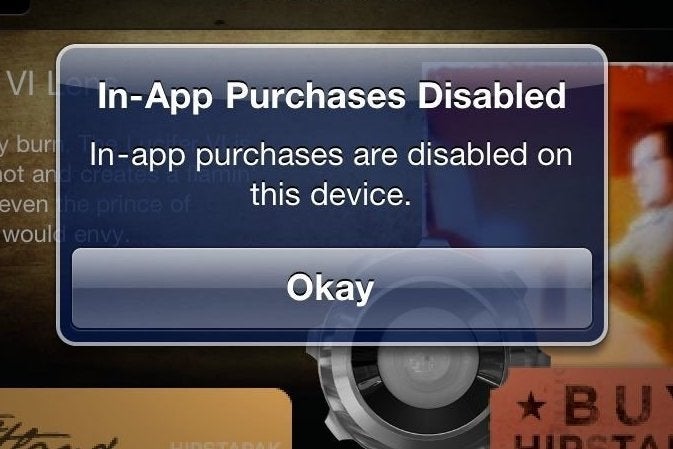 The EU Commission has praised Google for its response to concerns around in-app purchases, but Apple has shown a "regrettable" reluctance to make changes.
Apple, Google and members of the Interactive Software Federation of Europe were handed guidelines for monetisation in mobile apps and games in December 2013 - the result of a "coordinated enforcement action" to address rising numbers of complaints about in-app purchases (IAP) from EU countries.
In a public statement issued today. the EU Commission praised Google for implementing a number of changes that will be fully in place by September this year. These include a ban on the word "free" on any product that features IAP, and a mandate that their default settings request payment permission before any transaction.
Apple, however, is lagging behind. While it has pledged to address the Commission's concerns, it has offered, "no concrete or immediate solutions," and that, "no firm commitment and no timing have been provided for the implementation of such possible future changes." The Commission has called the situation, "regrettable."
""I am happy to see that this action is delivering tangible results. This is significant for consumers"

Neven Mimica, EU Commissioner for consumer policy
In general, though, the Commission was quick to highlight the "tangible results" of the action, increasing consumer confidence in what it believes is a, "legitimate business model."
"This is the very first enforcement action of its kind in which the European Commission and national authorities joined forces," said Neven Mimica, the EU Commissioner for consumer policy. "I am happy to see that it is delivering tangible results. This is significant for consumers.
"In particular, children must be better protected when playing online. The action also provides invaluable experience for the ongoing reflection on how to most effectively organise the enforcement of consumer rights in the Union. It has demonstrated that cooperation pays off and helps to improve the protection of consumers in all Member States."
The UK's Office of Fair Trading released its own guidelines for IAP in January of this year, and similar documents were drawn up in a number of EU countries.
"It is important to note that the EC recognises both the legitimacy of the free-to-play business model and its economic and innovative potential," said Richard Wilson, CEO of the UK trade body, which worked closely with the OFT on the creation of its guidelines.
"It is essential that all consumers, but especially children, are provided with absolute clarity of information and age-appropriate purchase mechanisms at the platform owner level. As the OFT noted, the UK market has made rapid and significant progress in these areas, so it is encouraging that we will see other EU member states following suit."
Apple settled a problem with the Federal Trade Commission in January this year, agreeing to pay $32.5 million to the families of children who spent money through IAP on iOS products. The FTC claimed that it had received tens of thousands of complaints, largely around the lack of warning about the 15-minute payment "window" created after authorisation is given.
Last week, the FTC filed suit against Amazon for, "millions of dollars in unauthorized in-app charges incurred by children."