EA settles $27m Madden monopoly lawsuit
Banned from signing new NCAA deal for 5 years, must refund consumers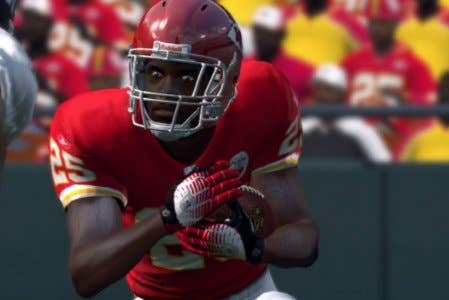 EA has settled a class action lawsuit that claimed its exclusive rights to NFL Football were an illegal monopoly. The $27 million settlement means a restriction on further exclusive deals between EA and the NCAA, and a minimal refund for consumers.
Kotaku reports EA now has a five year ban on signing another exclusive deal with the NCAA. This doesn't mean that when its current deal ends in 2014 EA can't continue to make titles like its mega hit Madden, it just can't do it exclusively.
Meanwhile the $27 million will go to consumers who bought an NFL, NFLPA. NCAA or AFL title after 2005, and on Xbox 360, Wii or PS3 and those who bought a game on PS2, GameCube or Xbox, who can claim either $1.95 or $6.79 respectively.
Analyst Michael Pachter thought it seemed unlikely this would mean a sudden surge in new American sports titles from other publishers.
"Take-Two Interactive was burned by Major League Baseball, and only Konami and Take-Two make sports games (soccer and NBA, respectively)," he told GamesBeat.
"Nobody wants to compete with [Electronic Arts]."
The lawsuit was filed in July 2008, and open to all who had purchased a Madden NFL, NCAA Football, or Arena Football League between January 1 2005 and the present.
"Plaintiffs in the case are purchasers of Electronic Arts football video games, and they claim that Defendant Electronic Arts entered into a series of exclusive licenses with the National Football League (NFL), National Football League Players Association (NFLPA), National Collegiate Athletics Association (NCAA), and Arena Football League (AFL), which plaintiffs claim foreclosed competition in an alleged football video game market."
In 2011 EA renegotiated its exclusive NFL Madden deal, reportedly requesting a $30 million reduction in the price because of disputes between the NFL and its players.