EA CFO finds used game market "positive"
Blake Jorgensen talks about where EA is heading in the next generation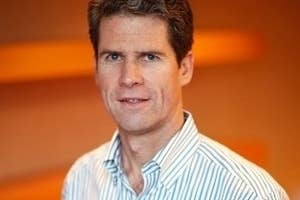 At the Goldman Sachs Technology and Internet Conference in San Francisco, Electronic Arts chief financial officer Blake Jorgensen (pictured) outlined the company's views on the next generation of home consoles expected to be revealed and launched this year. Rumors have pointed to Microsoft's new offering locking physical discs to consoles, thus preventing the sale of games into the used market. Jorgensen admitted that while the publisher would prefer to not have a used market, the market does provide some positives.
"It's one of these classic double-edged swords. In one way the used game business has been critical for the health of the retail channel, and having a healthy retail channel is an important thing for us. The business will probably never be 100 percent digital. Bandwidths are a constraint, and will continue to be a constraint for many years to come, which hold back the ability to do full digital downloads of some games," said Jorgensen, according to a report by Gamasutra.
"Having a healthy retail channel out there like GameStop or Best Buy or others is important, and to the extent that used games is important to them, I think that's a positive," he added. "Would we like to sell everything at full price and not have a used game market? Sure. But I think the used game market's a little like any other kind of market where it creates liquidity. The fact is, that liquidity benefits us in some fashion. So if someone goes in and trades in a game, there's a good chance they're going to buy another one of our games. And so if there's a liquid market, I think that that's not a bad thing at all."
Jorgensen does not come out and definitely state that future consoles won't support used titles, but he does expect that the next generation won't be backwards-compatible with the current generation. He also surmises that there may be a deferred adoption of the next generation around the sales of popular, annualized titles.
"I can't really comment on where the next generation boxes are going to be relative to used games. I will say that the trend in the business is to have that always-on connectivity and connect with a customer, and to the extent that the software identifies a certain customer is going to create some issues going down the road in the used game market. But I do believe that the consumer likes it, and it's been good for the retail channel," he said.
"An important thing to remember is that next-gen consoles will most likely not be backwards compatible... And if you [play] multiplayer on a game, you'll most likely not be able to play with someone on a different generation. And so if you're a FIFA player and, and the soccer season's starting in August, and all your friends are playing FIFA, you're going to want to be on the same box that they're on. So if they all go out and buy a gen-four box if it comes out at Christmas, then you'll most likely do it. If they all hold on and continue to play on third-generation, you'll probably not see that box purchase until after the soccer season's over."
"And I think that works for us positively in both ways. It helps us continue to sell gen-three products, and it will help us sell gen-four product as that cycle finally gets into place. The reality is, is that fiscal year 2014 will still be a fairly large gen-three if there's a console business that comes in at the tail end of the year, mainly because a lot of our titles are built around sports calendars. And if a next-gen console doesn't come out until next Christmas, most people won't wait. They'll want to be involved in getting those titles early, because their friends are all playing those titles, and because they're being played on a current generation's consoles."
Further details from Jorgensen's talk are available at Gamasutra.