Crytek engineer joins id Software
Tiago Sousa leaves Crysis studio after ten years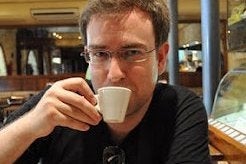 A ten year Crytek veteran has just swapped Crysis for Doom. Tiago Sousa has been appointed as lead rendering programmer at id Software and took to Twitter today to share the news.
Happy to announce i'll be helping the amazingly talented id Software team with Doom and idTech 6. Very excited :)

— Tiago Sousa (@idSoftwareTiago) July 18, 2014
Sousa was most recently lead R&D graphics engineer at Crytek, but started at the company in February 2003 as a senior R&D graphics programmer.
The news comes at a pivotal point for both companies, id Software has just revealed its first gameplay footage of the new Doom at QuakeCon, while reports are circulating that Crytek has failed to pay staff at both its Bulgarian and UK offices.
Four days ago it was suggested that Homefront: The Revolution's game director Hasit Zala had also left Crytek, along with Crytek UK's development manager Ben Harris who left the studio earlier this month.