Crystal Dynamics head leaves Square Enix
Darrell Gallagher stepping down after a decade with the company; Square Enix put Ron Rosenberg and Scot Amos in charge months ago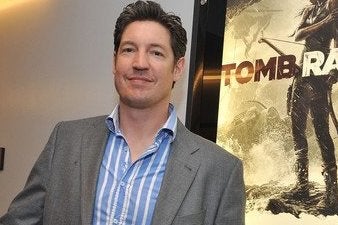 On the official Tomb Raider blog, publisher Square Enix announced new studio leadership for Crytsal Dynamics, the developer behind the most recent Lara Croft adventure. Importantly, Crystal Dynamics boss Darrell Gallagher, who had been in charge of Square Enix' product development and western studios, overseeing all of the publisher's content outside of Japan, has left the company after a decade. He was actually replaced months ago by Crystal Dynamics veterans Scot Amos and Ron Rosenberg, in a transition that Square Enix described as "seamless." The duo will serve as co-studio heads.
Square Enix' western CEO Phil Rogers commented, "Today Darrell Gallagher announced that he is moving on from Square Enix at the end of this year. Darrell became head of Crystal Dynamics back in 2009, led that studio to reboot the Tomb Raider franchise, and for the last 3 years he has led our western studios. I want to thank him for his tremendous effort and contribution to Square Enix, along with the amazing entertainment he has helped create. I am sad to see him go but respect his decision and we should all celebrate the sheer blood, sweat and tears he has put into our company over the last 10 years! We are excited for him and his family on their next chapter. We wish them the best of luck in the future."
Amos, who's been with Crystal Dynamics for five years and served as executive producer on Rise of the Tomb Raider, said, "I've been in the industry for 24 years, and immediately prior to joining Crystal I worked at EA's Visceral and Maxis studios. While I greatly enjoyed my time there, Crystal had the allure of being on the verge of a dramatic rebirth. This was both in its work to reboot an iconic gaming franchise with Tomb Raider 2013, and also culturally refocusing as a studio that puts the player's quality gaming experience first. It's been a fantastic creative challenge that I'm proud to say we've risen to achieve. Looking to the future, I'm thrilled to take the next steps of growing our studio and expanding our portfolio, while continuing to foster an environment where our developers can learn and grow as they craft beloved products."
Rosenberg added, "I joined Crystal in 2008, drawn by my dream to work on a Tomb Raider game. I've gained experience as a pivotal contributor on the Tomb Raider refresh, as well as championing the studio's vision for a 'digital short' that became Lara Croft & the Guardian of Light. I've been working in high tech and gaming for 20 years, including time at Mad Doc Software, now known as Rockstar New England. As an independent developer, I had the opportunity to work with and learn from many different publishers and developers across the industry. I love making great games with great people and Crystal offers both of those things. We're always working to make the best game we can for our players, and I'm excited to take this even further in my new role."
While Amos and Rosenberg will lead Crystal Dynamics together, Square Enix did note that each "will focus on owning different aspects of running a studio." No mention was made as to why Gallagher chose to leave at this time, nor was there any hint of what he'll pursue next.