Cryptic: Game ratings don't "do a great justice to MMOs"
Star Trek producer Dan Stahl on free-to-play and the value of one-off reviews for MMOs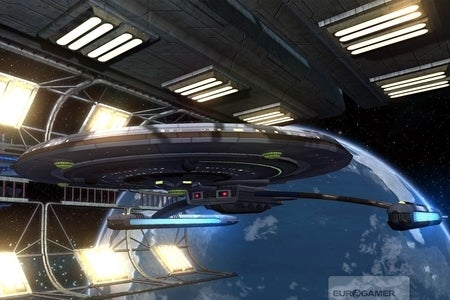 Star Trek is not just one of the biggest science-fiction properties ever - it's one of the most recognizable brands to come from television ever. For that large a fandom, it can really be beneficial for a free-to-play MMO trying to breakout with a mainstream audience.
"We've had internal debates at Cryptic about this," said Star Trek Online executive producer Dan Stahl. "What is the worth of an Intellectual Property when considering a F2P MMO game? If I were to compare STO to a retail business, I'd look at some of the great properties like Star Trek and Star Wars which both have a healthy hobby business attached to it. When you consider that there are people who may want to buy Spock's eyelashes for $1,000, it is clear that Star Trek is their hobby.
"The nice thing about a hobby is that you spend what you want to spend. Some people will watch an Oakland Raiders game from the luxury of their couch while wearing their sweats. Conversely, some people will paint their cars silver and black and spend hours tailgating decked out in Raider merchandise. In F2P, you also have people engaged at all levels. Having an intellectual property like Star Trek is awesome for a F2P MMO because it brings with it an already established mix of fans that might not exist if you tried to build a space MMO concept from scratch."
While Star Trek Online as an MMO has evolved a lot since its launch with plenty of new story content, a "duty officer system", the free-to-play option and much more, most of the reviews the game received came soon after the game released in 2010. This current situation with MMO reviews is, at best, inadequate and Stahl would prefer a more progressive review scale.
"In my opinion, the whole game rating business doesn't necessarily do a great justice to MMOs. MMOs are designed to grow over time and get better with every major release. It might be better if sites like Metacritic could find a way to rate MMOs by releases instead of just the initial day one," proposed Stahl. "There are plenty of MMOs that have made huge strides since days one and some that have even gotten worse. Until then, we will continue to offer the game for free and ask for people to try it out and decide for themselves.
Read the full intervew with Stahl on [a]list