Creative Enterprise backs GI Live: London
Twitch and Makers Fund join the line-up for September event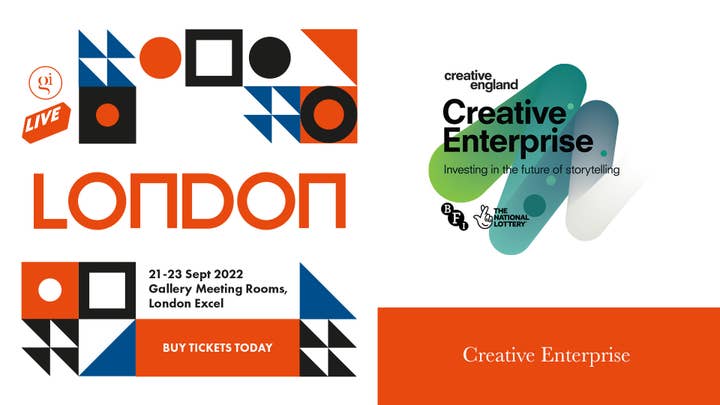 Not-for-profit Creative Enterprise has joined GI Live: London as a speaker and sponsor.
Creative Enterprise, which is a part of Creative UK, is a series of initiatives that help games companies access connections, training and networks to help grow their business
GI Live: London takes place from Tuesday, September 20 to Thursday, September 22. The first day is a digital-only day, while days two and three will take place at London Excel alongside the EGX consumer show. Tickets are on sale now.
"We are proud to be talking at GI Live about our insights from the past five-plus years of supporting the games industry in the UK, drawing from the over £1 million invested in the screen industries and the over 250 companies in the sector we have supported," said Creative Enterprise programme manager Chris Filip.
Creative Enterprise joins a speaker line-up that includes Valve, Xbox, Rare studio head Craig Duncan, Interior/Night CEO Caroline Marchal and Gina Jackson OBE. The full schedule, including additional keynote speakers, will be announced in the coming days.
Alongside talks and roundtables, the heart of GI Live: London is our meeting system. Over 30 investors and publishers are meeting developers at the event.
Companies attending the entire event include Curve Games, Frontier, London Venture Partners, Makers Fund, Marvelous Europe, PlayStack, PQube, Sega, Square Enix, Team17, TinyBuild, Tripwire Interactive, Twitch, Working Capital Management and Xbox.
Companies attending the digital day only inclde 101XP, Amplifier Game Invest, Bandai Namco, Blitworks, Boombit, Good Shepherd, Google, Hidden Trap, HoYoVerse, JanduSoft, Kakao Games, Lessmore, Plaion, Ripples Asia Venture and Skystone Games.
You can buy a digital ticket, which includes access to the digital meeting day and the ability to watch our talks online. Our physical ticket includes complete access to the entire three days (plus four-day access to EGX). You can also book a permanent meeting table for yourself and a team mate. All tickets are on sale here.
Interested in sponsoring the event? Contact George Corner.