Check out the GamesIndustry.biz Career Fair line-up
Plus, the developers who will be conducting portfolio reviews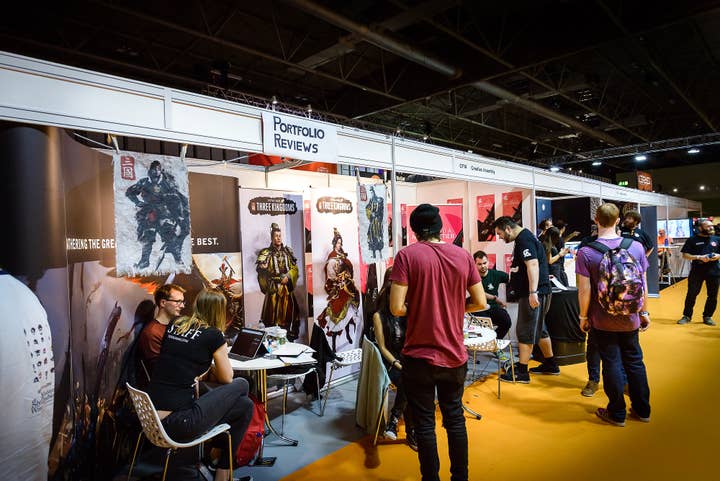 The GamesIndustry.biz Career Fair returns to EGX from October 17 until October 20.
The event once again supports games education and promotes the video games industry as a viable career path for students. The event takes place on the show floor at EGX, with thousands of students expected to attend.
This year's line-up includes a series of talks, plus portfolio reviews where industry professionals will be giving advice and analysing work from students and new talent.
The event has been running for over a decade, and features booths where colleges, universities and game developers get to mix with the game development talent of the future.
Full career fair and portfolio review schedule below:
Careers Fair schedule
Thursday, October 17
11:00 - 11:40: BAFTA Crew Games: Making Games - First Things to Consider
12:00 - 12:40: Creative Assembly: From character to animation
13:00 - 13:40: How to get started in Voice Acting
14:00 - 14:40: Advice from Playground Games recruiter Rosey Asquith
15:00 - 15:40: Types of producers in the games industry
16:00 - 16:40: Pursuing a career in XR

Friday, October 19
11:00 - 11:40: BAFTA Crew Games: Mysterious Careers to Consider
12:00 - 12:40: Dare Academy: Winners Announcement
13:00 - 13:40: Darren Melbourne: Antstream Arcade
15:00 - 15:40: Community Management: It's Not Rocket Science
16:00 - 16:40: I can't code, and I can't make art - how do I become a game dev?
Saturday, October 19
11:00 - 11:40: BAFTA Crew Games: Routes into the Games Industry
12:00 - 12:40: Working In the Games Industry: Lessons learned from AAA, Indie and Mobile
13:00 - 13:40: Level Design 101
14:00 - 14:40: Nigel Twumasi - mayamada
15:00 - 15:40: Games Audio
16:00 - 16:40: Getting On The Right Track: Everything you need to know about social and community management
Sunday, October 20
11:00 - 11:40: BAFTA Crew Games: Crafting Levels - The Art of Design
12:00 - 12:40: Games PR 101
13:00 - 13:40: How to get my job running this Career Fair
Portfolio Review schedule
Thursday, October 17
11:00 - 13:00: Pavle Mihajlovic - Technical Director, Flavourworks | Hannah Flynn - Communications Director, Failbetter Games
13:00 - 15:00: Nele Steenput - Character Artist, Cooperative Innovations | Rob Kinder - Publishing Director, Payload Studios
15:00 - 17:00: Alexander McKinney-Raphelt - Studio Art Manager, Mediatonic Games | Eugenia Peruzzo - Character Artist, Freelance
Friday, October 18
11:00 - 13:00: Sarah Wellock - EMEA PR Manager, SEGA/ATLUS | Jonathon Wilson - Level Designer, Hangar 13
13:00 - 15:00: Lauren Aitken - Guide Writer, VG247 | Sinead Oram - 3D Artist, Hutch
15:00 - 17:00: Kyra Atkinson - Senior Prop Artist, Hammerhead | James Tatum - Lead Programmer, Bulkhead Interactive
Saturday, October 19
11:00 - 13:00: Sally Blake - Senior Producer, Hammerhead | Shay Thompson - Presenter, producer and host, Freelance/ Glass House Games
13:00 - 15:00: Alice Bell - Deputy Editor, Rock Paper Shotgun | Nida Ahmad - UX Designer, Freelance
15:00 - 17:00: JD Kelly - Voice Actor, JD Kelly | Tom Phillips - News Editor, Eurogamer
Sunday, October 20
11:00 - 13:00: Ben Maltz-Jones - Senior Producer, Hammerhead | Caoimhe Roddy - Game Producer, Freelance
13:00 - 15:00: Vicki Thompson - Games Designer, Mediatonic Games | Giles Armstrong - Game Writer, Freelance
15:00 - 17:00: Chris Filip - Co-Founder, Game Anglia | Reece Banbury - Gameplay Programmer, Bossa Studios