CharacterBank's goal to create 'VR's Mario'
The Japanese studio discusses VR's popularity and opportunities in the country, as well as its own ambitions ahead of RuinsMagus' PSVR 2 release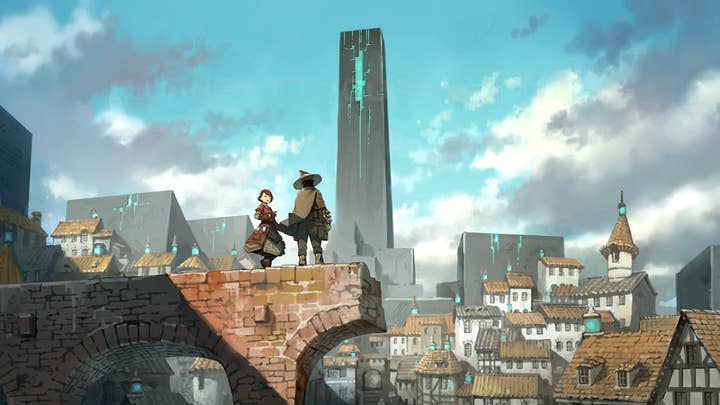 It's often hard to track the success of VR in part because it straddles the line between ubiquity and obsolescence. You'll find VR experiences in shopping centers and event spaces around the world, yet the market beyond one-off experiences showcasing the worth of the tech as a viable medium for long-form experience and interaction remains low.
Internal Meta figures place sales of the device at 20 million across all SKUs since 2019, with the original PSVR sales topping at five million units as of 2020 alongside the estimated 600,000 units sold to date as of May for PSVR 2.
These aren't bad numbers, yet it should also be noted that this places VR's market penetration far below that of the broader games industry, with just 1.3% market penetration in 2023 versus 45% for the broader industry, expected to rise just 0.4% in the next four years.
Still, this is a passionate and dedicated community of players, and many would argue that all the industry is missing is that so-called 'system seller', the unique project that sells the potential of the medium to the masses. Experiences like Beat Saber and Half Life Alyx are good, sure, but their appeal hasn't yet expanded beyond an audience of the already-converted.
There are a lot of companies vying to be the one who creates that medium-defining experience, and one Japanese company hoping to elevate VR by this metric is the Kyoto-based CharacterBank.
There's a few reasons why Japan seems like the perfect market to develop and perfect VR experiences for mass-market appeal. Particularly in Tokyo, the presence of VR centers from pop-up Evangelion simulators to spaces like Red Tokyo Tower are not only noticeably common, but popular with locals and tourists alike. Even at world-leading theme parks like Universal Studios Japan can VR-enhanced attractions be found, where a Monster Hunter full-body VR experience is not only one of numerous such experiences at the park, but its sheer popularity has seen it extended for multiple years beyond its initial limited run.
"We're still waiting for the Mario of the Famicom to come to VR and push players and become something of a sensation"Will Loubier
While VR's popularity in the country could be hindered by the limited space in Japanese homes, such receptivity to VR experiences showcases the appeal. And it's something that Shuto Mikami, founder of CharacterBank, as well as head of marketing Will Loubier, hope the studio can achieve.
"When talking to some people, they believe that we're very much in the NES era [for VR]," explains Loubier. "We're still waiting for the Mario of the Famicom to come to VR and push players and become something of a sensation. That's what a lot of developers are aiming for, including us."
CharacterBank was founded in 2019, almost as an experiment for Mikami. Rather than coming from a games development background, their career history lied in engineering and designing concept cars, theoretical ideas of what vehicles could look like in the future that could simultaneously inspire new ideas or solve problems with the development of modern vehicles.
"I come from an engineering background, but I also really love gadgets," he explains. "When the [Meta] Quest 1 was first released, I put it on my head and thought 'Oh, this is it, this is what we've been waiting for, VR is finally here'. I also went to college with other designers and felt their passion for wanting to create their own worlds. Since I enjoyed games and because there were all these people around me who enjoyed games, I felt like it was a natural step to create a game studio to help express my creativity."
It's the possibilities offered by the headset and ideas from Mikami's time in concept car design that inspired much of the studio's early projects. These included making the context and use-cases for designs clear immediately to a player in order to facilitate communication and usability with minimal friction, something particularly important when considering the different input and design language that come from typically-motion driven gameplay within VR.
It was these lessons on communication that inspired and primarily drove the studio's first game, Ansuz, a Mafia-like game relying heavily on communication and context-clues in the world in which the good players must root out the evil player out of a group of four. Being able to freely communicate with all players in an immersive setting while picking up on subtle cues that might suggest another player is lying were crucial in making the game work for a broad audience.
"At that time I first encountered the Quest, I had a sense that communication could be elevated to the next step," explains Mikami. "Because you can sense more of the presence of people around you, this is why that first game we developed relies so much on communication. Because players are using a headset, that feeling of communication and immersion is heightened."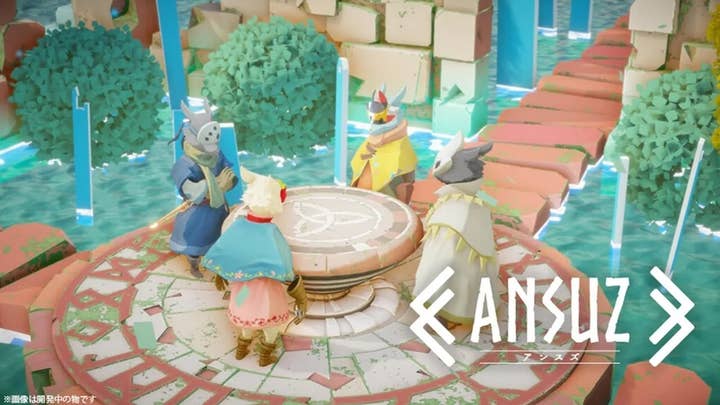 It was still an experiment, a test to see if founding such a studio and pursuing games and VR was even viable. Ultimately, it was a success, and was followed in 2022 by a very different project, RuinsMagus. If you were to call CharacterBank's first project a party game then this was the complete opposite, designed as a single-player story-driven RPG in a fantasy world, complete with expressive fully-voiced characters working through intense combat scenarios.
It was a challenge, and one that forced both Mikami and the now-growing team to learn new lessons, and fast.
"When RuinsMagus started development, the team didn't have a lot of game development experience," he admits of the roughly 12-person team at the studio at the time of the game's development. "We really had to build up the contents and the team and everything to reach a point where we could make a fully-fledged game."
Not only did the team need to learn more about the nature of development in VR, they needed funding to make this game a reality. Building up greater connections and partnerships not only helped provide the funding the team needed but also, when necessary, allowed them to rely on the experience of these partners in ways that were crucial to getting the game over the line.
"When the Quest 1 was released, I put it on my head and thought 'Oh, this is it, this is what we've been waiting for, VR is finally here'"Shuto Mikami
"We've definitely grown a lot as a company because of it," explains Mikami. "[With RuinsMagus] we were able to incorporate voice acting and work with a lot of external partners to support. We had a publisher in Mastiff LLC, we worked with [Akihabara-based anime merchandise store] Kotobukiya for a collaboration, and we worked directly with Meta on the title. We were able to work with all of these partners and become really ambitious with the project."
The team is now triple the size it was when RuinsMagus first entered development, allowing the studio to work on multiple projects at once and spread resources into multiple areas.
Alongside more projects yet to be announced, this includes both the free title Kemono and Chibi, about an unlikely pair looking to regenerate a decaying Tokyo, and a new PSVR 2 port of RuinsMagus incorporating previously-released updates and DLC, including English voice acting, set for release on September 19.
Beyond simply bringing all updates and features into one complete release, this new port takes advantage of the haptic feedback offered by the new controllers of PSVR 2 to enhance the playing experience. The hope is that the higher fidelity of the lenses inside the headset also help to further immerse the player into this, something the game seems to be achieving with success based on a brief trial of the game at the team's studio in Kyoto.
With each experience, the team is slowly building their capabilities and the technology for what comes next, in the hope of enhancing future projects.
"We recently released Kemono and Chibi, and in that we really tried to push forward the way that music interacts with the player, as well as creating a wider map [to] explore. We're planning to use that technology in our next major title so we can connect multiple parts of the world together more seamlessly."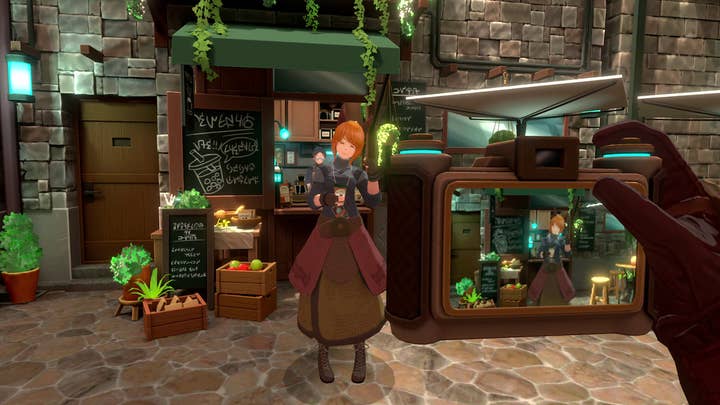 To accommodate for the team's rapid expansion, the studio recently moved into a new four-story building large enough to accommodate a team that has grown from the dozen people it employed just a few years ago to the 30-strong operation it is today. Not only does this give the team the space necessary to house the entire team under one roof, it offers bespoke facilities such as the team's own motion-capture studio that you might not expect to find lurking behind the building's modest exterior.
While Kyoto is home to a strong independent and creatively-minded scene (it's the home of Bitsummit as well as being a hub of indie creators of all sizes from local one-person operations to internationally-renowned teams like Q-Games and Chuhai Labs), it's less-known as a home for VR studios. Rather, many such tech startups are based in Tokyo. While Japan as a whole is still a relatively small player when it comes to the number of VR companies, these companies are all close, regularly supporting each other's projects.
"Japan will make a very famous VR game in the future. A Final Fantasy, a Dragon Quest, that kind of experience, is bound to come from Japan"Shuto Mikami
As Mikami puts it, "There's not too many VR studios in Japan in general, but because of that we're all very close. We all like to help each other out, we always share information with each other and give advice, everything like that. Kyoto is not a very central hub for VR, but there's a lot of energy and right now we're aiming to expand the perception of Kyoto, and the good points of Kyoto to the world."
What limits VR's potential returns to the issue cited near the start of our discussion: if the VR is in the NES era, where is its Mario? Where is its must-play title? Even if Japan lacks the number of studios, it doesn't lack in talent.
This is something that Mikami remains bullish about. "Japan will make a very famous VR game in the future. A Final Fantasy, a Dragon Quest, that kind of experience, is bound to come from Japan."
From CharacterBank? "Yea, of course, we hope so!"
Sign up for the GI Daily here to get the biggest news straight to your inbox