Bungie on settling into the pandemic's new normal
Destiny senior development director Carrie Gouskos talks about new challenges rising as the weeks pile up and the insidious potential for crunch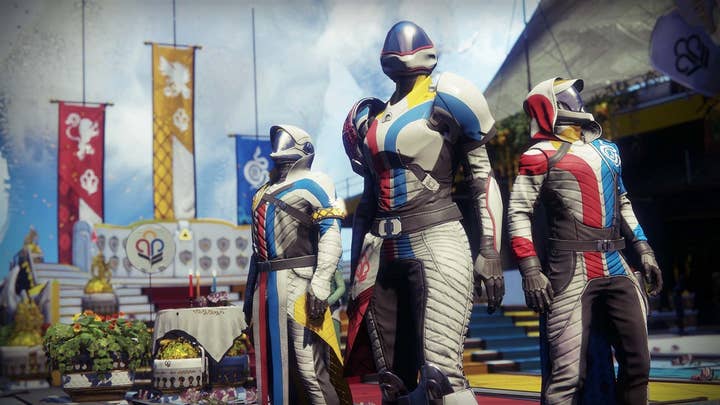 The global gaming industry has never dealt with anything like COVID-19 before, but as the pandemic took shape in late February and much of March, Bungie's Carrie Gouskos could still apply things she learned earlier in her career.
Gouskos has only been with Bungie as senior development director on Destiny since last fall, but spent more than a dozen years working in live ops at Electronic Arts on titles like Warhammer Online, and Star Wars: Galaxy of Heroes.
Speaking with GamesIndustry.biz, Gouskos says the process of transitioning the studio to working from home as COVID-19 was at least familiar to her in the very broadest sense. In the most extreme situations at her previous job, she was still dealing with problems unlike anything she'd dealt with before. Then, as now, she found the way through was to sit down and figure out how to do it one step at a time.
In some ways, that was the easy part. In the early days of the pandemic, Gouskos says there was a jolt of adrenaline, a sense of muscling through a hardship that helped give energy to handle the initial transition. But as the weeks have gone by, she acknowledges the feeling has changed.
"When it settles in for the long haul, no matter what you felt about this in the first place, there's a dawning realization that this could be longer than we think," she says, adding, "Now is the part that's hard to process, hard to know how to handle, hard to figure out the road map for. Because that's something I've never experienced on any level before. None of us have, so we're flying a little bit blind here."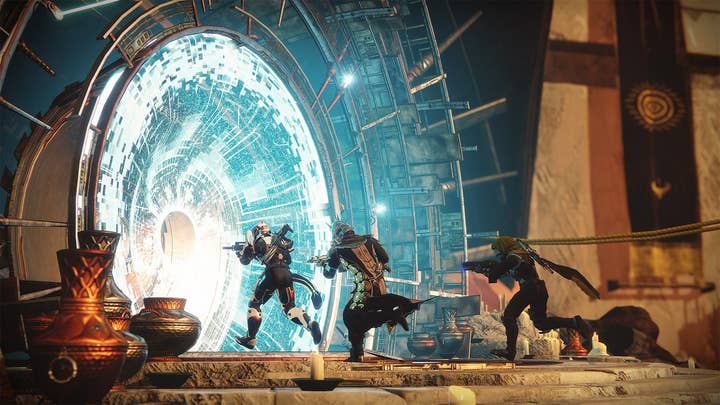 So far, the work-from-home transition seems to have gone as well as could be hoped for the studio.
"We're still measuring it," Gouskos says when asked about the impact on productivity. "We're not at a place where I'm going to say it's totally fine. What's interesting and pretty surprising in some ways is that for certain people -- definitely individual contributors, people who sit down and crank out work -- we're actually seeing increased productivity."
Gouskos stresses that nothing is definitive yet, and Bungie has been trying to evaluate things based on a variety of data points, including Perforce check-ins and surveying employees about how productive they feel they've been. Those surveys have been particularly relevant for a studio that has in recent years been trying to change its culture of crunch.
"Especially early on, we had a lot of people say they were finding themselves working more hours"
"Especially early on, we had a lot of people say they were finding themselves working more hours," Gouskos says. "People kind of went like, 'Well I'm not commuting so should I put the hours into my work?' Or maybe they're like, 'I can get away from my kids at the same time.' But the fact that you're just sitting in one place, if you're not reminded, you can really tunnel in. I certainly found myself sitting at my desk for the whole day, and I think that's insidiously exhausting."
Gouskos says the studio has also tried be mindful about how the situation might be impacting employees individually. It has encouraged people to shift schedules away from the traditional core hours if it would help them with childcare or other responsibilities. It has also offered meditation classes, and expanded its time-off policy to include mental health days.
"Right when that was announced, a whole bunch of people took a day or two off for mental health, just to recharge," Gouskos says. "It's bad, it's insidious, and you have to pay attention to even realize it, but the fact that you could be working and pushing yourself a little too hard, and then everyone's already dealing with a base mental overhead we didn't expect before. You need to take time to pause for yourself."
Naturally, the logistical side of running a studio remotely has also introduced its share of challenges. Gouskos says there have been supply chain issues in getting new laptops for developers, and electronics in particular have been getting more expensive to acquire. It's also not ideal working with voice actors and some vendors remotely, but in the short-term they've been getting by.
"Being a live service is the thing that helped us be more prepared"
Fortunately, some aspects of the transition have been smoother than expected.
"Being a live service is the thing that helped us be more prepared," Gouskos says. "The one team that did not need any help from me was our player support and live operations teams, the ones that handle something going wrong at crazy hours or the weekends or whatever. They were ready to go. In a weird way, they became our experts in how we could work from home and how we could work in off-hours."
Playtesting was another potential headache that could have been far more difficult to deal with.
"We have a pretty rigorous security infrastructure," Gouskos says. "We don't have Destiny [development builds] on people's private machines. So from the standpoint of development, it's not like I could come home and install Destiny on my home computer."
Connecting with a laptop over VPN also wasn't going to be good enough for playtesting purposes. Fortunately, Destiny 2 had just launched on Google's streaming service Stadia, and every employee had been given a Stadia kit as part of that. With some technical tweaking from Bungie developers and a bit of support on Stadia's end, they were able to begin streaming playtests of their upcoming milestone for developers at home.
"It seemed almost too easy to set up," Gouskos says. "And that was surprising to me because very few things you have to do at this scale are like, 'Surprise, this is easy!'"
The streaming playtesting has been successful enough that Gouskos expects the studio would continue using it going forward.
Even so, when asked if the studio was now ready to work remotely on an ongoing basis if needed, Gouskos says it's not quite there yet.
"There are definitely a few things that are close, where we've come up with workarounds but it's not the be-all, end-all yet," she says.
Still, Gouskos is clear that long-term remote work is by no means an ideal outcome.
"I do genuinely believe that creative collaboration is better when you're able to be face-to-face... If it went on for a while, I think we're in fairly good shape, but things still come up every day."