Borderlands 3 joins list of Epic Games store PC exclusives
2K says its goal is "to embrace new distribution platforms that will contribute to our effort to grow the audience" for Gearbox's shooter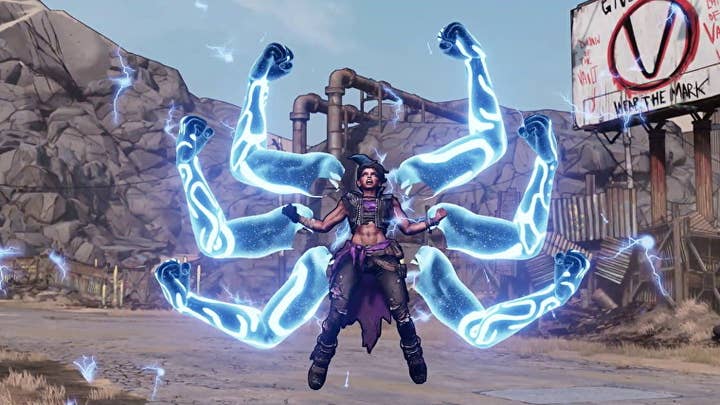 Epic Games has landed exclusive rights to another high-profile PC game, as 2K Games today announced the Epic Games store will be the only place to get Borderlands 3 on PC when the title launches September 13.
"The PC gaming community has been an important part of the success of the Borderlands series, and we are excited to be partnering with Epic who recognize its worldwide popularity and share in our commitment to bring Borderlands 3 to this rapidly expanding audience," said 2K president David Ismailer. "Our mission, in addition to delivering the most engaging and captivating entertainment experiences, is to embrace new distribution platforms that will contribute to our effort to grow the audience for Borderlands 3."
As with many of Epic's deals, the exclusivity is only for a limited period of time. 2K has said Borderlands 3 will arrive on other PC storefronts in April of 2020. (PlayStation 4 and Xbox One versions will launch alongside the Epic Games store edition on September 13.)
Since Epic launched its digital distribution storefront last December, it has been striking limited exclusivity deals on PC games in a bid to crack Steam's grip on the market. 2K's sister label Private Division struck similar deals for The Outer Worlds and Ancestors: The Humankind Odyssey that will keep those games off Steam for a year after their respective launches. Among the other high-profile games Epic has landed are Metro Exodus, The Division 2, Control, Dauntless, Phoenix Point, and Quantic Dream's lineup of previously PlayStation-exclusive titles.
The pursuit of exclusives has bolstered the Epic Games store's profile in a short period of time, but it has also generated backlash from Steam users.
"It's not a conversation people should be afraid to have," Epic's David Stelzer said in an appearance at the GamesIndustry.biz Investment Summit at PAX East last week. "People will have different concerns as to why they have those conversations. The community will be vocal, to say the least, around that. But it's never our intent to keep people away from playing a game."