Bioware dev calls MMOs "toughest part of the industry"
Star Wars: The Old Republic team still one of the biggest, despite cuts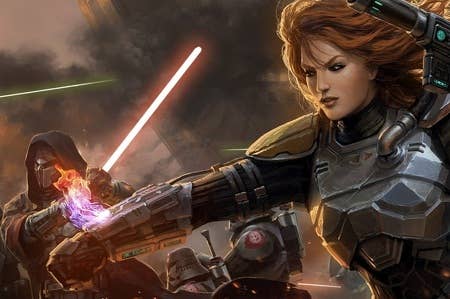 Star Wars: The Old Republic associate lead designer Emmanuel Lusinchi has spoken about the recent lay-offs at Bioware, and how the emotional and financial difficulties that surrounded them.
"The MMO is the toughest part of the game industry without a doubt and we live in tough economic times in general," Lusinchi told PC Gamer, as he talked about the recent lay-offs from the MMO's team.
"On a personal level it's quite difficult to to have people that you've been working with for a long time that you know personally, you go to their barbecue and you meet their families and it's never easy. I doubt it'd be easy in any industry for anyone, but it happens."
Despite the cuts the developer was positive about the first six months of the game's life, and said the team was responding to fan feedback and please with the subscription numbers. And that the team that remained was making plans for the future.
"We have a very large development team still, definitely one of the biggest in the industry, and we have a very complete and detailed plan for the rest of the year."
"The players don't really care about all that, behind closed curtains, but they want what they're paying for which is a service with new content, new systems, that's what they're asking for and we listen to them. That's what we mean to deliver."