BioWare announces layoffs surrounding Star Wars: The Old Republic
BioWare co-founder Greg Zeschuk says game is still in "a strong position"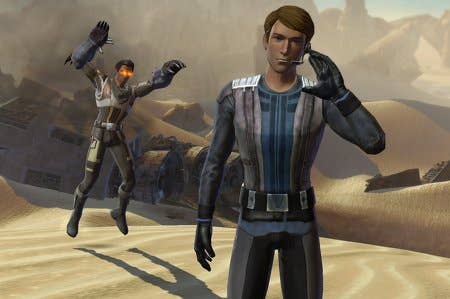 EA and BioWare's ambitious MMORPG set in the Star Wars galaxy has not turned into the major World of Warcraft killer it had hoped to be. These sentiments have been somewhat cemented with the announcement of layoffs that have hit BioWare, specifically within the team responsible for development of the game.
While he would not comment on the number of layoffs, BioWare co-founder Dr. Greg Zeschuk posted to the company's forums announcing the move. "Sadly, we are bidding farewell to some talented, passionate and exceptionally hard-working people who helped make SWTOR a reality," he commented. "Impacting people's lives this way is always very hard, but we're ensuring the affected people are treated with dignity, fairness and respect."
EA recently revealed that the game was holding onto a steady 1.3 million subscribers, though this number was a stark reduction from the figures seen at launch. BioWare remains hopeful though, promising continued support for the game. EA remains confident in the viability of the title, with EA CEO John Riccitiello noting during an interview on CNBC's Mad Money that "For what it's worth, it's a solid, successful, profitable franchise."
Looking forward, the studio sees a vibrant future for the MMO and BioWare is passionate its upcoming initiatives for The Old Republic. "We still have a very substantial development team working on supporting and growing the game, and we feel we are in a strong position, with your continued involvement and feedback, to continue to build Star Wars: The Old Republic as one of the most compelling and successful online experiences in the world today. There are many strong initiatives planned for cool new content and new features that we're excited to tell you about in the upcoming weeks and months," continued Zeschuk.
"Rest assured that we remain dedicated to delivering a high quality service in SWTOR to you, our fans, and we will continue to support and grow Star Wars: The Old Republic over the weeks, months and years to come."
Update: EA has also provided this statement: "BioWare has restructured its studio in Austin today. Of the employees impacted, some will be able to join other projects within EA, others will leave the company. These are very difficult decisions, but it allows us to focus our staff to maintain and grow Star Wars: The Old Republic. BioWare Austin remains a large and important part of BioWare and EA, working with other studios around the world to continue to deliver a high-quality service and exciting new content for Star Wars: The Old Republic."