10 years old and blind: A new type of protagonist
Beyond Eyes swaps enemies for empathy in Rae's watercoloured world
"I never became a game designer because of the games that are there, I became a game designer because of the games that could be," says Sherida Halatoe, creator of Beyond Eyes.
The game is a watercolour delight and stars Rae, a blind ten-year-old navigating an unfamiliar landscape in search of her lost cat. The player helps guide her through the world, learning that Rae's perceptions of that world may not always be reliable - for instance what sounds like a bird might be the beeping of a pedestrian crossing - and helping her to conquer her fears. AAA developers often seem nervous about taking any sort of risk, but to Halatoe it just came naturally as a reaction to the murderous heroes currently ruling games.
"I don't really like the separation between story and mechanics that I see in a lot of games. A good example would be if you have a video game where you have a character that's being described as a good person in the narrative and then spends the majority of the game killing bazillions of enemies," Halatoe explains. Think of Uncharted's Nathan Drake, Lara Croft, all the Assassin's Creed protagonists and you soon realise she has point.
"I wanted to make games that were more connected and I liked the idea of having things for the player to explore, to reward curiosity. Reward that sense of wonder," she says.
It's a trend we're seeing more and more in the indie space, a desire on the part of developers to create games with something to say, games that offer interesting and meaningful experiences beyond killing and collecting.
In Beyond Eyes you feel a sense of responsibility to Rae as you navigate roads and barking dogs. It's hard to know if the innovation should be surprising because it's Halatoe's first project as a developer, or if it's actually thanks to that.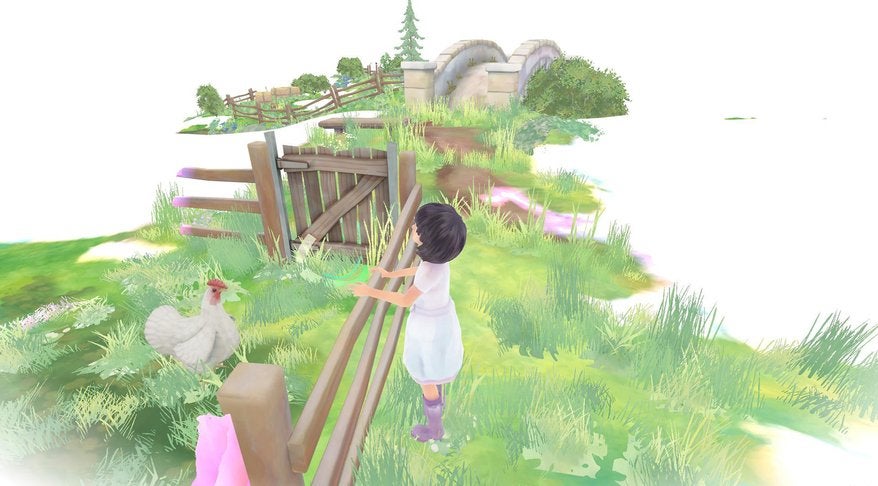 "I played games just like most kids did but I'm not a gamer per se. I was actually trying to get into theatre and then I kind of fell in love with the idea of games as an interactive medium, to have active participants to the whole story that I wanted to create."
She was inspired by a friend with a talent for watercolour paintings and interactive fiction and created the 3D game that would become Beyond Eyes as part of a college project. After college she set up her own studio Tiger And Squid but took a break from Rae for a while.
"I graduated and I felt like I wanted to do more with the project but at the same time I felt very new to making games, especially by myself. I felt like I had to mature a little bit before I could do the concept justice," she explains. "I did some other things but then I realised I would be really really upset if someone else ever made that game."
To fund herself she set up a crowdfunding campaign through Indiegogo but that failed because, in Halatoe's own words, she had "no clue what marketing was about." But even a failed crowdfunding campaign can build buzz and this one did, leading to an offer from Team17 to publish the game.
The studio, best known for its mega-hit Worms, offered a deal that included incubator style perks, and Halatoe relocated from The Netherlands to Wakefield to work with the Team17 developers. Currently she's making the most of their experience and enjoying seeing the improvement they're able to suggest.
"A lot of the things I made are having to be remade, because I'm not a very good programmer," she admits with a laugh.
"Behind the curtains everything was kind of duct-taped together."
Beyond Eyes will appear on PlayStation 4, Xbox One and PC this year.