Battalion 1944 developer Bulkhead Interactive opens new Munich studio
Original Derby studio will be rebranded Bulkhead Phoenix, while German branch will be named Bulkhead Darkhorse
UK developer Bulkhead Interactive is expanding with the opening of a second studio in Germany, GamesIndustry.biz can reveal.
The new branch will be located in Munich, and will be initially focused on supporting the ongoing development of Battalion 1944 - Bulkhead's crowdfunded homage to World War II multiplayer shooters of the past.
The studio will be named Bulkhead Darkhorse, while the original Derby office is rebranding to Bulkhead Phoenix. Both studios will be hiring to increase their headcount, but CEO Joe Brammer says this is to match the game's requirements rather than aggressive expansion.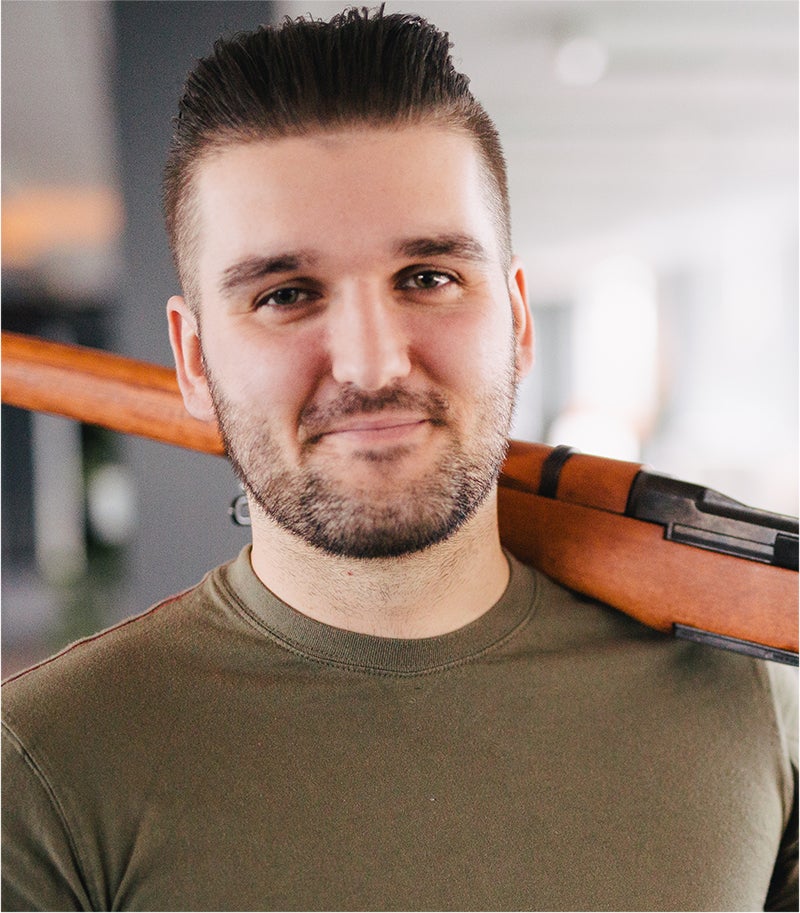 "Our strategy is to be one of the biggest fish in an admittedly small pond," he tells GamesIndustry.biz. "We don't want to compete with the Ubisofts or Epics over in Berlin - we want to build our own thing.
"Munich consistently finishes near the top in any study you can find of the cities with the highest qualities of life in the world, which entirely ties in with Bulkhead's ethos. We entered the industry four or so years ago now, and this year we've hit 30-plus members of our team - it's time to start thinking about how we're going to take care of our people, essentially.
"It's important to me that they're happy in their lives and that they're content with what they're doing. Sure, we at Bulkhead can provide exciting and challenging work, but we also want people to have more than just their job, and by moving to a beautiful relaxing city like Munich we're confident we can deliver on that."
Both studios are currently hard at work on an important update for Battalion 1944, due to go live on July 12th, which will rework the entire game based on feedback from Early Access players.
They will then work towards the title's full release - currently slated for early 2019 - after which Bulkhead Darkhorse will begin development of a brand new first-person shooter, while Phoenix moves on to another project. Both will also continue to add new content and improvements to Battalion 1944
Brammer attributes the opening of the new studio to "a combination of both Battalion 1944's successes and indeed its pitfalls", referring to the initial technical problems encountered after entering Early Access back in February. Demand proved to be higher than Bulkhead had expected, meaning there weren't enough servers to cater to all players and a series of errors with the matchmaking further complicated matters.
In fact, the CEO tells us that by the second day Bulkhead had to ask streamers to stop broadcasting their Battalion 1944 games as it was attracting too many players and putting too much strain on the servers.
"I want us to exceed expectations, not have to make excuses. Bulkhead has some really big plans and we need to scale up to achieve those goals."
"It's no secret we had a rocky launch - Battalion 1944 had what I would tongue-in-cheek describe as the 'most successful bad launch ever'," says Brammer. "It did extremely well and, in turn, that's enabled us to expand, but I think the problems we encountered also helped highlight just how much we needed to expand, to be honest.
"We'd released a really big game, but we were still a comparatively small studio. That needed to change, namely because it doesn't matter how good a game is if you can't provide the improvements and fixes it needs at the speed required by games in 2018. If you can't do that, you're letting players down, and that's something we never want to feel again. I want us to exceed expectations, not have to make excuses. Bulkhead has some really big plans and we need to scale up to achieve those goals."
The names for the two studios stem from these initial troubles during the Early Access for Battalion 1944. Brammer also believes giving each branch an identity, rather than naming it for its location, makes it easier for team members "to care about each studio."
"We released the game off the back of Lawbreakers, which had left a bad taste amongst FPS players, while PUBG also seemed to be losing players so there was always going to be some eager to brand Battalion 1944 a 'dead game' whatever happened post-launch," he continues. "It's just the nature of things. [But] our game was merely 'sleeping', not dead. As a result, we named the Derby office 'Phoenix', as in rising from the ashes.
"Darkhorse is another term for the underdog - so many people told us we would fail or the game was too big, as well as players not believing we could deliver. However, with this next big update, we're actually delivering on our classic 'back to roots' FPS game promise. In short, we're more than happy to be underdogs - so Bulkhead Darkhorse it is."
As mentioned, all efforts are focused on the full launch of Battalion 1944 but Brammer is open to the possibility of opening further studios if the World War II shooter and future projects are a success - and potentially in the UK.
"It's quite possible that in the future we'll open up something in Sheffield or Manchester because there are some amazing people working in those cities," he says. "However, right now it's really exciting to be entering a new territory.
He continues: "Growing Darkhorse to be its own studio capable of building its own title is our current goal. Realistically, we can see ourselves opening office spaces in other UK cities, but right now we're just focusing on hiring the people we need and improving Battalion 1944."