Australian devs' advice to students: Specialise, and kill your darlings
At Melbourne Games Week, Blake Mizzi and Chris Wright outlined two key mistakes students make after graduating
The value of a university degree when trying to build a career in game development is a consistent point of debate in the industry. During a panel at Melbourne International Games Week, Fellow Traveller founder Chris Wright and League of Geeks' co-founder Blake Mizzi offered graduates some frank advice on how to improve their chances of a sustainable career.
At the end of 90-minute session in which Wright and Mizzi summarised their extensive careers in the Australian games industry, the pair fielded a question from a student in the audience.
"This is the kind of stuff they don't teach us at university, unless you're doing a business degree or something," the student said, offering his thanks for the insight. "So this is a fantastic forum."
"Some of the best people I see in the industry are actually self taught"

Blake Mizzi
His request perhaps spoke to the level of uncertainty that many students on courses related to game development feel when they graduate. What, he asked, are the mistakes that Wright and Mizzi see most often among young people leaving university?
"Certainly a thing that I see is that [graduates] are too broad, and not specialised enough," Mizzi replied. "It's hard coming out of university. You've taken a programming class, or a modelling class, and everyone's got game design on their degree.
"But I think it would be great if students started focusing on something that they really like, on that skill-set, and tried to nurture some deep skill in something."
This is a similar idea to one of those expressed by John Warner in his recent op-ed, 'It's time we stopped encouraging indies.' He warned students interested in a career in games that, while school is worthwhile in general, they should "be careful with generalist programs."
For Mizzi, who has to hire people regularly as League of Geeks grows, an applicant with a degree isn't inherently more attractive than an autodidact with more focused expertise in a specific area. Indeed, he suggested that the former would benefit from emulating the latter.
"It breaks my heart when I see teams sometimes four years on, still working on getting the same game out the door"

Chris Wright
"Some of the best people I see in the industry are actually self taught," he said. "And that's not to speak against courses, which can be great. But what I've seen in those people is that they've shut themselves in a room, gone dark for six months, kept their heads down and become the best character modeller they can be, or the best programmer they can be.
"It doesn't actually take that long to get pretty good at something, but it does take that focus for a while. It makes a huge difference, versus just a couple of contact hours a week at university."
Mizzi added that he is always "excited" by graduate events where students showcase their final year projects. In every case, "two or three just stand out; you can tell that there's skill and talent there." Fellow Traveller's Chris Wright also attends graduate showcases, but his advice related to the general reluctance among students to kill those projects and move on - even if that work is praised in the context of university coursework.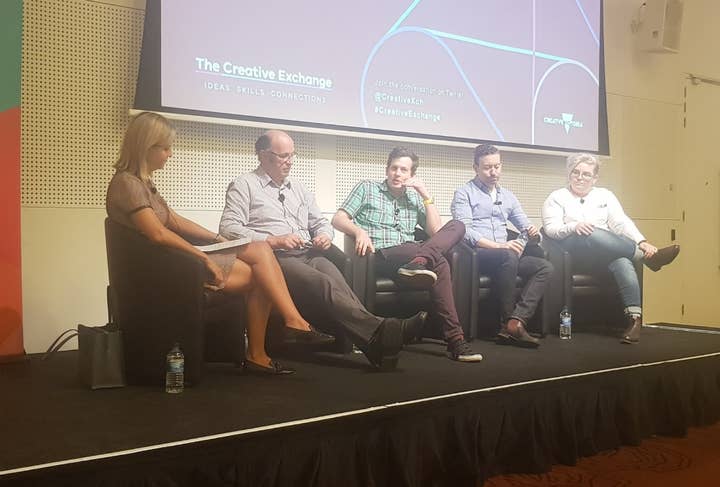 "I go into universities a fair bit, and I see projects, I give them advice, and so on," he said. "I see those same teams two years later - they're showing at PAX or whatever - and they're still working on that same project, which was a good university project, but it wasn't a remarkable game."
This speaks directly to the initial question, which referred to a lack of practical advice offered to students as they prepare to enter a highly competitive industry largely composed of independent studios. For Wright, the years after graduation are an absolutely vital opportunity to try new ideas while it's still relatively simple to do so. But too many dwell on projects they've already outgrown.
"It's living the dream, but the bar to live the dream at that age is lower. You're wasting the opportunity"

Chris Wright
"I think there's an opportunity that you have when you're a graduate, when your costs are very cheap," he said. "You can get by working on a [university] project for a few years without really paying yourselves, and so you do. But the project is never worth that.
"Because there's nobody there to tell you that you shouldn't do this. Nobody's telling you it's not worth it, and it feels like it's not costing you anything because you're not spending much on yourself. I feel like a lot of students waste the first few years [after their] university degree on those projects.
"You just shouldn't do that, because you will not get that time back; that time when [living] doesn't cost you a lot is really valuable, and you should be working and actually making sure the project you're working on is worth that time investment.
"It breaks my heart when I see teams sometimes four years on, having seen them in their final year, still working on getting the same game out the door. They could have killed it off and used the experience to come up with something way better, but they were just emotionally connected to that project and couldn't let it go."
The importance of frank, honest advice was mentioned several times as a valuable commodity to anyone trying to build a business. "Be brutally honest with yourself and your partners," Mizzi said, earlier in the session. "A lot of stuff will come out in that process." However, while that point was aimed at established developers, Wright indicated that it applies equally to graduates.
"Make sure you get someone to tell you honestly if it's worth it," he said. "Just get some brutal feedback, because lots of people will tell you the game is great, and it's living the dream, but the bar to live the dream at that age is lower. You're wasting the opportunity.
"And three years on you haven't improved your skills necessarily, and now you need to go and get a job. That chance has gone."