Apple's Gaming News: Diablo III in Retina
Games took a surprisingly large role in the WWDC keynote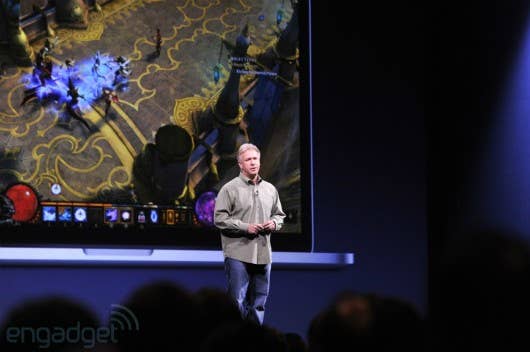 While Apple's new MacBook Pro with Retina display was the big news of the World Wide Developer Conference keynote, games occupied a leading role. Even though gaming is the #1 app category for mobile devices in general, Apple has rarely touted games. This time it was different, with Game Center coming to OS X, AirPlay mirroring demonstrated for Macintosh, and Diablo III getting updated for Retina Display resolution.
Diablo III is being updated for the new MacBook Pro's Retina display, which features 2880 x 1800 resolution. "You are going to see a gaming experience unlike any you've seen before," said Apple's Phil Schiller as he showed screens from the game. Game developers may be paying more heed to the Macintosh, as there are now 66 million Macs in operation, triple the number of 5 years ago. That's nowhere close to the total number of iOS devices, which Apple announced is now at 365 million, but it's still a respectable market.
Apple's bringing their iOS Game Center to OS X and the Macintosh. Game Center is used by 67 of the top 100 games in the App Store, and now has 130 million accounts. Those gamers are posting 5 billion scores per week. Game Center will soon be featuring challenges, which will be similar to Achievements in Xbox Live.
Additionally, multiplayer gaming is now supported Mac-to-Mac and cross-device as well. You will be able to play from your Mac against someone on an iPhone or iPad, assuming the game supports it, and those games can be shown on your Apple TV-equipped HDTV over AirPlay. AirPlay Mirroring is "the easiest way" to get your content up on a display; a pixel-for-pixel 1080p pushed wirelessly to your HDTV via Apple TV.
Even Siri is getting into playing games, as she can now launch applications on voice command. The example given: "Play Temple Run."