Apple WWDC: New hardware, new software announced
Star of the show is the new MacBook Pro with Retina Display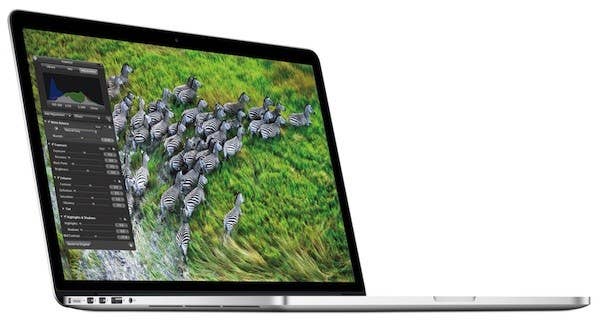 Apple's kicked off its 2012 World Wide Developers Conference with some expected news and some unexpected news. After Siri warmed up the crowd with a few developer-focused jokes, Tim Cook took the stage and got the crowd excited with some numbers: The App Store has 400 million accounts, all with credit cards and one-click buying, which Apple says is more than any other store on the Internet (nudge, nudge, Amazon). Over 30 billion apps have been downloaded so far, with 650,000 different apps, of which 225,000 are iPad-specific. Perhaps most important to developers: Apple has paid out over $5 billion to developers so far through the App Store.
The biggest hardware news was the introduction of the new MacBook Pro with Retina Display, which starts at $2199. The computer is only 0.71 inches thick, almost as thin as a MacBook Air, and the screen features an amazing 2880 x 1800 resolution at 220 ppi. That's over 5 million pixels, and it comes with higher contrast ratios, better viewing angles and 75% reduced glare. You can load this up with as much as 16 GB of RAM and up to 768GB of flash storage, and a quad-core Intel i7 processor, assuming you can handle the sticker shock. Battery life is still pegged at 7 hours, and the hardware is available immediately.
Apple has also refreshed the MacBook Air and MacBook Pro lineups with the latest Intel Ivy Bridge processors and Nvidia graphics, along with support for USB 3.0 and 720p FaceTime cameras. Prices start at $999 for the 11 inch MacBook Air, and at $1199 for the 13 inch MacBook Air. The MacBook Pro 13 inch starts at $1499, while the 15-inch model starts at $1799. All are available immediately.
Apple has quietly dropped the 17-inch MacBook Pro from their lineup, and there was no refresh of the Mac mini or the iMac lineup. The iPhone, iPod touch, Apple TV and iPad lines remain the same as well
Apple's software is, as expected, seeing many improvements. The new iOS 6 is being released today in beta, with the full release scheduled for the fall. Over 200 improvements are included, including a makeover for Siri, better Facebook integration, notification improvements, and a new Apple-built Maps app. OS X Mountain Lion will be available in July for only $19.99, and will add over 200 new features to the operating system. Not surprisingly, much of this release is focused on better iOS integration, and bringing many popular iOS features to the Macintosh desktop, building in iCloud, Dictation, Messages, and a new Notification Center.