Apple rejected "pornographic" Papers Please
UPDATE: Apple tells creator rejection was a misunderstanding, uncensored version of game expected to be available next week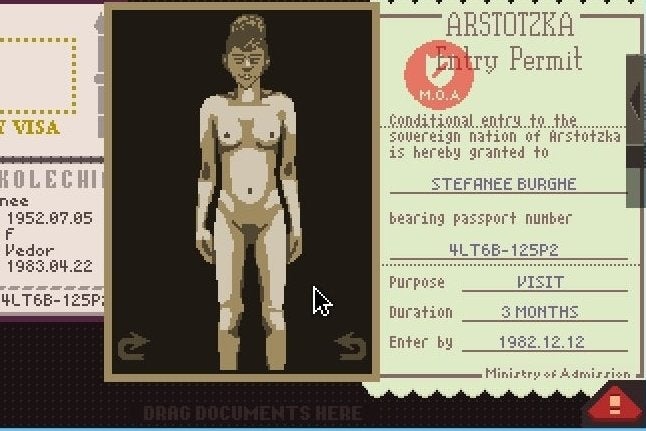 [UPDATE]: Lucas Pope has since tweeted that Apple told him the original Papers Please rejection was a misunderstanding, and encouraged him to resubmit the game with the nudity option restored. Pope said he is working on an update to re-implement the game's nudity as the default setting, and should have it released in the next week. The original story follows below:
The iPad version of Lucas Pope's award-winning Papers Please was rejected by Apple on the grounds that it contained content deemed "pornographic" under its guidelines.
Papers Please was launched on PC last year, winning fulsome praise for its sincere treatment of difficult subject matter. Since then, it has picked up a slew of awards and nominations from august institutions like BAFTA, GDC and this very website.
In the game, the player takes the role of an immigration officer on the border of a country in the grip of political and social upheaval. Almost all of its mechanics and systems relate to checking the credentials and histories of the people attempting to enter or leave the country. The 'right' decision is rarely obvious, and the unforeseeable, often severe consequences for those passing the border make Papers Please one of the more thoughtful games of recent years.
However, the iPad version ran aground on Apple's notoriously fickle content standards, specifically due to a "search scanner" that the player can use within the game. The purpose of the scanner is to discover whether suspicious NPCs are carrying illegal items, and using it produces a relatively abstract 2D image of a naked human body - for reference, see the main image for this article.
According to Lucas Pope, the game's creator, Apple considered this content inappropriate for the App Store, on the grounds that it could be considered "pornographic."
The iPad version has no full nudity option for the search scanner photos. Apple rejected that build for containing "pornographic content."

— Lucas Pope (@dukope) December 11, 2014
Examples of Apple rejecting games for similar reasons are legion, but any content relating to nudity or sex seems to be a particular sore point.
Nevertheless, Pope submitted a revised version of the game that passed muster, and Papers Please will be available for the iPad from December 12.