Apple promotes "Pay Once & Play" games
Dozens of games without in-app purchases receive prominent placement on App Store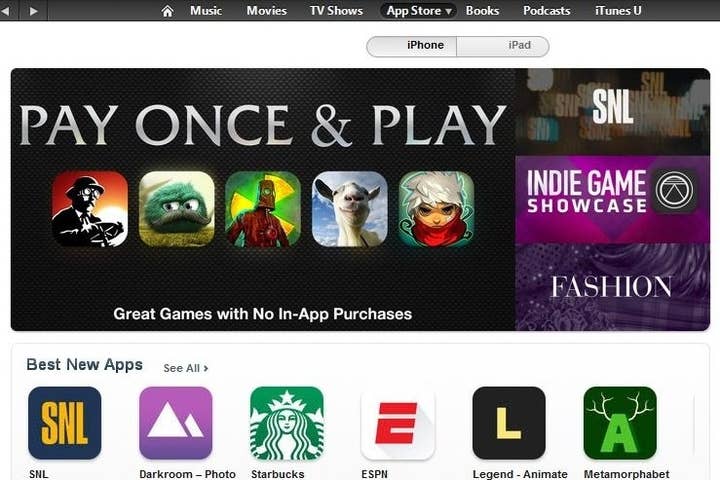 Free-to-play models may dominate the App Store, but Apple is giving a slate of premium games a leg up. The company is currently devoting a featured slot in its App Store carousel to a selection of "Pay Once & Play" titles, heralding them as "Great Games with No In-App Purchases."
Customers who click through on the banner will discover the promotion goes beyond some of the obvious paid app success stories like Threes and Minecraft. Apple is featuring a selection of 61 premium games divided into recent releases, blockbuster games, and App Store originals. The games are also being offered at a multitude of price points, from $1 offerings like Kiwanuka, Star Command, and Pako - Car Chase Simulator to comparatively pricey ports of console games like Square Enix's Dragon Quest VIII ($20), 2K's XCOM: Enemy Within ($13), and Capcom's Monster Hunter Freedom Unite ($15).
The move is the latest sign that Apple may want its premium mobile devices to be a healthier market for premium games. Last year, Stoic co-founder John Watson said Apple was frustrated with the mobile audience's reluctance to pay for games (Stoic's The Banner Saga is among the premium titles featured in the current promotion). In December Apple went so far as to give its iPhone and iPad Game of the Year nods to a pair of premium games--Threes and Monument Valley, respectively.